ANALYSIS
By Ben Hayward | Spanish Football Editor
It was the night's most poignant moment. With 15 minutes left at the Santiago Bernabeu and Real Madrid en route to a comfortable 4-1 victory over CSKA Moscow, Kaka trotted to the touchline to be replaced by Esteban Granero and was greeted with an emotive embrace by coach Jose Mourinho. The home faithful roared with approval; Kaka, finally, had been accepted.
It has been a long road for the Brazilian midfielder, signed amid much fanfare by returning president Florentino Perez in 2009 but only now looking like the player the Bernabeu had longed to see, season upon season, prior to his arrival in Spain.
Wednesday night's man-of-the-match display saw the Brazilian popping up all over the pitch, as he set up the first goal with a cross for Gonzalo Higuain, unleashed several shots, came close to scoring himself, linked up superbly with his team-mates around the box and even tracked back to help out defensively. It was a complete performance.
Having seen his first season in Spain disrupted by a pubis problem and his second campaign restricted by a serious knee injury, only now is the Brazilian back to optimum fitness.
"I worked and I worked, but I was always in pain and it was frustrating. I had the problem with my pubis and then with my knee. The machine wasn't working properly and something had to be done," Kaka revealed in a documentary aired recently in his homeland.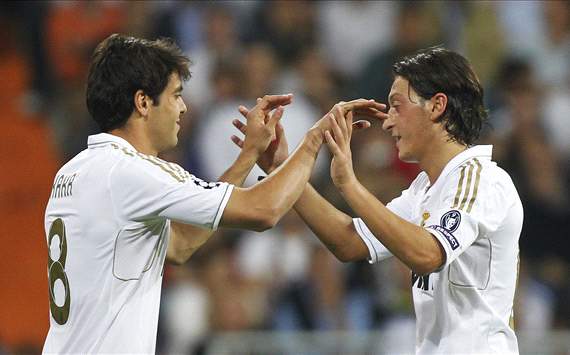 Partners in crime | It was said that Kaka and Ozil were incompatible


He underwent a series of rigorous tests in an unprecedented investigation and the results were revealing: Kaka's problems came from an abnormal muscular imbalance and he had played the 2010 World Cup virtually 'on one leg' in South Africa.
The Brazilian had revealed his excitement at the prospect of working under Jose Mourinho, but was sidelined for the first few months of the Portuguese's reign. "I was looking forward to working with him and seeing what I could learn from him," he explained.
Both men would have to wait, but Kaka returned after eight months on the sidelines and following a special fitness programme devised by Madrid, he has been able to build up his fitness and strengthen his muscles over the last 12 months.
Now in his third season at the capital club, the Brazilian has already made 32 appearances (one less than his highest total at Madrid, 33 in 2009-10) and is becoming a fixture in the side in place of or alongside Mesut Ozil, with whom it was said he was incompatible. Dazzling displays from the duo have debunked that myth.
Kaka had his best games in Milan, but he has never worked harder than he is now. He was spectacular. He puts in a fantastic shift for the team and it's not surprising he has no strength left after 75 minutes





- Jose Mourinho after the CSKA match

Gone is the lightning pace that terrorised defenders in Italy, with injuries taking their toll on the 29-year-old's fragile frame. But Kaka in 2012 is a model of sacrifice and self-improvement; toil and triumph. As Mourinho mused after the CSKA game on Wednesday, he may not be the Kaka of old, but the Brazilian has never worked harder.
The midfielder's intelligent running and link-up play, allied with his hard work and determination, have made him a hit at the Bernabeu long after many had written him off.
Transfer talk each season sees Kaka linked with moves to England or back to Italy, but the 29-year old has consistently claimed he will not leave Madrid until he has triumphed at the Santiago Bernabeu. And thanks to a strong will, an admirable attitude and an indefatigable desire to succeed, he is keeping good to his word.

Follow Ben Hayward on