COMMENT
By Mark Doyle
Orson Welles once said, "Nobody gets justice. People only get good luck or bad luck." Claudio Ranieri must wholeheartedly concur.
On Tuesday night, the Inter coach watched on forlorn as his side were dumped out of the Champions League in the most unfortunate of circumstances.
The Nerazzurri had been the better side for their duration of their last 16 second-leg clash at San Siro and had deservedly levelled the tie on aggregate when Diego Milito bundled home the opening goal of the night with 15 minutes of normal time remaining.
A late tie-deciding goal would not have flattered Inter, who had twice seen visiting goalkeeper Steve Mandanda pull off extraordinary close-range reaction saves from Wesley Sneijder and Milito in the opening period. Extra time was the least the Nerazzurri deserved. It would have been just.
INTER V MARSEILLE MATCH STATS

Inter
2
12
7
7
3
24
50%




Goals


Shots


Shots on goal


Corners


Offsides


Fouls


Possession


Marseille
1
9
4
4
0
16
50%
There was nothing just, though, about the goal which dashed the hosts' hopes of qualification for the quarter-finals, Brandao firing home from 14 metres out in the second minute of injury time after securing possession of the ball courtesy of a blatant push on Lucio as the defender attempted to head clear.
The Marseille forward's strike left Inter requiring two goals to progress; they managed one, with Pazzini converting a penalty after Mandanda had been dismissed for hauling the former Sampdoria striker down in the area. The full-time whistle blew just seconds after Pazzini had retrieved the ball from the back of the net.
Inter's European exit is hardly a footballing tragedy. Indeed, Marseille must be lauded for knocking out a side which is operating on a completely different financial plain – and doing so in such dramatic fashion.
After all, this is not the first time that they have produced late heroics in this season's Champions League. Their resilience and spirit is a credit to their coach, Didier Deschamps, and in Mathieu Valbuena they possess a player who will grace the quarter-finals.
However, the bigger picture here is that the outcome of Tuesday night's game at the Giuseppe Meazza is likely to result in Ranieri losing his job, which would be both cruel and unfair in the circumstances.
Has 'The Tinkerman' made mistakes during his relatively brief Inter tenure? Undoubtedly. His handling of playmaker Wesley Sneijder since the Dutchman's return from injury has been haphazard at best and Ranieri also appears to have irked Dejan Stankovic with his alleged propensity for always replacing the same players.
The statistics are also damning: Inter have won just two of their last 11 games in all competitions. Coaches of Serie A sides have been fired for a lot less.
However, it is worth noting that Inter are unbeaten in three games and have now won two on the bounce, however empty Tuesday night's victory at San Siro may have been.
Looking at Inter's last three outings, against Catania and Chievo in Serie A, and Marseille in the Champions League, it is fair to conclude that they are moving in the right direction again – albeit slowly. Certainly, there has been no lack of effort or commitment on show in recent weeks.
In spite of Ranieri's muddled tactical approach and constant tinkering with his starting lineup, Inter's players do not look like they have given up on their coach - and club president Massimo Moratti shouldn't either.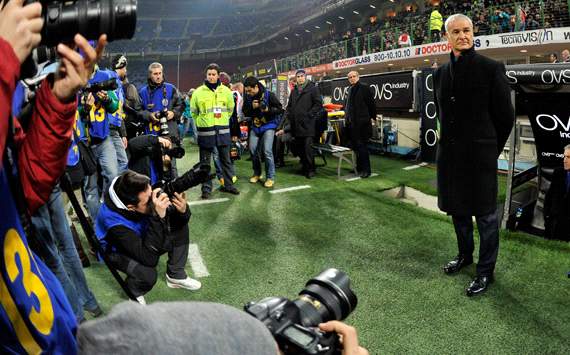 Under the spotlight | Will Ranieri be sacked after his side's Champions League exit?
One suspects, though, that with Inter currently seventh in Serie A, eight points adrift of a Champions League place, that the Nerazzurri supremo will decide on the back of the club's European elimination that Ranieri's time is up. There was always the feeling that negotiating a way past Marseille was imperative if the Roman was to be granted a stay of execution.

Consequently, it is difficult not to feel a degree of sympathy for a man who was allegedly informed of his dismissal at Chelsea over the phone and stood down as Roma boss after seeing his side lose 4-3 to Genoa after being 3-0 up. He deserves better than to be fired after losing a European tie because of the concession of late goals in both legs.

However, football, like life, is full of such hard-luck stories. It is just Ranieri's misfortune that in his side's two meetings with Marseille, if it hadn't been for bad luck, he wouldn't have any luck at all.