COMMENT
By
Rob Stewart
at the Stadium of Light
Liverpool
manager
Kenny Dalglish
is deluding himself, he is deluding his players and he is deluding the club's supporters as well.
The Reds' boss insisted that no one should be passing judgement on his team and their Champions League credentials until the end of the Premier League campaign following the 1-0 defeat at Sunderland.
But the 2,400 supporters who made the trip from Merseyside to Wearside will have found it impossible not to come to the conclusion that Liverpool are going backwards, despite major investment in new players, because his team was just not good enough.
The fact that 5ft 6in midfielder Jay Spearing was head and shoulders above his expensively recruited colleagues in the lacklustre show against Martin O'Neill's workmanlike Sunderland was a terrible indictment of Dalglish's recruitment campaign.
Academy product Spearing outshone the likes of the below-par Charlie Adam, who cost £12 million when he moved from Blackpool, and Jordan Henderson, for whose services and potential Sunderland were paid £19m last summer.
They were outmanoeuvred by the unheralded Jack Colback and Craig Gardner at Sunderland and it was only when skipper Steven Gerrard rose from the substitutes' bench that the League Cup winners really got going.
But by the time Gerrard entered the fray the damage was already done. Liverpool were behind to a strange goal that saw the ball hit the post, hit Pepe Reina's head and then hit a post again before Nicklas Bendtner finished from close range while the woeful Sebastian Coates was left flat-footed.
It was reminiscent of the beach-ball goal on the same ground in October 2009 when Rafa Benitez was in charge of Liverpool, and again exposed the shortcomings of those wearing red shirts who were responsible for the club suffering three consecutive league defeats for the first time since the 2002-03 season.
Their meek efforts vindicated the bullishness of Sunderland owner Ellis Short who used his programme notes to tell fans that "this is by far the most confident I've felt" ahead of a home game against Liverpool - and that was despite his team being without their two best players in Lee Cattermole and Stephane Sessegnon, both suspended.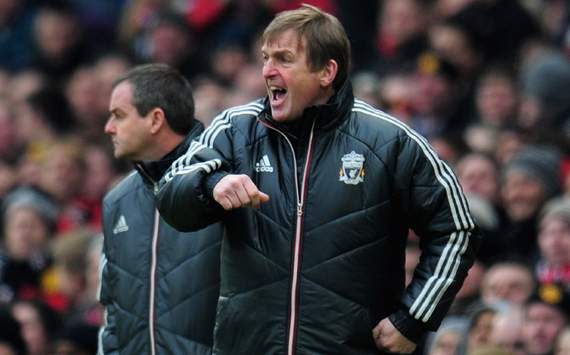 Still the King? | Despite winning the League Cup, the Reds are going backwards
Despite the overwhelming evidence, Dalglish might not be prepared to call a halt to the quest for a top-four place that would yield a Champions League adventure, but the chances of Liverpool returning to Europe's top table are negligible.
Seventh-placed Liverpool are ten points behind fourth-placed Arsenal, two points above Sunderland and – most tellingly – are eight points closer to bottom-of-the-table Wigan Athletic than they are to pacesetters Manchester City.
Yes there are lies, damned lies and statistics but those statistics are pretty damning because a season that promised much with 'King Kenny' at the helm has seen the club fall further behind the Premier League's leading lights.
Dalglish signed a three-year contract last May after he succeeded Roy Hodgson in January 2011 but it looks as though it will take a lot longer for Liverpool to mount a sustained challenge for their first Premier League title. It is hard to see Liverpool closing the gap on the Premier League's genuine title contenders.
And – despite the club's rich heritage - the longer Liverpool remain out of Champions League football the harder it will become to entice stellar players such as Sergio Aguero and Juan Mata to Anfield.
It also means the longer the club's fans will have to put up with the likes of Henderson, Adam, Stewart Downing and Andy Carroll – players who may be decent Premier League players but are not top-notch operators.
And the absence of Champions League football must raise question-marks over Luis Suarez's future and his loyalty to Liverpool because the Uruguayan is a player who should be rubbing shoulders with the best players in Europe.
Okay, Suarez has a League Cup winner's medal; but he will be frustrated at the lack of a progress at a club whose points tally – 39 from 27 matches – is exactly the same now as it was at this stage last season.
Liverpool finished sixth last season but are now in danger of slipping further behind the leading Premier League clubs as the gap widens, even though some £120m has been spent on new players since Dalglish returned to the manager's office at Anfield, while £60m has been recouped in sales.
The League Cup win and their on-going interest in the FA Cup will placate the critics for the time being and buy Dalglish time, but the fans who yearn for a return to the Champions League nights that make Anfield so special could be in for a very long wait.
That is an inescapable truth. And no one needs to wait until the end of the season to see that.
In an interview with the Sunderland match-day programme, Reds defender Martin Skrtel was optimistic. "We have won the League Cup, we are still in the FA Cup and we are close to the top four," he said.
"Our targets are still reachable. It's up to us to qualify for the Champions League. When you look at our games with the teams that are in those positions at the moment I don't think they are that much better than us. We've had close games with City, United and Spurs and we beat Chelsea. I believe we can get there."
As much as they would like to believe the Slovakian defender is right, most Liverpool fans will beg to differ.
Follow Rob Stewart on