Citizens' success owes as much to an air of pragmatism, a stern approach and the way he has been able to command a team full of stars as to the money pumped into the squad
By Mark Fordham at the Etihad Stadium
Three and a half years is a long time in football and in that time – since
Manchester City
were taken over by Sheikh Mansour – the Citizens have come from being league also-rans to the verge of winning their first ever
Premier League
title.
Understandably, much of the credit is given to the seemingly endless amounts of money that the club have at their disposal but one of the key reasons for the team's recent success that is often overlooked is the role of the man in the top job, Roberto Mancini.
Cast your minds back to December 2009 when the blue half of Manchester decided to rid themselves of the services of Mark Hughes because his performance was "not in line with targets" set out by the new owners. Questions were being asked as to whether the team could even qualify for the Champions League, which would be a laughable notion now. So, what has changed?
MANCINI'S CITY CHECKLIST

SELL ROBINHO
✔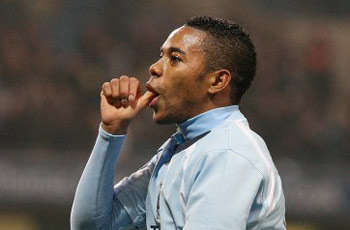 CREATE SOLID DEFENSIVE UNIT
✔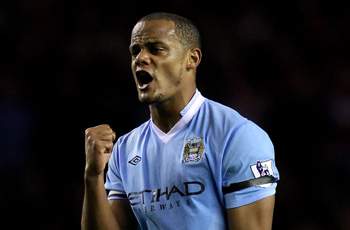 GIVE FLAIR PLAYERS FREEDOM TO PLAY
✔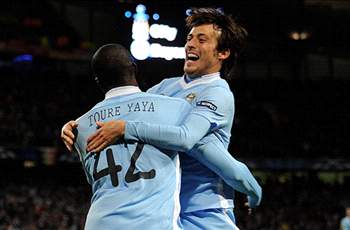 MANAGE BALOTELLI'S WILD SIDE
✔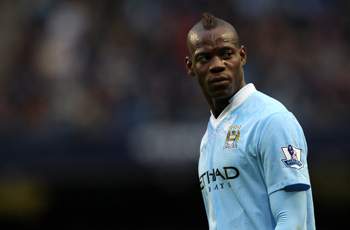 STAND FIRM IN TEVEZ ROW
✔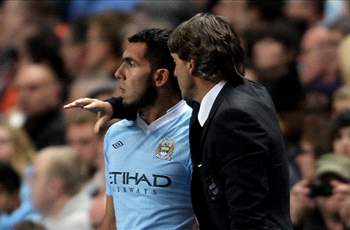 Above all else the attitude and mentality at the club has been adjusted under the direction of the Italian who, despite the fact he led Inter to three Serie A titles in a row, was queried as the club's choice to lead them through to a new era.
Key to this was perhaps the departure of Robinho. Though an extremely talented footballer he – alongside Hughes – was often seen as the figurehead of what was a weak squad physically and mentally. He was too much of a luxury player in the system that Mancini needed to implement to make them a title-winning defensive unit.
Out went Robinho and in came the added steel and invention of Yaya Toure, David Silva, James Milner and Mario Balotelli to add to what was an already pretty stellar line-up. Mancini recognised Vincent Kompany had the key characteristics to make him the natural leader when he had played out of position early in his career at City. And in having someone who is rapidly becoming the best goalkeeper in the world at the helm, the Blues had the makings of a wonderful team.
The style and verve Hughes attempted to play with was replaced with a meticulous and methodical approach to performing that made City very difficult to beat and left them a pragmatic force going forward.
Mancini has taken everything in his stride, so much so that every move he has made has had the end product of delivering lasting success at the club in mind.
First, make the team difficult to beat and then on to this season where they have played some of the best football seen in the Premier League. The attacking flair that has been added by the mercurial talents of Sergio Aguero and Samir Nasri has seen Mancini's approach become something not often associated with an Italian coach.
Yes, some people may argue that Mancini has been given huge sums of money to build a dream team and that is true; but Hughes was also given large amounts and others would also suggest he didn't buy smart, and even the people the Welshman did sign, he didn't get the best out of - yet the Italian has.
A case in point is Joleon Lescott who was purchased for the lofty fee of £24 million by Hughes and failed to live up to the price tag. But since Mancini has taken over he has become a mainstay in an incredible defence that has only conceded six goals in 14 home games this season.
The fact that all of these talents can co-exist with one another is also in no small part due to the Italian's influence and his disciplinarian side.
It is this disciplinarian air that has managed to deal with multiple issues with players such as Carlos Tevez and loveable rogue Balotelli this season without it affecting the team. A lesser manager would have struggled to deal with the issue of a player refusing to play or seemingly one who is a rule unto himself.
After months of to-ing and fro-ing Tevez has finally whimpered back to the club and asked for forgiveness, which Mancini will take if he can have the same impact that the Argentine had last season, while Balotelli has been given much more freedom from Mancini as he understands the mechanics of the immensely talented Italian's brain more so than many other so-called experts.
This discipline is mirrored on the pitch so as to make sure that the team remains level-headed and on an even keel at all times because even if he has allowed the team to play with more freedom this season, Mancini will never lose his Italian roots - and it can be safely assumed that the City fans are more than happy with that.