COMMENT
By Kris Voakes | Italian Football Editor
Zlatan was the man again on Saturday. He grabbed a stunning first-half hat-trick to announce his return to action in style, but not only that, he was also the man who stressed the difference between AC Milan and Juventus right now. And as the season begins its long final straight, the Rossoneri are beginning to justify the favourites tag that they have held on to almost exclusively this term.
Not since October had there been a three-point gap between the two great clubs. Not until Saturday, anyway. But there is more than just the margin of the Rossoneri's lead to be taken from yesterday's polaric Serie A fixtures, especially since the Old Lady could be top of the table by 20.30CET on Wednesday evening. No, it was more the difference in front of goal that was noticeable.
This weekend marks the start of the run-in to the season's end. After returning from international duty in midweek, Serie A players are now in it for the long haul. Not until they split for the European Championships in late May will they have anything other than club duty to occupy their minds and, with 11 weeks of the campaign to go, it is the league champions who are showing all the signs of being prepared to take a stranglehold on the title race.
It is not the first time that we have looked back on a Milan clash with Palermo this season and wondered what happened to the Rosanero's defence and their all-round approach, and after October's 3-0 surrender at San Siro, they were equally abysmal at the back at the Renzo Barbera yesterday. But, oh, how Ibrahimovic punished them.
When they got too tight, he rolled them with ease. When they left a little space, he used the extra half-second to lash deadly shots towards goal. But for Emiliano Viviano in the Rosanero goal, Ibra and Milan could have had more goals to show for their dominance by the end of the game. Thiago Silva's effort capped a fine evening, but this was Zlatan's story.
THE SERIE A RUN-IN

* rescheduled game due to postponement

Round



23*
27
28
29
30
31
32
33
34
35
36
37
38

Milan

-
LECCE
Parma
ROMA
Catania
FIORENTINA
Chievo
GENOA
BOLOGNA
Siena
ATALANTA
Inter
NOVARA

Juventus

Bologna
Genoa
Fiorentina
INTER
NAPOLI
Palermo
LAZIO
Cesena
ROMA
Novara
LECCE
Cagliari
ATALANTA

Missing for the previous three matches as punishment for slapping Salvatore Aronica, Ibrahimovic hadn't had the opportunity to affect the title showdown with Juve last week. Instead, he gave them a warning from afar seven days on. The winner of eight successive titles is on the charge for number nine, and is also right back in the race for the capocannoniere crown too.
It was his first hat-trick since April 2005, when his three goals helped Juventus beat Lecce 5-2. A full 239 league games had gone by since he last walked off the park with the match ball under his arm.
Across the park, Milan were significantly assured. They looked like a great unit. Robinho is right back on form since that two-goal display against Arsenal in the Champions League and proved the perfect foil for Ibrahimovic, Urby Emanuelson gave another display which suggests that he may eventually grow into a regular starter, while Antonio Nocerino emphasised the difference between Palermo with him and their current state without him. Last season it was in midfield that the Rosanero battled and scrapped and showed the quality to create something as they beat the Diavolo for a fifth straight season. This time around they are lost without him.
Juve's response had looked set to be a positive one thanks to Paolo De Ceglie's quick reactions after Giorgio Chiellini's header from Andrea Pirlo's free-kick came back off the post. However, the full-back's goal was one which the Bianconeri couldn't add to.
Alessandro Matri took an extra touch to get around Stefano Sorrentino when he could have shot first time and Emanuele Giaccherini fired wide with his first touch when he had time to take a second as the opening 45 minutes saw a continuation of Juve's trend for profligacy this term.
It was largely more of the same in the second half, though they at no point dominated the game as they have at times during their magnificent unbeaten run. In midfield, they clearly missed the drive and yard-coverage of Arturo Vidal as Michael Bradley turned in a superb display. Out wide, there was no Simone Pepe working hard, but rather Simone Padoin playing out of position.
But more than missing suspended players, they were lacking that extra edge. They still haven't been able to really go to town on any opponents. Normally when teams batter adversaries week after week only to gain draws and narrow victories it is said that "they'll hammer somebody soon" or "they're saving them up to give someone a real thrashing". But no longer does one get that feeling about Juve.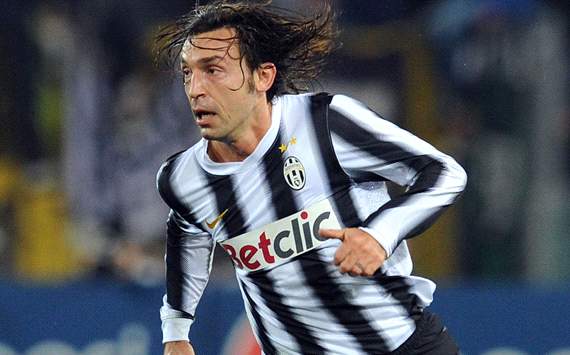 Pirlo | Juve are beginning to turn to the midfielder more and more as the run-in begins
Since Claudio Marchisio's career-best run of goals dried up, his performances have been too lightweight. With Juve needing forceful players who just won't quit and who will add that je ne sais quoi as the final leg of the title battle approaches, he has been left wanting, with another anonymous display yesterday.
Pirlo is these days being asked to not only be the club's key playmaker but also their greatest goal threat from deep, and he was foiled in injury time by Sorrentino in one of the Old Lady's most threatening moments. Vidal has provided all the leg-work in the centre this term, but again isn't the presence in front of goal that they have been left scrambling to find thanks to their chronic striking issues.
This is a team that just doesn't have the finishers to make the most of the platform set for them. Like a volcano that threatens to erupt but instead expels only a forgettable puff of smoke, Juve can't back up their bluster with goals. Had they taken even close to the percentage of chances Milan have this term, they'd be out of sight by now.
Instead they now need to win their game in hand against Bologna on Wednesday to get back on level terms, then have two more away games to follow. And, if they are left chasing, they will need a change of style in order to manufacture the points they need if they are to cause Milan significant concern.
Make no mistake about it, this was a big weekend in the Serie A season. And while Ibrahimovic proved once more that he is the big man for all occasions, Juve are still looking for their cornerstone.
The Rossoneri are beginning to rev up, while Juventus' engine continues to splutter.
Follow Kris Voakes on