Sitting in the stands when the Corsicans meet PSG will be an executive who has led a colourful life to date, including stints in jails and a spell away from his beloved island
By Robin Bairner | French Football Editor
Ajaccio may not be recognised as one of the giants of the French game, but the Corsica club have a fascinating backstory - and one that will doubtless be cast into the light this weekend when the island outfit travel to face Paris Saint-Germain in the capital on Sunday.
This fixture will have particular meaning for some of the club's most hardcore fans, who believe that the island, populated by around 300,000 inhabitants, should become an independent nation away from the rule of France. Amongst their number is Ajaccio president Alain Orsoni, whose tale is remarkable in itself, encompassing periods of exile, shadowy dealings and even assassination attempts.
Born the son of a war hero in 1954, one of the leading figures in Corsican football would not make his name on the pitch, but rather in extremist politics.
It would be in the early 1970s that his nationalist sentiments started to be displayed in the form of action, with an operation that led to the death of two policemen, forcing the teenager on the run for the first of several occasions in his life. A year later, he joined with the embryonic National Liberation Front of Corsica (FLNC), a militant group aiming for autonomy.
It did not take long for Orsoni to find himself imprisoned, however, cast into jail after being implicated in an attack on four Gendarmes guarding the Iranian Embassy, with two left seriously injured. Not only was this moment important on a personal level, it was key on a political one, too, as it marked the FLNC, who sent members to Lebanon to practise bomb-making and using Kalatchnikov rifles, stepping up their operations, with further bombings in Corsica and Marseille over the late summer and early autumn of 1980.
Political movement at the time, which saw Francois Mitterrand take power in France, resulted in Orsoni ultimately being released as part of an amnesty.
Corsican nationalism is a rather thorny and opaque subject, though, and this was driven home to Ajaccio's president when his brother, Guy, was murdered by gangsters in 1983, though his body was never recovered. Chillingly, this is not an isolated incident, with former Bastia captain Pierrot Bianconi mysteriously disappearing a decade later, though there is no concrete evidence to suggest that he was deeply involved in the liberation movement, despite having a definite interest in the island's politics.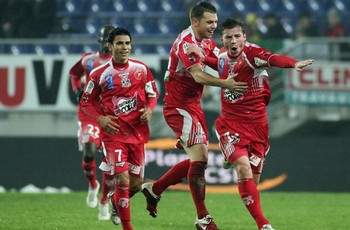 High-fliers | Ajaccio are not accustomed to being above local rivals Bastia
Guy Orsoni's killing sparked retaliatory attacks on the mafia, which were puppeteered by his brother, though he did not actually take part in these actions physically. Nevertheless, he would wind up with another stint in jail.
Movement into less extreme politics followed in the latter part of the 1980s and 90s, though just because he was now largely letting his mouth do the talking didn't stop him being prepared to transgress rules. Indeed, in the 1992 elections, he was not able to take up his expected seat after being found to have spent more than the allowed amount on his election campaign.
By this stage, the FLNC had been split into two factions by the differing political ambitions of its various members; the Canal Historique and the Canal-Habituel, of which Orsoni was a part. Also on the scene was Orsoni's political party, the MPA (Movement for Autodeterminism), who were viewed in some quarters as more keen to preserve their 'business interests' than to achieve their ultimate goal, which was Corsican independence.
Orsoni himself was suspected of racketeering and moved to Nicaragua in 1996, where he would run, amongst other things, a pizzeria. When he returned voluntarily to France, he would have another prison sentence to serve, and, after being released, moved to Barcelona.
A full-time move back to Corsica only came in 2006, and he would quickly be reminded why he may have been safer elsewhere as he survived an assassination attempt conducted by multiple gunmen.
As recently as 2009, Orsoni, who is considered a charming individual to speak to, was incarcerated, allegedly having a part to play in the murder of a fireman. He would spend 10 months in jail and ultimately be released after a month of hunger striking.
AC Ajaccio, who are traditionally the island's secondary club behind Bastia, are, therefore, something of an aside in the drama of his life, though as a figure who previously liked to stay out of the public eye, it was a significant movement for him to take the presidency of the club in 2008. Even this was done in no normal manner, as he took the reins from close friend Michel Moretti, who had committed suicide in March of that year after being stricken with cancer.
Sunday's trip to the capital will not just, therefore, be about picking up three points for a side making a great fist of avoiding relegation despite having reportedly the lowest budget in Ligue 1; it will also be a fine chance to show those in the capital the pride of the islanders.
After all, what could be more symbolic in the fight for independence than the underdogs of Ajaccio travelling to the capital and beating the odds by claiming an unexpected win?
Follow Robin Bairner on