Goal.com looks at the class of players who hold the most number of international appearances in the Super Eagles shirt
ANALYSIS
By Lolade Adewuyi | Goal.com Nigeria Editor
On Wednesday February 29, Nigeria captain Joseph Yobo earned an enviable place in Super Eagles folklore. By appearing in his country's 2013 Africa Cup of Nations qualification game against Rwanda in Kigali, the 31-year-old made his record-breaking 87th appearance for the team.
To honour the skipper, Goal.com looks at five of the most capped players in Nigeria's history and their impact on the game.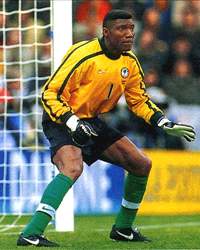 Nickname: Dodo Mayana
Position: Goalkeeper
Years active: 15
Duration: 1983-1998
Caps: 63
Goals: 1
Peter Rufai was among a rare breed of African goalkeepers who found fame and fortune in Europe in the early 1990s, as more and more players sought to build their careers away from the continent. The 1.87-metre tall goalkeeper, who is a prince in his hometown of Idimu, a suburb of Lagos, left Nigeria through the Republic of Benin where he played for a year before arriving at Belgian club Lokeren in 1987.
He had already made his debut for the Super Eagles in 1983 but would not establish himself as the No. 1 until the 1988 Africa Cup of Nations in Morocco. He would later lose his place to Aloysius Agu and Wilfred Agbonavbare in the lead up to the 1994 Afcon and World Cup. At Tunisia '94, Rufai held the fort as Nigeria won their second continental title in Tunisia, where he was influential in the semi-final penalty shoot-out victory over Cote d'Ivoire. He also scored a penalty in regulation time against Ethiopia in 1993 during an Afcon qualification game.
Rufai also kept goal at USA '94 as Nigeria reached the round of 16 in their debut on the world stage. Still he fell out of the team and was famously recalled for the 1998 World Cup in France due to the weakness of Ike Shorunmu in goal. Rufai was on his way to his summer vacation when he received a late call-up to the team that painfully lost 4-1 to Denmark in the second round after previously defeating Spain 3-2 in their opening match. It was to be his last game for the Super Eagles.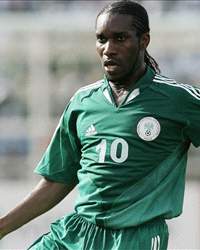 Nickname: Jay-Jay
Position: Midfielder
Years active: 13
Duration: 1993-2006
Caps: 73
Goals: 14
Austin Okocha was so good with the ball at his feet that Bolton fans claimed it was the reason he was named twice. His nickname 'Jay-Jay' was originally his elder brother's but it is something that is indisputably his today. For the most part of 13 years, Okocha held sway as the unrivalled creative engine room of the Nigerian midfield as they evolved a style of play that was a delight to watch. The robustness of Okocha's ball juggling and passing mesmerised opponents as he quickly became the focal point of the team.
The diminutive midfielder, who always carried a big smile on his face, drew many comparisons with the best in the game as he was selected by Pele in his Fifa 100 list of the 125 greatest living footballers. In Nigerian colours, Okocha won his first title – the Afcon trophy in 1994 – and played in three World Cups, between 1994 and 2002. He was later named captain of the squad. He was awarded the most valuable player award at the Afcon in 2004 where he won the Golden Boot accolade and scored the 1000th goal in the tournament's history.
Okocha retired from the national team in 2006 after persistent injuries. His last official game was the third-place match victory against Senegal at the 2006 Afcon in Egypt. He scored 14 goals and made 73 appearances in a career that tantalised fans all over the world.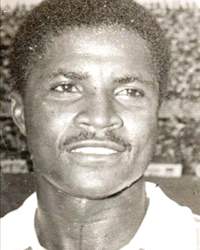 Nickname: Muda
Position: Midfielder
Years active: 10
Duration: 1975-1985
Caps: 86
Goals: 12
In just 10 years, Muda Lawal set the bar of appearances for his country's national team so high that it's still the yard stick for judging records 27 years on. Lawal, an auto-mechanic, was discovered to possess prodigious football skills. He made his national team debut in 1975, the same year that he was signed on by Shooting Stars of Ibadan.
That first game set the tone for his career as Nigeria defeated Cameroon 1-0 in a friendly match. He would lead the Green Eagles' midfield as they went on to win the 1980 Afcon on home soil, scoring the last goal in a 3-0 win over Algeria. Lawal played in five consecutive Afcon tournaments, the first player to do so, between 1976 and 1984. He also opened the scoring in the 3-1 final loss to Cameroon at the 1984 tournament in Cote d'Ivoire, the last time he played for the national team.
Lawal sadly died at the age of 37 in 1991. The Nigeria Football Federation paid tribute to his memory in 2011, 20 years after his passing. The Ashero Stadium in Abeokuta was renamed in his honour by the Ogun State government when he passed away.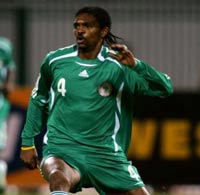 Nickname: Papilo
Position: Forward
Years active: 16
Duration: 1994-2010
Caps: 86
Goals: 12
Nwankwo Kanu's 16 years spent in the service of his national team belied his tall, lanky and lazy look. Starting out as a youth international with the victorious Under-17 team of 1993, Kanu made his senior debut the next year in a friendly against Sweden. From that point on, he would become a regular member of the national set-up as he went on to have an eventful career.
Kanu led Nigeria's Olympic Under-23's to win a gold medal in football at the Atlanta '96 games, where they ended the ambitions of illustrious opponents Brazil and Argentina. Shortly after, he was diagnosed with a heart defect while concluding his medicals at Inter. A shocked nation prayed as he made his way through surgery and recovery to return to football and again continue to delight with his amazing skills.
Kanu's national team career would never be as successful as it was before his operation as he failed to win any trophies with the Super Eagles. But he was part of the squad that played at three World Cups in 1998, 2002 and 2010, when he eventually called time on his international career. The man with the lion heart played at six Afcon tournaments and won a silver medal and four bronze medals. These could never detract from his record of being the most decorated Nigerian footballer ever with winners' medals at the Uefa Champions League, English Premier League, FA Cup, Dutch Eredivisie and Uefa Cup amongst others.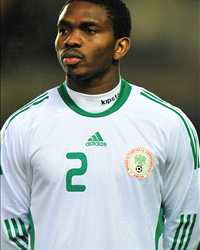 Nickname: Jo-Yo

Position: Defender
Years active: 11
Duration: 2001-to present
Caps: 87
Goals: 7
Present Nigeria captain Joseph Yobo has reached into a firmament where he is all by himself, the primus inter pares, first among equals. As he lined up against Rwanda in Wednesday's Afcon qualifier, Yobo surpassed the record of 86 caps that he jointly held with both Nwankwo Kanu and Muda Lawal. It is no mean feat to attain 87 international appearances for a national side that has seen so much turbulence in the last decade, with 11 coaches having held the job. It is due to his hard work and consistency that he is able to warm his way into the hearts of all of those coaches in order to continue to hold down the central defensive position.
Yobo earned his first cap under Amodu Shaibu as the national team prepared for the 2002 Afcon and World Cup. He would become the starting man in defence as Nigeria was shaken up following the replacement of Amodu by Festus Onigbinde after their Mali 2002 debacle. His legend has been strengthened ever since.
Yobo has said that he would like to win a trophy with the national side before he retires. The Fenerbahce defender, on loan from Everton, is not content with just being a record holder with the most international caps, he wants to carve his name in gold with the Super Eagles where he has stepped up to score crucial goals for the team in recent times. He has given himself the challenge of qualifying for and winning the 2013 Afcon in South Africa. His fans would be delighted to see him achieve this as he adds further international appearances to his tally for the Eagles. Perhaps a century will suffice.