February was a dramatic and important month for African football as the continent's champions were crowned in Libreville after a thrilling final between victors Zambia and runner's up Cote d'Ivoire.
More recently, Maghreb Fes became Africa's champion of champions at club level as they upset Esperance in Tunis in another trophy match that went to penalty kicks.
African Player of the Month | Kennedy Mweene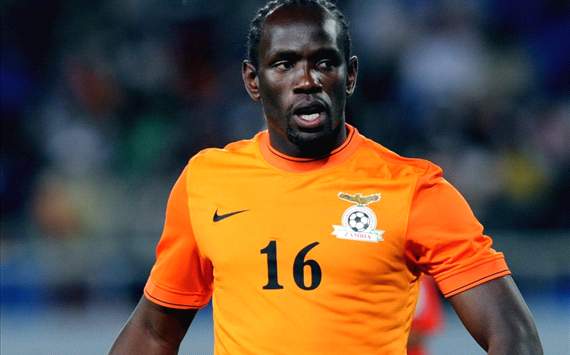 Country & Club:
Zambia and Free State Stars

Age:
27
Role:
Goalkeeper
Alhough he has been inconsistent in previous Africa Cup of Nations (Afcon) tournaments, the Chipolopolo goalkeeper was in blistering form this time around in Gabon and Equatorial Guinea, making decisive stops for his brilliant counterattacking team. His steadiness between the sticks reassured his compatriots that they could rely on him to bail them out when they made mistakes, and that sense of confidence permeated the entire squad.
Like all great players, Mweene rose to the challenge when the stakes were at their highest, making sure that penalty kicks did not make the difference from two of Africa's most ruthless attackers, Asamoah Gyan and Didier Drogba, in the semi-final and in the title match as well. The Free State Stars representative then got the better of Boubacar Barry in the shootout, slotting his penalty with a coolness that his opponents lacked.
Upon his return to his club, the 27-year-old acknowledged that he would have to increase his focus and train more than he has in his whole career to maintain clean sheets given his new status as an African champion.
"Now everyone in the PSL would want to score against the champion so it will not be easy for me any more," Mweene told KickOff.com. "I will really have to work hard."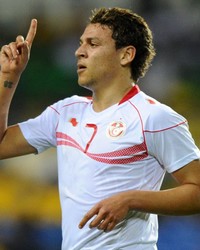 Youssef Msakni (Tunisia & Esperance)
In a tournament that stressed team unity over individual performances, one player that stood out from the lot was Esperance star Youssef Msakni.
Those who watched him lead the Blood and Gold to a 2011 Caf Champions League won't have been too surprised by his showing in Gabon but the quality of the solo goals he scored against Morocco and Niger was unlike anything he's ever accomplished at national team level.
A variety of European clubs such as Arsenal, Lille, PSG, Bordeaux, Caen, Bayer Leverkusen, and Atletico Madrid are all said to be keeping close tabs on the youngster with an eye towards signing him this summer.
Hamza Bourezzouk (Morocco & Maghreb Fes)

The Moroccan striker led the line brilliantly for the Caf Confederation Cup winners against Esperance in Rades this past Saturday, scoring the crucial opener with a toe-poke volley in the 20th minute to put the locals under immense pressure in the African Super Cup. Bourezzouk continued to threaten until he was taken off in the 80th minute for Mohamed Diop.
His goal could have stood as the winner but the continental champions equalised within the final minute of extra time to take the match to penalties. Bourezzouk's team-mates did the job without him, though, and no one would discount that his performance was a big part of Maghreb Fes' famous victory.
Christopher Katongo (Zambia & Henan Construction)
Katongo captained the newly crowned kings of Africa throughout the 2012 Afcon with characteristic professionalism and poise. He scored three goals along the way to finish top scorer, including one that they absolutely had to have against hosts Equatorial Guinea in their last group match.
If he hadn't netted that goal, Zambia would not have advanced to the knockout stages, where they ousted Sudan, another match Katongo scored in, Ghana and then Cote d'Ivoire. He was selected as the tournament's top player by Caf and has cemented his place in Zambia's football lore forever by helping bring home the cup.
African Team of the Month | Zambia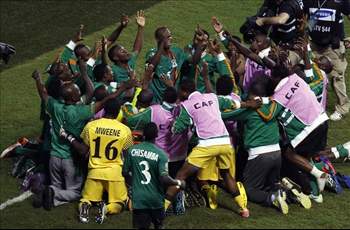 It could not be anyone else, could it? Led by Frenchman Herve Renard, the tight-knit Zambians shocked the continent by going further than anyone initially expected. They relied on a solid defensive backbone, accurate passing in the midfield, and efficient forwards to take everyone by surprise. Above all, the team had loads of character and team unity to spare.
They were clearly fighting for something more than themselves as they sought to honour the fallen victims of the 1993 plane crash that claimed the lives of practically their entire national team. The Chipolopolo succeeded in doing just that by winning their first ever continental title after their previous two failed attempts in 1974 and 1994.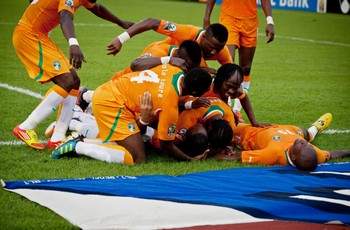 Cote d'Ivoire
Losing on penalties is always hugely disappointing but it was especially difficult to accept for the Elephants, who somehow contrived to let the much-sought title slip between their hands without even conceding a single goal during the entire tournament.
While some have labelled them failures for their inability to take the gold given the talent at their disposal, they did practically everything in their power to play the right way this time and stay away from the selfishness that hampered them in the past. They have clearly advanced tactically and would do well to keep Francois Zahoui on board for one last go next January with the so-called golden generation.
Maghreb Fes

After making history in 2011 with their first continental trophy thanks to their penalty shoot-out win over Club Africain in the Caf Confederation Cup, the Moroccans did it again to begin 2012 in the best way possible. The result against Esperance was even sweeter this time given that it came against Tunisian opposition at Rades Stadium. If he continues to collect trophies at this rate, coach Rachid Taoussi may eventually be in line for the Moroccan national team job someday. The Yellow and Black's next big challenge is their maiden appearance in the Caf Champions League.
Mali
The Malians have always had skilful players but never the coach who could mould them into a tough unit. After years of searching, the Eagles seem to finally have found a man to lead them in the form of Alain Giresse. The Frenchman presided over a third-place finish at the 2012 Afcon, Mali's best result since they were beaten finalists in 1972.
Seydou Keita and his team-mates showed tenacity throughout, playing one of the games of the tournament against Guinea in their group opener and managing to oust co-hosts Gabon in the quarter-final before falling to Cote d'Ivoire without Mobido Maiga in the line-up. After that, they regrouped and concluded on a high by posting a 2-0 win over Ghana to take the bronze medal.
Do you agree with Goal.com's African Player and Team of the Month awards for February? Leave your comments below.