The rejuvenated Togolese striker will return to the Emirates Stadium on Sunday, when he celebrates his 28th birthday, wearing the white of Spurs against his former club
COMMENT
By Greg Stobart
The jeers, whistles and chants will fall from the stands towards
Emmanuel Adebayor
when he steps onto the pitch at Emirates Stadium as a
Tottenham
player on Sunday.
The Arsenal fans will waste no time in taunting their former striker about his avarice, nor in reminding him about the tragic moment when gunmen fired on the Togo team bus.
So worried are the two clubs about the abuse Adebayor might receive in the north London derby that they took the step of issuing a joint statement earlier this week calling for calm.
It is a fixture that stirs up the rawest of emotions - just ask Sol Campbell - and Adebayor will be be public enemy No. 1 for the Gunners fans.
They will cite his lack of effort in his final season at the club, his greed in leaving for Manchester City in 2009 and, of course, his celebration after scoring against his former club when he ran the length of the pitch and slid on his knees in front of the away supporters.
But for all the abuse he will receive on Sunday lunchtime, Arsenal would love to have him back in their squad in the form he has shown this season.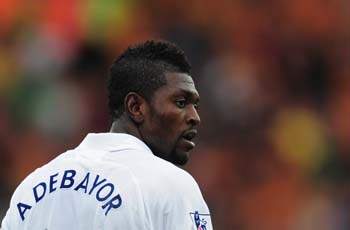 For all the abuse Adebayor will receive on Sunday lunchtime, Arsenal would love to have him back in their squad
Adebayor, on loan at Spurs until the end of the campaign, has been fit and happy, overcoming his Arsenal connections and winning over the fans with excellent performances as the focal point of the attack in Harry Redknapp's side.
He has 10 Premier League goals so far this term and 11 assists, having rediscovered his passion after becoming discontented at City, where he was frozen out by manager Roberto Mancini.
On form, Adebayor can be one of the most difficult strikers in Europe to defend against. His pace, strength, skill and vision can pull a back four out of position and he has proved himself an accomplished finisher in the penalty area.
If he keeps his cool, Adebayor will fancy his chances of having the last laugh against a wounded Arsenal side that will go into the north London derby following back-to-back defeats to Milan and Sunderland.
What better way could there be for Adebayor to celebrate his 28th birthday on Sunday? Spurs currently sit third in the Premier League, almost certain to qualify for the Champions League, and are 10 points clear of their neighbours ahead of the fixture.
That gap is fully merited, with Redknapp's squad possessing more talent both in attack and defence. With the Gunners short on confidence, the likes of Adebayor, Gareth Bale and Luka Modric could make a real statement as Spurs look to secure a second successive win at Emirates Stadium.
With 13 games to go until the end of the season, Tottenham are likely to finish above Arsenal for the first time since 1995, confirming a shift in the balance of power in north London that has been evident on the pitch all season.
Adebayor's role in that achievement cannot be underestimated. He arrived at White Hart Lane with a reputation from his Arsenal days as an arrogant prima donna, but Spurs have found him to be humble and professional.
In an ideal world, Tottenham would want to secure Adebayor on a permanent basis but his £170,000-a-week wages - of which Spurs currently pay just under half - are a huge stumbling block.
He has stayed quiet this week, taking to Twitter only to provide updates as to his fitness (he has recovered from a knee injury) and to thank God.
The abuse from the fans who once adored him will get under his skin, make him even more determined to remind the Gunners what he is capable of.
If he scores, it is unlikely he will celebrate by goading the home supporters. He will want to, but his point will already have been made.
The former Arsenal man wearing the white of Tottenham on Sunday could be the ultimate symbol of the new order in north London.
Follow Greg Stobart on