COMMENT
By Carlo Garganese | Deputy Editor
It wasn't meant to be so easy, at least not for AC Milan. There has perhaps never been such an unpredictably one-sided game in Champions League history, with Arsenal on the receiving end of a humbling few saw coming.
The consensus among experts going into the tie was that Arsenal were favourites. For once, this wasn't the British press being biased and myopic, it was actually a pretty understandable prognosis. Milan had been playing abysmally, their extremely fortuitous 2-1 comeback victory at Udinese on Saturday night – having been outplayed for over an hour – ended a sequence of three games without a win, during which they had lost twice and been without 13 first team squad members due to injury or illness.
Arsenal, on the other hand, after losing three Premier League games on the bounce in January appeared to be finding their form again. With 28-goal Robin van Persie on fire, and three wins in four games dragging the Londoners back into contention for the top four and FA Cup, Arsenal were tipped to claim the scalp of an AC Milan team that had won just four of their previous 19 Champions League matches and had been eliminated in the last 16 by EPL opposition at each of their last three attempts.
But the experts could not have been more wrong had they tried.
Fast forward to full time on Wednesday night and Milan had equalled their biggest ever Champions League win, while Arsenal had suffered their worst ever European defeat. And it should have been even more emphatic. Goals from Kevin-Prince Boateng, Robinho (2) and Zlatan Ibrahimovic may have completed a 4-0 thumping at San Siro, but Boateng, Luca Antonini (twice) and substitute Alexandre Pato all squandered gilt-edged chances to add to Arsenal's misery.
MATCH FACTS | AC Milan 4-0 Arsenal



Shots
On Target
Possession
Territory
Corners
Bookings
Sendings-off

AC Milan
15
5
47%
49%
5
3
0

Arsenal
8
5
53%
51%
6
2
0
Milan were utterly dominant from start to finish in each department. In addition to creating almost a dozen excellent openings, they dictated every area on the pitch. Robin van Persie was horribly isolated in attack - Thiago Silva and Philippe Mexes nullifying the threat of a world class attacker who will surely now pack his bags and leave London in the summer – Mark van Bommel and Antonio Nocerino bossed the middle of the park, while the three goalscorers caused trouble every time they touched the ball – Boateng starting the party with a wondervolley on 15 minutes. Arsenal threatened just twice all game, Van Persie forcing saves from Christian Abbiati at 3-0 and 4-0 respectively – the first of these a brilliant stop from the Dutchman's volley on 65 minutes.
There was no doubting who the individual star of the show was, though. Ibrahimovic has been on the receiving end of vicious criticism in the British press for the best part of a decade, and while his God-given talents clearly haven't been appreciated (this is someone who has won eight league titles in succession for five different clubs in Holland, Italy and Spain, scoring over 250 career goals in the process), it must be accepted that the Swede has rarely produced his best on big European nights (Ibrahimovic had never even scored a Champions League knockout goal until 2010 – even if he did go on to fire a double past Arsenal at the Emirates in the quarter-finals that year).
Ibrahimovic's performance on Wednesday night was without doubt the best of his career in the Champions League, better even than his indomitable display against Real Madrid for Juventus in a 2004-05 second round second leg clash where he was untouchable as the Bianconeri turned around a 1-0 deficit from the Santiago Bernabeu to win 2-1 on aggregate at the Delle Alpi. Everything at San Siro yesterday went through Ibra. The 30-year-old bullied Laurent Koscielny and Thomas Vermaelen, who bounced off the striker time and again as they feebly attempted to wrestle the ball off him. Ibra scored one from a penalty he earned, created two, and could have had at least a further two assists had his team-mates been more clinical. Arsenal goalkeeper Wojciech Szczesny later described Ibrahimovic in the mixed zone as "among the greats" of the game, while even the British press were extremely complimentary.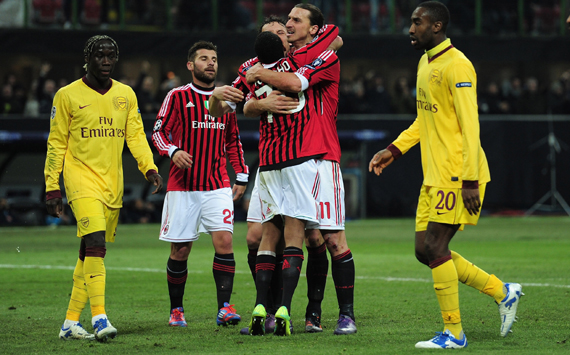 Who's the man - Zlatan, Zlatan | Ibrahimovic is mobbed after dispatching his penalty
But as good as the Rossoneri were, they must not get carried away and would certainly do well to ignore Urby Emanuelson's comments that "Milan can now win the Champions League". The seven-time champions are still light years behind overwhelming favourites Barcelona and Real Madrid, and will be hoping once they complete the formality of qualifying for the next round that the two Spanish giants are both paired on the opposite side of the draw en-route to Munich.
For the truth is that this is a dreadful Arsenal team – the worst of Arsene Wenger's 16-year reign. When a declining Wenger outfit beat Milan 2-0 at San Siro four years ago to eliminate the then-holders, they still boasted talents such as Cesc Fabregas, Mathieu Flamini and Emmanuel Adebayor. Only one player who started that night played yesterday – Bacary Sagna. The replacements for Fabregas, Flamini, Samir Nasri and co. are not of the level required to compete at the highest level. If Wenger honestly believed that deadline day signings Mikel Arteta, Per Mertesacker (and Andre Santos) – modest players from mid-table clubs - could help Arsenal challenge for honours then he was deluded. This term, Arsenal's record against Milan and the top seven teams in the Premier League is: P9 W1 D1 L7.
And when your personnel are lacking in quality, Arsene Wenger certainly isn't the manager you want to execute a tactical masterclass in Italy. This writer has made the point numerous times over the years, but will do so once again now: Wenger is a world class scout – the best of the past 20 years - and a world class nurturer and developer of young players. But he is a shockingly naive tactician, and has no understanding of how and when to alter his strategy depending on different scenarios and opposition. He has one style of football, and sticks to it come rain or shine. As the seasons have passed he has become even more stubborn in this philosophy – hence seven years without a trophy.
One could write a thesis on all the things Arsenal did tactically wrong against Milan. When the defence should have held, they pushed up – thus leaving acres of space to exploit in behind. This directly resulted in the first two goals (even if Ibrahimovic was marginally offside in the build-up to Robinho's first), as well as further one-on-one chances for Boateng, Antonini (twice) and Pato. When Arsenal needed to close down and track rampaging full-backs Ignazio Abate and Antonini (when have we ever described Antonini as rampaging?!) they went narrow and offered them all the room in the world down the flanks. When Ibrahimovic and Robinho dropped deep, there was the need to compress the centre of the pitch – especially around the edge of the penalty area – but absolutely no instructions were seemingly delivered in this regard before or during the match.
How Alexandre Song still gets a game for Arsenal is a mystery. A holding midfielder's job is to protect the back four, and fill in the turf between defence and midfield. This is a tactical role – you must have an understanding of space, be disciplined and able to read the play. Ibrahimovic and Robinho wreaked havoc in areas that the Cameroonian should have been occupying. Robinho's second arrived after Song was, first, out of position, and then too slow to react. The ex-Bastia man is incapable of carrying out any of his required functions, and has been throughout his four years as a regular. Wenger is unable to recognise this because he is tactically inept. The Frenchman did at least concede some of his side's shortcomings: "We were shocking. We were out of shape, with no unity defensively or offensively. We made a huge mistake on Milan's first goal."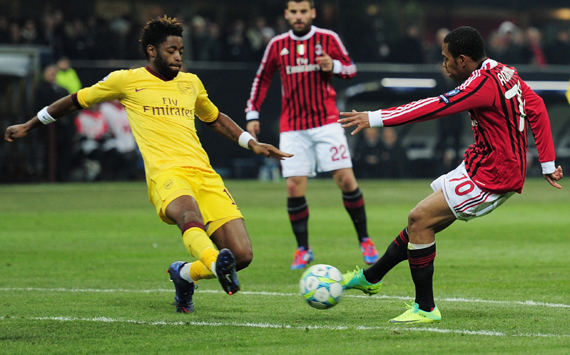 A Slow Song | Robinho fires home his second and Milan's third, with Song out of position
Wenger also confessed that his side require a miracle if they are to progress to the quarter-finals. No team has ever recovered from a 4-0 first leg away defeat to reach the next round in Europe. All in all it was a memorable night for both Milan, who also maintained their grip on first place in Serie A after Juventus could only draw 0-0 at Parma, and particularly Ibrahimovic, who silenced his critics and scored in his fifth consecutive Champions League game.
Ibrahimovic even ended the evening by going for dinner with tennis No. 1 Novak Djokovic, a passionate Milan fan who had been in attendance at San Siro. But if Ibra and Milan are to be football's number ones then they will have to prove it against Rafa Nadal and Roger Federer-like opposition such as Real Madrid and Barcelona, and not a qualifier like Arsenal.
Follow Carlo Garganese on