ANALYSIS
By Paolo Camedda & Fabrizio Ponciroli
With their Champions League tie against Arsenal on the horizon, AC Milan are desperate to get their first team squad back to somewhere near full strength again after a rotten run of luck with injuries, illnesses and suspensions. But one of their recent absentees has a much greater battle on his hands, as Alexandre Pato's latest hamstring problem has provoked heightened concern inside the walls of the famed Milan Lab.
Pato's injury – his eighth muscular problem in just two years – was sustained in last month's Coppa Italia round of 16 win over Novara in freezing cold conditions at San Siro. But rather than being a result of the inclement weather, or an issue with his warm-up routine before entering as a second-half substitute, the Brazilian's growth spurt continues to ask many questions of the skilled staff that Milan employ as they look to end his continued absences once and for all.
A source within the Rossoneri has explained to Goal.com that Pato has grown eight centimetres since his arrival at the club in the summer of 2007, and is now carrying nine kilograms extra weight compared to five years ago. The striker has done much of that growing over the second half of his time in Italy, and his body was not ready for such a change. It means there is now a physical imbalance which has affected his posture, making him more vulnerable to injuries, particularly of a muscular nature.
Essentially, Pato has grown too much, too quickly, and the long spells on the sidelines over the last three seasons have become a natural consequence of the 22-year-old's battle against his own body. The grave issues now extend to the player's price tag. Bought from Internacional for €22 million, he was at one stage thought to be a €60m asset. However, only last month the club looked set to sell him to Paris Saint-Germain for just €35m, and now there are fears within Milan that his latest injury has reduced his value even further.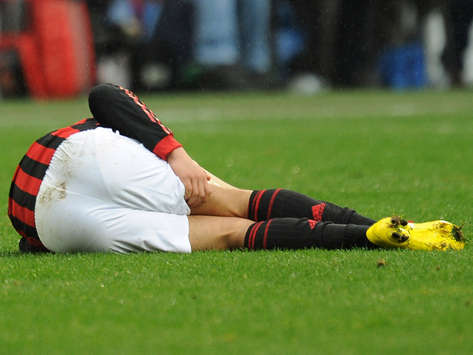 An all too familiar sight | Pato suffers another hamstring problem
The good news is such physical imbalances are not irreversible, as our source explains: "It's just a matter of time, Pato is already working on these issues." With adequate training and exercises, 'the Duck' should overcome his perennial problems and put an end to the regular injury absences. However, the change in training is likely to compromise the player as we know him.
Gone will be the lightning pace and quick reactions that he was well known for at the age of 18, and instead he will have to become more attuned to a game based on power and physical strength. That is the price he will have to pay for the growth issues of the past few years.
Top orthopedic surgeon Dr. Augusto Morandi, from the Centro HLS (Health Life Style Centre) in Milan, puts Pato's issues into some medical context.
"Certainly, the physical problems Pato has had have multifaceted elements. An athlete in the development of muscle must progress in two ways at once. On the one hand there must be the enhancement of muscle mass itself, and on the other a growth elasticity, so that the explosive force increases in step with the elastic force.
"For the Rossoneri striker, volume growth was followed by a muscular growth elasticity, and this has created an imbalance that has resulted in the boy having a high number of injuries."
But could Pato's problems be to do with other postural or dental imperfections, as has happened with other Serie A players in the past?
"Absolutely, poor posture of the foot or the jaw can cause an imbalance to occur in other muscles, increasing the likelihood of incurring injuries," explains Dr. Morandi. "In this case the solution is the use of orthotics, with which you can bring the situation back to normal."
LAME DUCK | Pato's Serie A appearance stats at Milan



GAMES

GOALS

GAMES MISSED

2007-08

18

9

2

2008-09
36

15

2

2009-10
23

12
15

2010-11
25

14

13

2011-12
10

1

13

Percentage of games missed January 2008-May 2009
6.8%

Percentage of games missed August 2009-February 2012

41.4%

And when asked what else might be done to address Pato's issues, Dr. Morandi says there are plenty of options.
"He must not continue with exercises which just lead to the growth of muscle mass, but must favour instead gymnastics and exercises such as pilates and TRX, a training system used by the Marines in the past and now adopted by many professional clubs. That helps to develop mass, but also the elasticity. Similarly, for an athlete it is always very important to have good stretching sessions after workouts."
Athletic trainer Matteo Bisoffi explains how Pato's case could go deeper, and believes that the Brazilian would do well to take the lead of some other great footballing names in his quest to become more resistant to physical problems.
"In my opinion, there is also a genetic component to this. In subjects with a high percentage of white fibres, which are those that give speed and explosiveness, as with sprinters, the risk of injury is higher. The muscles on the bones in fact download a high degree of explosiveness. A high proportion of white fibres, therefore, is directly proportionate to an increased risk of the athlete having accidents.
"I think this is the case with Pato, for whom the high explosiveness has resulted in frequent muscle trauma. His situation could be likened to that of a certain Ronaldo: his joints and his knees were also unable to support his great explosiveness. But of course just by having so many white fibres, it does not mean that one must necessarily be injured many times in such a short period as has happened with Pato."
Bisoffi continues: "There is also a psychological component. An athlete who is not calm and peaceful is likely to be injured more than those who are. In this sense it seems to me that in recent months Pato has been rather troubled that Milan no longer consider him unsellable.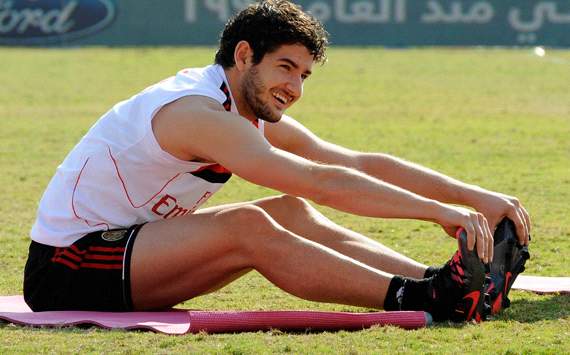 New techniques | Pato must train differently to get the best out of his changed body
"Then there is the question of lifestyle. All the top players, with few exceptions, have a private life in keeping with the profession they serve. I want to cite an example of this in Javier Zanetti, who at 38 is still running around the field like a young boy. Pavel Nedved prepared all day before going onto the field to guard against injury, and in his long career he had only a single muscle lesion. Frank Lampard is another example, and he played 90 consecutive games without missing a match in the fast-paced English league."
So does he believe there is an easy way to resolve Pato's issues when looking at the preparations of these other players?

His situation could be likened to that of Ronaldo: his joints and his knees were also unable to support his great explosiveness



Athletic trainer Matteo Bisoffi
"No, it is not easy to solve, but what you can do is minimise the risk of injuries, because there is always an element of unpredictability. In this vein, the athletes with their lifestyle and their behaviour can positively affect their bodies. I do not know what Pato did before the latest injury – whether he went out to dance, how many hours he slept the night before, and so on – but I repeat: He who practices prevention and lives an athlete's life undeniably reaps the benefits.
"An example of a player that I have personally followed is Andres Grande, who won the World Under-20 title for Argentina with Javier Zanetti. He was a great player, but had to quit football at the highest levels due to a functional deficit in his knee. Well, any other athlete with such a problem would stop playing football. But he managed to continue his career in the minor categories and amateur level until he was 36.
"The secret? He got up every day at 7:30am and did half an hour of stretching and muscle strengthening exercises. A great example. If all professional players did this, they would definitely have far fewer injuries."
So, according to our experts, there are plenty of methods that could be followed by Milan as they look to resolve one of their greatest problems right now. How do they get one of their most prized assets back to the top without overly affecting the style of play that made him such a wonderful prospect in the first place? This is one of the biggest ever tests for the famed Milan Lab.