ANALYSIS
By Rob Stewart at the Stadium of Light
They say that you should never go back but
Thierry Henry
has proved it is about time that adage was revised following his remarkable exploits with
Arsenal
.
There was a fear that the former France international might tarnish his legacy when he returned to Arsenal on loan from the New York Red Bulls, but his endeavours for Arsene Wenger have had the opposite effect.
It is fair to say that Henry was risking his reputation by rekindling his love affair with Arsenal, yet in the space of two months the man who came back as a hero is poised to leave as an even bigger one which really is saying something.
It brought a tear to his eye when the club unveiled a bronze statue in his honour to mark the club's 125th anniversary last December, but it could be Wenger and his staff who will be struggling to fight back the tears when he bids farewell again after the visit to AC Milan in the Champions League on Wednesday.
THIERRY'S FAIRYTALE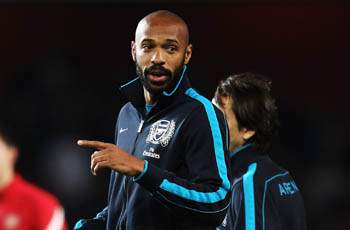 FROM OUR LIVE! COMMENTARY

"GOALLLL!!!!! Thierry Henry surely gets the winning goal for Arsenal with potentially his last touch as a Gunner player. He gets in between O'Shea and Turner and pokes the ball past Mignolet from Arshavin's pinpoint cross to send the visiting supporters into raptures."
For, as comebacks go, Henry's could not have gone much better, notwithstanding niggling injuries that have limited his contribution on his winter break in north London as he rolled back the years in sensational fashion.
He might not have the searing pace that made defenders across Europe quake in their boots, but his close-range winner on Wearside shows that he still thinks more quickly than decent Premier League centre-halves such as Michael Turner and John O'Shea.
Since he got back to his old ways, Henry – who spent eight trophy-laden years at Arsenal - has been as talismanic as ever, even if he had to apologise to fans after becoming involved in a bust-up with travelling supporters following the 3-2 defeat at Swansea.
For starters, the former Barcelona striker kept Arsenal's quest for the FA Cup on course with a sumptuous winner over Leeds United at the Emirates.
And there was his first Premier League goal since his return in the 7-1 demolition of Blackburn at the Emirates.
But the 34-year-old saved the best till last in more ways than one in scoring an injury-time winner in the 2-1 come-from-behind victory at Sunderland.
The defeat at Swansea shows that Henry is not a cure-all but in his six substitute appearances since he came back to the club, the inconsistent Gunners have lost just the once.
Now the stage is set for Henry, who won the Champions League with Barcelona in 2009, to sign off in style when he faces AC Milan before heading back across the Atlantic.
It will be the first time that he has been back to the San Siro since one of Arsenal's finest hours when Arsene Wenger's team crushed Inter 5-1 in 2003 – a performance that is ranked 10th in the club's 50 all-time greatest moments.
Henry is credited by the club website with being the inspiration for that incredible performance and the way he bowed out of the Premier League against Sunderland you would not bet against him making his mark again.
It is thanks to Henry's goal at Sunderland that Arsenal are back in the top four, as everything that could go right did go right over the weekend for Henry's resurgent club.
ARSENE WENGER'S SATURDAY CHECKLIST




Top-four rivals all losing...

☑




Now in control of the race for next season's Champions League...

☑




Good character shown to come back in last 20 minutes at Sunderland...

☑




Aaron Ramsey's confidence restored with goal...

☑




Bacary Sagna back, Robin van Persie unscathed...

☑




So in the short-term, there are plenty of reasons for Arsenal fans to be optimistic about their prospects for success this season.
In the long-term, things are looking bright as well thanks to Henry's presence over the last couple of months, according to Gunners legend Steve Bould.
The former defender, who is now Arsenal's highly successful Under-18 Academy coach, has revealed that Henry has been an inspiration on and off the field.
"Having Thierry Henry back at the club has given everyone connected with Arsenal Football Club a big lift and for the youth team it's been really inspirational for them to have such a great professional around the place," Bould told the Sunderland match-day programme.
"He's an example for everyone really but especially for the youngsters to look at someone who has such a great approach to every element of the game, and how he conducts himself on and off the field is an inspiration in itself."
In his post-match press conference at Sunderland, Wenger opened the door for the evergreen Henry to return to the Emirates next season, but first the striker will be out to make sure that he leaves his boss with a perfect farewell gift in Italy.
Wenger described Henry as a "luxury" after his startling finale at Sunderland but what was more telling is the way he likened him to Paul Scholes and Ryan Giggs.
Manchester United legends Scholes and Giggs are still going strong at the ages of 37 and 38, respectively, so there is surely plenty left in Henry's tank. Va-va voom.
Follow Rob Stewart on