In his latest diary entry for Goal.com, the US international and Fulham midfielder talks about playing in his first World Cup despite a back injury - and what it meant to score
Hey Goal.com readers,
Over the next few weeks I will continue to share my life and soccer experiences with you. Make sure you also follow me on Twitter (
@clint_dempsey
)! #thatswhatsup
Growing up, the World Cup was all I knew...
Watching the World Cup on television, seeing countries play against each other and seeing all the fans cheering on their country are my first memories of watching the game at the highest level. That got me excited, because I was able to see so many people caring about the sport that I loved.
Before witnessing the World Cup my only experiences were with recreational and youth club soccer. Finding out that you could play in a tournament of that magnitude was amazing to me. I didn't really know about professional football at the club level. I was just aware that if you were good enough to play for your country, and if they thought were good enough, you could play in a World Cup.
To be honest with you, when I first started in MLS I was just trying to make it in the league. I thought that if I came into MLS and played well, five or six years down the road playing for the national team might be a possibility.
A funny thing I remember during my rookie year is Revolution assistant coach Paul Mariner asking me when I thought I would get into the national side. I told him that I thought if I kept doing well I could make it in three or four years, but he told me that he thought I'd be in the team a lot sooner.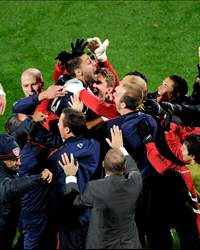 I was surprised that I had an assistant manager in Mariner and a manager in Steve Nicol who thought that highly of me. Within myself I thought I was good enough to play at that level, but I'd never had people in that kind of position that thought I could as well. I thought it was going to take years and years of doing well at the MLS level to get my chance.
But then I got the opportunity to play in some qualifiers for the 2006 World Cup at the end of my rookie year.
I started to get discouraged there for a while. At first everything was going well and I was getting in games with the national team, and then I went through a period where I wasn't even making the roster when the European players were called in.
It wasn't until after we had qualified, when I went into the winter camp, that I really hit the ground running. That offseason I made sure I was grinding and putting in the work so when I came into that camp I could put myself in the best situation possible to make the team.
Scoring and making an impact in those friendlies was what really allowed me to make the World Cup roster.
What a lot of people don't know is that in the last friendly game before the World Cup, against Latvia, I had a back issue and I didn't know if I was going to be able to feature in Germany. I had to get an injection that reduced the inflammation and allowed me to play pain-free.
It always seemed like there were little things that kept pushing me back, but I just kept trying to go forward.
Then I finally made it to Germany….
My biggest dream was playing in the World Cup.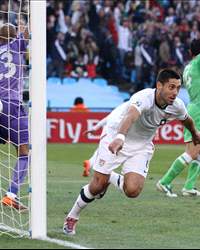 I had played in a U-20 youth championship where I only got on the field for 15 minutes or so, then I got my chance to go to World Cup in 2006. After the first game with the Czech Republic, when I didn't get to play, I was thinking, "Here we go again, another World Cup where I'll hardly get to see the pitch." I really just wanted a chance to be on the field and prove myself.
I killed myself during training to show the coach that all I wanted was a shot at accomplishing my dream. Before the Italy match I got the news that I'd be starting, and I just wanted to make sure that I took advantage of that moment.
We got a draw in that game and after playing well I got a chance to make my second start against Ghana. So there I was, starting two of three games in the World Cup when I didn't think I was going to feature after I didn't even see the field in the first match.
Being able to score a goal against Ghana was the ultimate dream for me. It's my favourite goal and my favourite memory in my football career.
Being in a World Cup and scoring a goal, that's when I knew I had arrived, that I had made it. That's when I knew anything was possible. In my mind, that was a dream come true and I knew I could die a happy man because everything after that would be icing on the cake.
Until next week ya'll, take it easy. Peace!
Clint