The Rossoneri appeared to be building momentum ahead of the Derby della Madonnina but since losing to Inter the flaws that were evident at the start of the season have resurfaced
COMMENT
By Mark Doyle
Over the course of the next five days, AC Milan will play two games which will have a massive bearing on their hopes of lifting silverware this season. Worryingly for the Rossoneri, there is an inescapable feeling that these key clashes could not be coming at a worse moment for them.
At a time of the season when the big boys are supposed to be flexing their muscles, Milan's old men are currently nursing theirs. Ahead of this evening's Serie A showdown with fourth-placed Udinese and Wednesday evening's Champions League last 16 first-leg meeting with Arsenal, the Rossoneri look tired, physically and mentally.
How have the Italian champions found themselves in this position? Well, in fairness to them, they have been unlucky with injuries of late.
Antonio Cassano's stroke - the timing of which was particularly cruel given that the enigmatic Barese was playing arguably the best football of his career - was a development that nobody could have foreseen and Gennaro Gattuso's ongoing ocular problems are desperately unfortunate, as well as incredibly worrying.
However, that Alberto Aquilani and Alexandre Pato are again kicking their heels on the sidelines has come as a surprise to nobody, while Kevin-Prince Boateng's muscular problems are all of his own doing if his 'better half' is to be believed.
It really does beg the question as to why Milan failed to strengthen more adequately during the January transfer window. Admittedly, they did move to address their shortage of numbers in midfield by bringing Alexander Merkel back to the club on loan from Genoa - only to lose the German to knee ligament damage for two months.
MILAN MIDFIELDERS' SERIE A STATS

Player

Nocerino
V. Bommel
Aquilani
Boateng
Seedorf
Ambrosini
Emanuelson
Gattuso
Merkel

Age

26
34
27
24
35
34
25
34
19


Starts

19
16
12
11
10
9
7
1
0


Sub

1
2
3
1
4
4
11
0
1

However, it has been evident since last summer that Milan's engine room was in dire need of an overhaul and, it has to be said, Allegri was given a stark reminder of this fact just two games into the new season when Walter Gargano cruised past both Mark van Bommel and Clarence Seedorf during a box-to-box run which ended with the Uruguayan setting compatriot Edinson Cavani up for Napoli's second goal in a 3-1 win over the Rossoneri at the San Paolo.
In addition, just over a fortnight later in Turin, Andrea Pirlo, the one that should never have got away, inspired new club Juventus to a 2-0 victory over his former employers, which only served to underline the fact that Milan lack not only dynamism in midfield, but also guile.
This was abundantly clear in Wednesday night's Coppa Italia semi-final first-leg defeat by the Bianconeri at San Siro. Pirlo was not even at his best and yet the Italy playmaker still displayed a range of passing and craft that not one player clad in red and black came even close to matching.
The dynamic displays of Emanuele Giaccherini and Martin Caceres, without even taking the latter's two goals into account, contrasted starkly with the endemic lethargy within the home side's line-up.
Milan looked five yards off the pace all over the pitch. Stephan El Shaarawy has bundles of energy but he has yet to prove that he knows how best to expend it, while second-half substitute Robinho remains as fraudulent a forward as there is in the game today. As Paulo Sergio said recently, Robinho is the greatest signing Bayern Munich never made. Watching Wednesday night's game, it was even easier to understand just why Milan made such a concerted effort to sign Carlos Tevez, the hope being that the commitment and effort which the forward brings to the field of play would have compensated for the baggage that he brings with him off it. Instead, the Rossoneri ended up with Maxi Lopez, whose latest hairstyle is as shockingly bad as his finishing.
At the back, one could not help but feel for the genuinely world-class Thiago Silva, who, with Alessandro Nesta out injured, was forced to play alongside Philippe Mexes, a man who is giving free transfers a bad name.
As for Milan's chosen full-backs against Juve, Luca Antonini and Daniele Bonera, they remain as knowledgeable on the subject of sound positional play as stand-in goalkeeper Marco Amelia is on the 'art' of successfully holding on to the ball.
It is worth noting, too, that Juventus coach Antonio Conte played a 3-5-2 formation at San Siro. This is a coach who has also played 4-2-4, 4-1-4-1 and 4-3-3 this season, the latter to great success. But where is the variety in Milan's tactical set-up? They look very much like a side without a viable Plan B at the minute, which, unless you are Barcelona, is a disturbing state of affairs.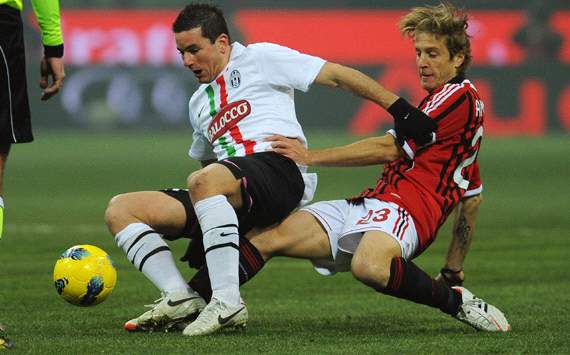 Tired Legs | Ambrosini was one of several Milan players who looked off the pace against Juve
The depressing thing for Milan is that they only have themselves to blame for being in such a vulnerable position at this point in their campaign. Just why did they fail to make greater investment in the squad - if not last summer, than at least in January? If Milan wanted Tevez so badly, why did they not come up with the extra cash when it became clear that City were willing to play hard ball? Top players cost a lot of money - but the price of failure is far greater. Milan could discover that to their cost in the coming days.

Indeed, Allegri now has the unenviable task of having to sufficiently reinvigorate his players to go to the Stadio Friuli this evening and claim a positive result. It is imperative that Milan collect at least a point for the sake of their Scudetto challenge but it is also of the utmost importance to their Champions League prospects. Back-to-back defeats to two their principal title rivals would leave Milan in a dreadful state of mind ahead of the visit of Arsenal on Wednesday night.

The Gunners' own mental resilience has often been called into question, of course, but what they do not lack is exuberance and precociousness of youth. Arsene Wenger's latest crop of youngsters could come of age at San Siro. Milan will most likely just continue to age.