In a story that could only happen in the digital age, Goal.com speaks with the amateur graphic designer who saw his Atletico shirt design enter mass production
SPECIAL
By Dan Orlowitz
The Internet has unquestionably helped football evolve as a global game. But it also fosters an environment where fans desperate for information and scoop-hungry media can combine to form a perfect storm, as readers of popular discussion site
Reddit
learned last week when contributor
coolinwithcosta
presented an incredible tale that stretched from Madrid's front pages to China's notorious knock-off factories.
The story began four years ago when the Irishman, whose real name is
Michael
, began posting photoshopped shirt designs to popular uniform site
Football Shirt Culture.
"I guess I like the idea of coming up with a new design for something with such defined restrictions attached to it," Michael told
Goal.com
in an exclusive interview. "A Liverpool shirt can only ever be red, a Chelsea shirt must always be blue, and if Barcelona came out with any sort of white shirt, there would be murder.
"It's such a challenge to try and change something so much that it's original, yet not too much so as to ignore the tradition and history of the club."
Then in late 2010, the site leaked poor-quality images showing what would eventually become Barcelona's 2011-2012 home kit. Michael recreated a clean version to show users how the shirt would actually look before getting creative.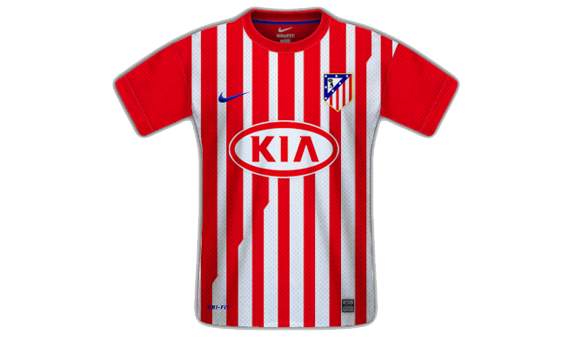 A new twist | Michael's Atletico design was inspired by the new Barcelona strip
"While I had this mock-up made, I thought I'd try the design with another club," Michael explained, "so I thought of clubs large enough that had striped shirts and were made by Nike, namely Inter Milan and Atletico Madrid."
The day after posting his proposed designs for both clubs, Michael noticed that the Atletico mock-up had already amassed thousands of views. A site moderator explained why: Spanish media believed it to be the actual design of Atletico's next shirt.
"I laughed," said Michael of his reaction. "It was insane to see that something I made in a handful of minutes was being circulated as the real deal."
Initially reported by Madrid-based portal
AS.com
, the news spread like wildfire. Arguments raged on
Colchonero.com
, a popular Atletico supporter forum, leading to a 27-page thread debating the merits of the "new" design. A freelance journalist himself, Michael understands that the furor was probably inevitable.
Making headlines | Spanish media reported Michael's design as the genuine article
"The Spanish sports media does have a reputation for not exactly letting the truth get in the way of a good story. Even the tabloids here [in Ireland] and in the UK indulge in a bit of fabrication.
"That said, it most certainly works, and when you think about it, you've got whole sections of newspapers and football websites during the summer breaks with no matches to report on, so they need to fill that space as interestingly as possible. I can sympathise somewhat."
Eventually the real kit was revealed, and Michael was prepared to let his brief period of Internet fame come to a close. But the story was not over yet, for recently he discovered that Chinese knock-off manufacturers had also fallen for the fake design and begun producing it in bulk.
"Surreal doesn't even to explain it," he admitted. "It's the sort of thing that could only happen in a sitcom.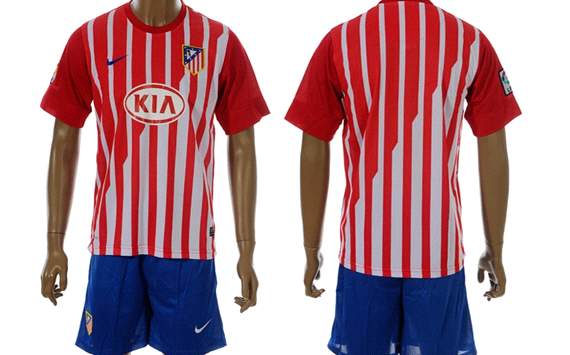 The 'real' deal | Chinese knock-off factories were also convinced by Michael's design
"I'll definitely be ordering one. I'm sure the quality will be as atrocious as most knock-offs are, but it'll be worth it to have my own custom-made Atletico Madrid shirt!"
Michael also took the time to share his opinion on recent trends in uniform designs.
"I've noticed that uniforms today are either drastically bold and controversial or fiercely traditional and basic, there's no real middle ground as far as I can see," he proposed. "For example, Umbro have kept their designs very basic and traditional these past few years, while its parent company Nike have got bolder and bolder with a more fashion-oriented approach.
"I find myself liking Adidas uniforms a lot more lately; the black Liverpool away uniform in particular has me envious of Reds fans." Then there were some that missed the mark. "I think Arsenal should have used the 10-11 shirt as their 125th Anniversary Uniform rather than the current one; it was definitive in my opinion. The current Ireland national team shirt is terrible too."
As a parting gift, Michael also took the time to draw up a special design for our readers. Surely, this is a shirt that any player would be proud to wear on the pitch.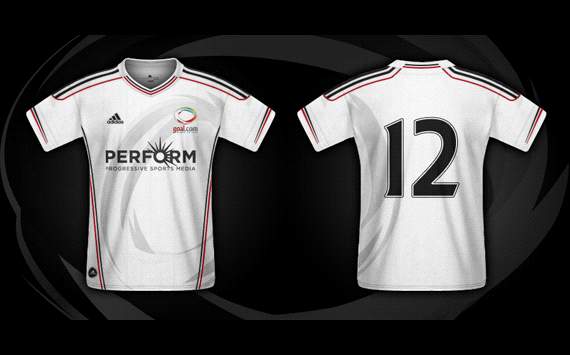 A future franchise | Michael imagines what Goal.com FC's players would wear