The Portuguese coach is rumoured to be quitting the Santiago Bernabeu in ths summer for a return to the Premier League. But there is more to these reports than meets the eye
NEWS FEATURE
By Ben Hayward | Spanish Football Editor
With Jose Mourinho, nothing is ever left to chance. From the press room to the training ground, and the boardroom to the dugout to the pitch, the Portuguese coach is a cool, calculated customer.
With Mourinho, everything happens for a reason.
So when reports emerge that the 49-year-old coach has decided to leave Real Madrid in the summer, first on a Spanish television programme, and then in an English broadsheet, eyebrows - naturally - are raised.
The first rumours surfaced in the early hours of Monday morning, last week, on popular programme
Punto Pelota
. Regular guest and experienced journalist Siro Lopez had watched Mourinho jeered for the first time at the Santiago Bernabeu as Real - rather tastily - thrashed Athletic Bilbao 4-1.
Although impressive, that game had started badly and crucially, it also came just several nights after Madrid had succumbed so tamely to Barcelona in the first leg of the sides' Copa del Rey quarter-final tie.
Whether Madrid fans actually jeered Mourinho is open to some debate: they had whistled after the Ultras had chanted the Portuguese's name. And four nights after losing at home to their most bitter adversaries - again - hardly seemed the time for such adulation.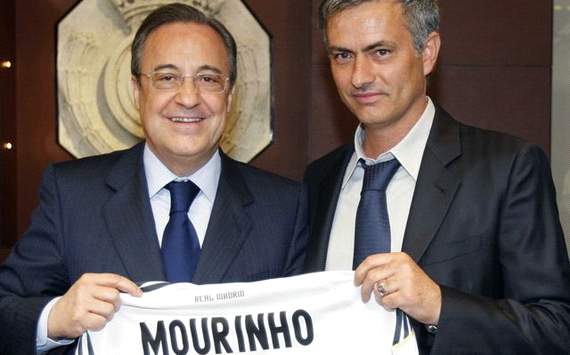 Happier times | When Florentino signed Mourinho in 2010


In the press room, Mourinho shrugged off the treatment, remembering that Madrid marvels such as Zinedine Zidane, Ronaldo and Cristiano have also been subjected to similar shrill sounds in the past.
But his body language said something else: he did not like it.
And the press, very much on his side for the first year of his reign - and even, largely up until the match against Barca - had played their part. The worm, it seemed, had turned.
Hugely critical of Madrid's ultra-defensive performance against Barca,
Marca
and
AS
had made it clear to Mourinho that negative, negating tactics were not the order of the day at this great club - especially without success to justify the means.
El Pais
' Diego Torres had already published a series of damaging articles on the Castilian club, accusing Mourinho of preferential treatment with his Portuguese players, of creating a clique and ostracising the Spanish contingent.
Now the sports specialists were at it, too.
And on the day of the Bilbao game, there was an unpleasant surprise in store for the self-styled Special One:
Marca
broke a bombshell - a blow-by-blow account of a training-ground dispute between Mourinho, defender Sergio Ramos and goalkeeper Iker Casillas. Things did not look good.
| | |
| --- | --- |
| More successful coaches - in Madrid terms, that is - have come and gone at the Bernabeu: Jupp Heynckes was dismissed after delivering a first European Cup in 32 years, while Vicente del Bosque was allowed to leave following a highly successful spell which brought two Liga titles and two Champions Leagues | |
So as Mourinho fielded questions on the Bernabeu boo-boys, Lopez made enquiries. What is the coach's state of mind? How does he feel? Is he unhappy at Madrid?
The answer, apparently, was in the affirmative. And not only that, but that, well, that was going to be that. That in the summer, Mou would be moving.
Similar stories had surfaced in Mourinho's first season, too, but there appeared to be more to it this time. Because this time, the knives looked to be out, and any former Madrid coach can testify to just how dangerous that can be.
After all, as
Marca
noted this week, more successful coaches than Mourinho - in Madrid terms, that is - have come and gone at the Bernabeu: Jupp Heynckes was dismissed after delivering a first European Cup in 32 years, while Vicente del Bosque was allowed to leave following a highly successful spell which brought two Liga titles and two Champions League crowns.
Up against such successes, Mourinho's Copa del Rey looks lacklustre at least.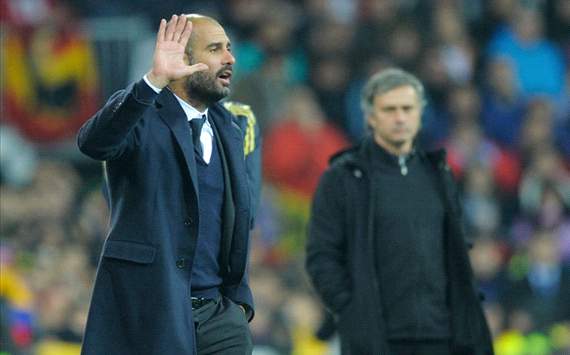 In the shadows | Mourinho has largely struggled against Barcelona
Many Madrid fans complain that the press want to run Real, but in fact the opposite is true. Barca boss Pep Guardiola has described the Madrid media as a
central lechera
- a milk farm pandering to the president - Florentino Perez.
Florentino's firm grasp on sections of the Madrid media is indeed a reality, so when that press pack turns against you as Real coach, be afraid ... be very afraid.
Perez, of course, has a predicament all of his own: he needs to win - and now. Destructive decisions had led to Florentino's failure the first time around, as the Galactico era was brought to an undignified end. But he returned to the club as a hero in 2009, as the man who would bring back the glory days - and bring Barca down.
The problem with Perez is that he likes to be in control, even though he is not a football man. Previous coaches had been mere puppets, men who would be seen and not heard - at least not in the boardroom. No wonder it did not work.
So as Manuel Pellegrini departed in 2010, complaining that he had not spoken to Perez for months and that his wishes to retain Arjen Robben and Wesley Sneijder had fallen on deaf ears, Florentino looked to Mourinho.
This, though, was a change of direction; an attitude adjustment. Florentino knew he needed success and Mourinho was the man who could provide it. The Portuguese was all but a guarantee, and winning the Champions League at the Santiago Bernabeu in 2010 with Inter - via victory over Barca in the semi-finals - meant his job interview was a foregone conclusion.
But Mourinho manages under his terms. The president's trusty lieutenant, Jorge Valdano, would eventually have to go, with Zinedine Zidane coming in as sporting director, while there were other changes, too. The Portuguese wanted full control - and he got it.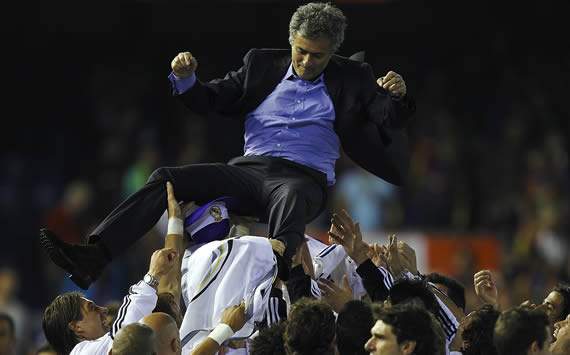 Cup of cheer | Mourinho led Madrid to Copa del Rey success last season
And that was fine: Copa del Rey success against Barca in the coach's debut season was seen as proper progress, while Madrid had overcome their Champions League second-round hoodoo, also.
Patience, though, began to wear thin as Madrid lost 3-1 to Barca in La Liga in December, and then again in the first leg of the cup, a 2-1 defeat which was as one-sided as you will see. Was Mourinho a myth? Did he have too much control? Were his negative tactics and press-room rants damaging the club? Lots of questions needed to be answered.
Within the boardroom, there was division. And Florentino had clearly started to question his choice of leader, as well. Reports in the press did the coach no favours at all, while the leaking of the Ramos story had apparently left Mourinho fuming, too.
But how could Mourinho be mad at the Madrid 'mole' when he himself had allowed information on his own future to be filtered?
| | |
| --- | --- |
| How could Mourinho be mad at the Madrid 'mole' when he himself had allowed information on this own future to be filtered to the press? | |
After the storm, came calm. Madrid produced a positive performance at Camp Nou in the return against Barca, drawing 2-2. And Mourinho made up with Ramos on the touchline in a very public display of affection.
Then Madrid beat Zaragoza 3-1 on Saturday to move seven points clear of Barca and everything seemed fine again in Mourinho's
mundo
.
And fine things were, until another bombshell late on Saturday. In a carbon copy of the previous week, news broke that Mou would be leaving Madrid at the end of the season. But this time it was not the Spanish press, but the British brigade:
The Sunday Times
.
So the news that Mourinho would depart the Bernabeu was not new; it had been reported six nights earlier in Spain. This, though, had an added twist: Mou was heading back to the Premier League.
The journalist in question is known to have close links to the Mourinho camp, which not only means the source is surely credible, but that Jose had his say in the story being published in the first place.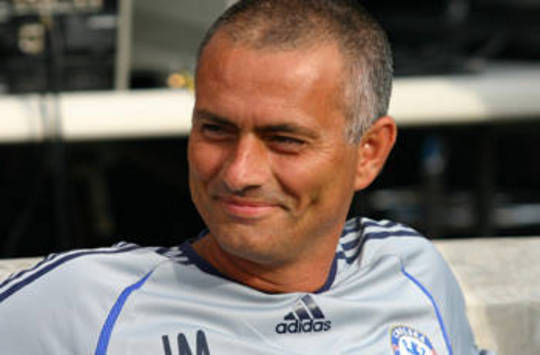 All smiles | The Portuguese was a hit in England with Chelsea


That leaves two possible motives. The first, which is entirely plausible, is that Mourinho will indeed leave at the end of June. And given his track record, a summer switch would hardly be surprising. The Portuguese is clearly unhappy at his treatment from the Madrid media and - as in Italy, where he encountered a similar situation - he may have just decided that enough is, well, enough. One Copa del Rey, an increasingly likely Liga triumph,
muchas gracias
and
adios
.
Whether a league title will satisfy Mourinho's personal goals as he ticks another box in another country, only he will know. But should he win the Primera Division and see Barca regain the Champions League, it is likely to be a hollow triumph.
Nevertheless, he was brought here to bring titles - and he will have delivered them.
In fact, much will depend on the Champions League. Win La Liga and secure
La Decima
for Madrid and Mourinho may well depart, as he did with Inter. Jose, as we have seen before, likes to have the last laugh.
But whether his mind is made up or not, it is clear that the Portuguese is playing the press. Whatever happens, he knows he needs the fans on his side if Madrid are to achieve success this term, and that means the Madrid media, too
.


| | |
| --- | --- |
| Win La Liga and secure La Decima for Madrid and Mou may well depart, as he did with Inter. Jose, as we have seen before, likes to have the last laugh | |
Although much maligned in recent weeks, Mourinho can point to his side's healthy lead over the team described not only as the best in the world, but perhaps the finest footballing side in history. Nobody else has managed to put such daylight between themselves and Guardiola's group of greats, let alone seven points. So whatever water has passed under the Bernabeu bridge, Madrid cannot afford to lose their leader. And he knows it.
Whether he is looking to smooth things over until the end of the season or alter perceptions ahead of a third and, perhaps even more successful season at the capital club, Mourinho knows he is, right now, indispensable.
Claims he may have to pay €15 million to Madrid for failure to complete his contract (which ends in 2014) are by the bye, because any prospective employer would settle that debt, anyway.
Whatever his intention, Mourinho has made Madridistas step back and say: 'Hang on, where were we before you came?' And the answer, despite the club's glorious history, is: not in a very good position.
So while his decision has probably not actually been made 100 per cent, the script is, perhaps, already written: Mou marches on, Madridistas are melancholic, the myth is maintained. As they say in showbusiness: Always leave the public wanting more. And Mou is the master when it comes to such spectacles, as he showed at Porto, Chelsea and Inter, departing only after he had delivered incredible success. But soon enough to be sorely missed.
Alternatively, he could still surprise us all and stay in Spain. Either way, one thing is for sure: he is leaving nothing at all to chance.
Follow Ben Hayward on