Harry Redknapp has stuck with the same players for four months but will be forced to make changes after injuries to Sandro and Willam Gallas in victory over West Brom
COMMENT

By
Wayne Veysey
at White Hart Lane
Bloodied, injury-battered and below-par they may have been but
Tottenham
march on.
Harry Redknapp's team pocketed all the points on a night when they demonstrated to a strangely subdued home audience that resolve as well as adventure courses through the leaders of the pack chasing the two Manchester high fliers.
Spurs' increasingly excited followers will have a better idea of how the team's title challenge is shaping up on Saturday week, when Wolves are the third of three Premier League visitors to White Hart Lane in 11 days.
Should Mick McCarthy's team and Everton next Wednesday suffer the same fate as Roy Hodgson's ultra-conservative West Brom, then hopes will be skyscraper-high that the glory, glory days really are returning to this side of the Seven Sisters Road.
Even in moments of triumph, Redknapp looks like he has lost a tenner and found a penny but he has every right to be concerned after assessing a dressing room that doubled up as a casualty ward in the immediate aftermath of Tuesday night's victory.
Sandro and William Gallas both left the field prematurely after suffering calf injuries and even the sub had to be subbed, as the Brazilian's replacement, Jake Livermore, was left bloodied following a clash of heads with his team-mate Younes Kaboul.
Redknapp will nervously await the results of scans today on Sandro and Gallas' calves. His fear already is that the midfielder's absence "will be a long one".
It is not just in the league that Spurs are challenging Manchester United. It is in the physio room, too. Scott Parker was left out of the West Brom game as a precaution and Ledley King is not expected to have one of his lengthier spells out but Aaron Lennon, Tom Huddlestone and Michael Dawson have all been on the sidelines for long periods.
Although Dawson was named as one of Spurs' seven substitutes for the draw against Swansea City last Saturday, it was purely to make up the numbers and it is understood that he is unlikely to return to the team before the Wolves fixture.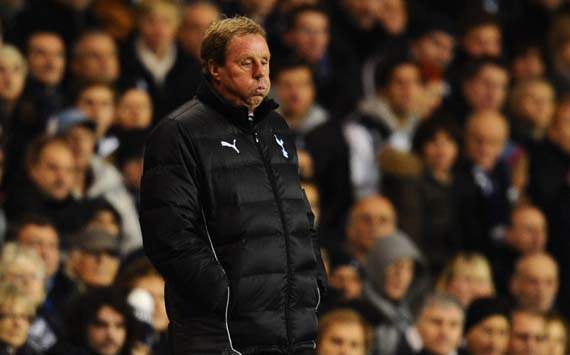 Nervous wait | Redknapp doesn't yet know how long he will be without Sandro and Gallas
Redknapp contemplated resting Rafael van der Vaart against West Brom but concluded he needed the Dutchman's craft to prise open stubborn opponents. So it proved.
It is a measure of how far Spurs have come since those early season thrashings at the hands of the two Manchester clubs that collecting eight points out of a possible 12 over the festive period is viewed as par for the course, rather than particular cause for celebration.
They would have been expected by their fans to brush aside Hodgson's workmanlike outfit but the glut of recent fixtures surely played a part in sapping Spurs of their usual panache and power, while emboldening the Baggies' players with the belief they could cause an upset.
With Gareth Bale and Luka Modric hitting the wrong notes and the injuries unbalancing Spurs' midfield, it was like watching an orchestra whose conductor kept dropping the baton.
SPURS' WALKING WOUNDED



MICHAEL DAWSON
Injury: Achilles
Expected return: 10 days



WILLIAM GALLAS
Injury: Calf
Expected return: Awaiting scan


TOM HUDDLESTONE
Injury: Ankle
Expected return: February


LEDLEY KING
Injury: Hamstring
Expected return: One week



AARON LENNON
Injury: Hamstring
Expected return: Not yet known


SCOTT PARKER
Injury: Knee
Expected return: One week


SANDRO
Injury: Calf
Expected return: Awaiting scan

But Jermain Defoe demonstrated his goalscoring instinct remains undimmed by clinically dispatching his third presentable opportunity of the second half after an opening period in which he was anonymous save for his blonde rinse. It was his seventh Premier League goal of the season, the same as Van der Vaart and Bale and only two fewer than line-leader and first choice front man Emmanuel Adebayor.
An experienced international like Defoe can hardly be described as a fringe player but it will be to those outside his favoured starting XI that Redknapp will have to turn over the coming weeks.
The task for any manager is to weigh up the needs of the present with the knowledge of the past and the requirements of the future. With his dodgy hamstrings, Van der Vaart is seemingly permanently on the brink of breaking down, while special attention also has to be paid to Bale's back and postural problems, which caused the reigning PFA Player of the Year such grief in the second half of last season.
Redknapp has one of the league's stronger squads at his disposal, arguably third only behind Manchester City and Chelsea in terms of quality of cover for a multitude of positions.
But he generally views rotation with the same suspicion he regards officers of HM Revenues and Customs. Bale, Modric and Adebayor each played the entirety of Spurs' four festive games in 12 days, unusual for such mobile, attacking players.
The problem for Redknapp is he feels he cannot do without certain key men and is loathe to chop and change in the modern way favoured by the likes of Sir Alex Ferguson.
Whether this strategy comes to bite him on the backside only time will tell. Redknapp has managed to select pretty much the same team for four months but will need no reminding that the wheels fell off for Spurs in the second half of last season when injuries piled up.
Can he rely on back-up such as Roman Pavlyuchenko, Niko Kranjcar and Steven Pienaar when they are all available for transfer should the club's valuations be met?
Spurs' remarkable run continues but the road ahead is paved with bumps and potholes.