The showdown between Real Madrid and Barcelona dominated the headlines, but how did the two superstars fare throughout December? Goal.com takes a look at their performances
ANALYSIS
Compiled by KS Leong

As part of our monthly series, Goal.com compiles the statistical data, expert analysis, and progressive season records in La Liga on two of the best players in the world, Lionel Messi and Cristiano Ronaldo.

* La Liga: Matches were called off on the opening weekend of the season due to a players' strike and those games have been rescheduled for 21 Jan 2012

August/September Head-to-Head: Matchdays 1-5
October Head-to-Head: Matchday 6-10
November Head-to-Head: Matchday 11-13




vs

LEVANTE
December 3
Camp Nou




RESULT
Barcelona 5-0 Levante

INDIVIDUAL MATCH STATS


| | |
| --- | --- |
| Minutes played | 91 |
| Goals | 1 |
| Assists | 1 |
| Shots | 6 |
| Shots on goal | 2 |
| Passes | 84 |
| Passes completed | 77 |

GOAL.COM PLAYER RATING


7.5
'Not his best game but was still brilliant. His pass for Cesc's opener was key as it split the defence and allowed Iniesta's ball to feed Fabregas. Later scored a neat fourth, should have added another shortly afterwards after he was set up by Cuenca and led the breakaway attack which led to Alexis scoring the fifth. Missed two more very good chances late on.'





vs

SPORTING GIJON
December 3
El Molinon




RESULT
Sporting 0-3 Real Madrid

INDIVIDUAL MATCH STATS


| | |
| --- | --- |
| Minutes played | 94 |
| Goals | 1 |
| Assists | 0 |
| Shots | 7 |
| Shots on goal | 1 |
| Passes | 47 |
| Passes completed | 31 |

GOAL.COM PLAYER RATING


7.0
'Scored a lovely goal in the second half to kill the game off when he calmly took the ball around Juan Pablo before slotting home. The Portuguese had plenty of other shots at goal that were mainly speculative but he came close to scoring in the first half when a dipping free-kick clipped the crossbar. Not a marvellous performance by any means but was very unselfish in his play.'

TICS



vs

REAL MADRID
December 10
Santiago Bernabeu



RESULT
Real Madrid 1-3 Barcelona

INDIVIDUAL MATCH STATS


| | |
| --- | --- |
| Minutes played | 95 |
| Goals | 0 |
| Assists | 1 |
| Shots | 2 |
| Shots on goal | 1 |
| Passes | 73 |
| Passes completed | 64 |

GOAL.COM PLAYER RATING


7.0
'Almost hit straight back for Barca as he robbed Ramos, jinked his way through Madrid defence and saw Casillas make wonderful save. Then made one fantastic run to win back possession and set up Alexis for the leveller. Teed up the Chilean for another effort with a late run.'





vs

BARCELONA
December 10
Santiago Bernabeu





RESULT
Real Madrid 1-3 Barcelona
INDIVIDUAL MATCH STATS


| | |
| --- | --- |
| Minutes played | 95 |
| Goals | 0 |
| Assists | 0 |
| Shots | 7 |
| Shots on goal | 2 |
| Passes | 33 |
| Passes completed | 26 |

GOAL.COM PLAYER RATING


4.5
'Tried his luck with a long-range effort which Valdes punched clear, and had a speculative shot after Valdes came off his line. But should have done much better as he screwed a shot well wide from the edge of the box, especially as Di Maria was unmarked to his right. Missed an easy header to make it 2-2 in arguably the defining moment of the match, as Barca made it 3-1 moments later.'



vs

Rayo Vallecano
November 29
Camp Nou
* Match played in November due to Barcelona's involvement in the Club World Cup


RESULT
Barcelona 4-0 Rayo

INDIVIDUAL MATCH STATS


| | |
| --- | --- |
| Minutes played | 91 |
| Goals | 1 |
| Assists | 0 |
| Shots | 3 |
| Shots on goal | 1 |
| Passes | 41 |
| Passes completed | 32 |

GOAL.COM PLAYER RATING


6.5
'Was a training match for the Argentine. Scored a goal with a powerful dribble and lovely finish in the Rayo box but as Barcelona dominated he did not exert himself too much as the game was won very early. Not as many meaningful dribbles or shots on goal as usual but still contributed highly whenever Barca had possession.'




vs

Sevilla
December 17
Ramon Sanchez-Pizjuan




RESULT
Sevilla 2-6 Real Madrid

INDIVIDUAL MATCH STATS


| | |
| --- | --- |
| Minutes played | 93 |
| Goals | 3 |
| Assists | 0 |
| Shots | 8 |
| Shots on goal | 4 |
| Passes | 45 |
| Passes completed | 38 |

GOAL.COM PLAYER RATING


8.0
Top of the Match
'Responded to his critics with a fine performance as he put Madrid ahead with a clinical first, lashed a stunning drive past Javi Varas for 3-0 later, and converted from the spot in the second half. He may not have been decisive in the Clasico, but he was back to his best here.'

| | | |
| --- | --- | --- |
| 186 | MINUTES PLAYED | 282 |
| 1 | GOALS | 4 |
| 0 | PENALTIES | 1 |
2
ASSISTS
0
8 / 3 (37.5%)

TOTAL SHOTS / ON GOAL

22 / 7 (31.8%)

157 / 141 (89.8%)

PASSES / COMPLETED
125 / 95 (76%)

7.25
GOAL.COM
AVERAGE RATING
6.5
17
2011-12 LA LIGA GOALS
20
29 (26)

2011-12 COMPETITIVE GOALS (APPEARANCES)

25 (23)


*Messi's game against Rayo for Round 16 played on November 29 is not factored into December's statistics
EXPERT ANALYSIS
Sergio Aguilera | Goal.com Spain Chief Editor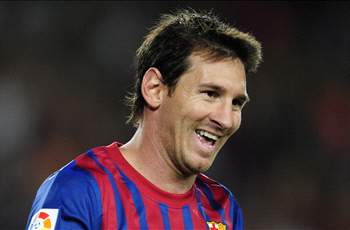 Cristiano Ronaldo and Lionel Messi wrote another exciting episode in December in their quest to dominate the world of football, as they continued breaking all records in individual performances, while they took their respective teams to new levels of success.
The Argentine started the month by ceding the spotlight for his team-mates, scoring just once in the convincing 5-0 win over Levante. The forward appeared to be saving himself for trickier task, which one week later in the Clasico. Messi led Barcelona to a surprisingly overwhelming victory over Real Madrid and, although he did not score, he provided an assist and also had a hand in the third goal.
Becoming the star of the Clasico would not be Messi's only achievement in December; the best was yet to come as he guided Barca to the 2011 Club World Cup with two goals and an excellent display in the final against Santos.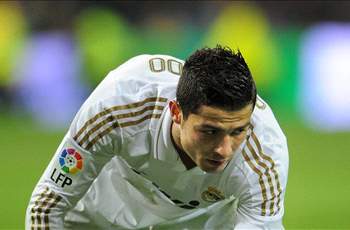 Cristiano Ronaldo was not far behind in his individual performance in the last month of 2011, as his participation with Real Madrid was so effective from an attacking perspective that the Portuguese got closer this month to breaking all the scoring records ever.
The Real Madrid ace scored four goals in three matches, three of them in the last game of La Liga for Los Blancos, in which he netted a treble to crush Sevilla in a 6-2 victory. CR7 has now scored a hat-trick in every month of the 2011-12 season so far.
The only negative point in Ronaldo's month was in the Clasico. The Portuguese was criticised for his below-par performance against Barcelona as he was unable to shine on home soil despite having a lot of chances in front of goal.
Whether it was to win another title for his club or to score 60 goals in 60 matches, both Lionel Messi and Cristiano Ronaldo put a glorious end to an extraordinary year of great football accomplishments. The clash of the two stars for the supremacy of world football will resume next year, with more goals, more spectacular performances and more thrills.
Who was better in December? Who was more consistent? Who was more productive? Join the debate on
goal_intl
and leave your tweets with the hashtag #goalh2h. Goal.com will publish the best comments in our poll result article on January 6, 2012.