SPECIAL
By Erasmus Kwaw
From a distance, it is easy to conclude that Samuel Osei Kuffour is a haughty man. However, getting close to him brings forth a different picture. Apparently, the retired Ghana international has been aware of such a description throughout his career, but he maintains that it takes an extra effort to get to know him better.
"I'm not arrogant and everybody who knows me, the players who know me, know the type of person I am," the Ghanaian football legend said on
E TV's Revealed
programme.
Kuffour's personality appears to be one which is easily misunderstood, after he discussed the subject on the show. For over an hour, the former Bayern Munich star spoke nonchalantly about his past life, misdeeds, achievements and the sad times. This was a massive departure from the 'controversial' tag that Kuffour had assumed over the years - someone with a fiery temper and not afraid to speak his mind to officialdom on issues affecting him.
The most famous, or perhaps infamous, incident was when Kuffour was expelled from the Black Stars' squad at the 2002 Africa Cup of Nations on disciplinary grounds for allegedly leaving camp without permission.
"It was really horrible," the ex-defender said. "You will be in a hotel where there is no shower in the room; you have to go and have your shower somewhere. You have to eat at the chop bar. You don't even have one T-shirt to wear. For me it was not proper and perhaps it was good that I left the camp."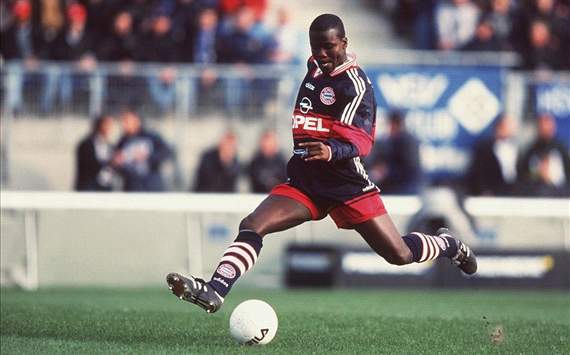 Samuel Kuffour | Early days of a long career at Bayern Munich
There appears to be a close link between Kuffour's personality and his tough upbringing in Ash Town, a suburb of Kumasi, where he lived with his mother and three sisters. These were the four people who had the greatest influence on his early life, as Kuffour's father lived in Canada at the time.
He admitted to having a very challenging early life, having engaged in several misdeeds in his earlier years. "I was a bad boy, a shoe shine boy, a wee [cannabis] seller. I did a lot of horrible things in my life," said the 35-year-old.
But, in reality, Kuffour had a close relationship with his immediate family. His mother was a good source of inspiration for him, while his sisters made sure that he went to school and did his chores.
| | |
| --- | --- |
| Every day, I had to give 120% to the team [Bayern Munich] because I am from Africa. Sometimes even when I was sick, they had to give me injections so I could play | |
Aside from the usual fights with his sisters, the young Kuffour also found solace in playing football and started his career with Fantomas FC, a colts club in Kumasi, before being spotted by the charismatic Alhaji Karim Grunsah, owner of Ghanaian club King Faisal, who signed him to King Faisal Babies.
But, as Kuffour recalled, the turning point of his career came when he received a call-up to the national Under-17 team, the Black Starlets, in 1991. The problem, however, was that he had no football boots at the time. After much thought, the young Kuffour asked his mother for help to buy the footwear.
It came with a huge price, though, because his mother sold the family television in order to buy the pair of boots. As Kuffour recalled, she lied to his sisters about the sale of the TV set.
"My mum stood behind me and lied to my sisters that the TV was with the repairers, but the TV was sold and I got the money to buy the boots. She really saw something in me even though, at the time, football was not that big," he said.
That sacrifice was worth every cent because it opened the door to Kuffour's stardom - the Black Starlets team eventually conquered the world at the Fifa World Cup in Italy, with Kuffour landing a contract with Italian outfit Torino.
It was, however, at German giants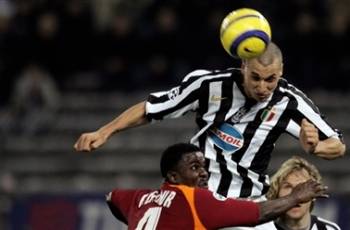 Bayern Munich that Kuffour had his biggest breakthrough. Kuffour went on to become the first African to play for Bayern Munich, winning a total of 17 titles with the Bavarians in a career spanning 12 years.
However, as Kuffour explained, it was not an easy journey.
"We had about four German national team players playing with me but Franz Beckenbauer told me 'you have to play'," the ex-defender recalled.
"Every day, I had to give 120 per cent to the team because I am from Africa. Sometimes even when I was sick, they had to give me injections so I could play," he said.
The former professional went on to rank Munich's victory in the Uefa Champions League in 2001, two years after their final defeat to Manchester United, as the biggest highlight in his career, adding that he felt that the loss to Sir Alex Ferguson's side could have been avoided had Lothar Matthaus not been substituted in the 70th minute.
At the age of 35, Kuffour is now retired from the professional game and was recently appointed as a member of the Ghana Football Association's Juvenile Committee.
He said that he hoped to bring his immense experience to bear on the current generation of young players in the country through his work on the committee.
Kuffour bid a tearful farewell to football on Friday in Kumasi in his testimonial match, where friends of the former Bayern Munich defender engaged the Black Stars in a game that ended 6-5 in favour of the national team, but it was the significance of the evening that was more important.
It brought to an end the career of a man considered the most decorated player from Ghana and one of Africa's best-ever imports to Europe and, as he did the lap of honour at the end of the game after playing a half for each side, the tears rolled down his face, perhaps thinking of how far he had come since his youth in Kumasi.