IT'S BARCELONA'S TURF; EVERYONE ELSE IS JUST PLAYING ON IT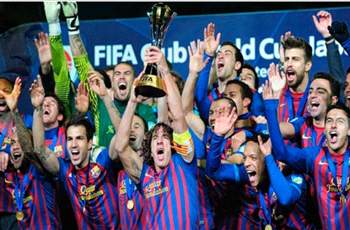 Few words are needed to express just how thoroughly Barcelona demonstrated that they are in a league far beyond the rest of the globe with consecutive 4-0 wins on the way to raising a second Club World Cup trophy.
Their performances against Santos and Al Sadd clearly proved that the Catalans deserve to be called the best club side in the world, and made a good argument for them to be named the best team of all time.
From their domination of possession (over 70 per cent in each match) to repeated beautiful goals, it was exactly as coach Guardiola said in the post-game press conference:
Barcelona played like great artists
. Indeed, compared to the likes of Messi and Xavi painting metaphoric murals around defenders, the other team's 11 players on the pitch appeared to be scribbling with crayons.
HIS CRITICS MAY LAUGH NOW, BUT NEYMAR WILL LAUGH LAST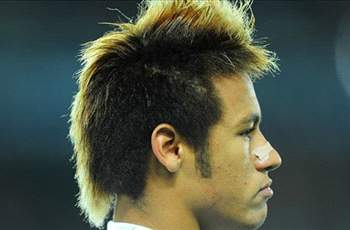 Expectations were incredibly high for the Santos starlet, who despite scoring the first goal in his team's 3-1 semi-final victory over Kashiwa Reysol, failed to make any sort of measurable impact in the final.
He will surely be criticised after his lacklustre performance on Sunday night against Barcelona, but truth be told most of that criticism is undeserved. While everyone expected brilliance from the 19-year-old in the biggest match of his life, Neymar simply didn't have the support that he needed against Barca in order to pull off his trademark plays.
Neymar has been compared to the likes of Messi and Pele almost constantly in recent months, but he is clearly still young and needs more time to develop physically and mentally. But in a surprisingly physical affair against Reysol, Neymar showed his brilliance; like fine wine, he is sure to get better with age.
BARCA WON ON THE PITCH, BUT SANTOS RULED IN THE STANDS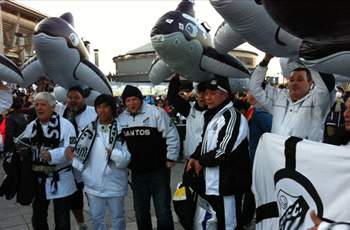 In addition to Neymar, Ganso, and Danilo, the Brazilian club brought around 7000 supporters halfway around the world to Japan; they far outnumbered the roughly 1000 Barcelona fans who made the trip from Spain.
Peixe supporters could be seen making merry with flags, drums, and their trademark inflatable orcas both in and outside of the stadium for hours before kick-off in both of their matches, and despite a four-goal thumping, they never stopped singing and chanting throughout the Sunday final.
After a tournament of mostly quiet crowds (the notable exceptions, aside from Santos, being supporters of Kashiwa Reysol and Tunisia's Esperance), it was refreshing to see that the Brazilians, some of whom reportedly paid €6000 for their trip, intended on getting their money's worth regardless of the result.
AFTER A 3-4 FINISH, ASIA ESTABLISHES ITSELF AS A NEW POWER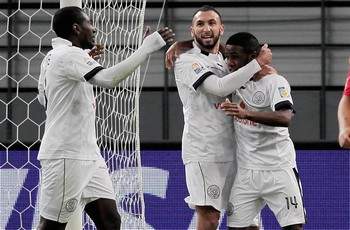 While many commentators on Goal.com have expressed nostalgia for a time when the Intercontinental Cup was contested between the European and South American champions, the reality is that football is the world's game and that was reflected by the diversity of the participants in the Club World Cup.
While those two continents have established leagues with the deepest talent pools on the planet, it may surprise some to know that Asia has emerged as the third-strongest confederation in recent years as an influx of European and South American coaches bring new strategies to the region.
This could be seen in Al Sadd's performance against Barcelona on Thursday night when the Asian Champions managed to completely stifle the likes of Messi and Iniesta for the first 25 minutes of play. Were it not for an unfortunate defending error, Jorge Fossati's side could possibly have kept a clean sheet through to the end of the first half and beyond.
Fossati taught his side how to defend well, and their brave performance against Barca and the superb shut-out of Kashiwa Reysol demonstrated exactly how they became the kings of Asia.
JAPANESE TEAMS HAVE TALENT AND ABILITY BUT LACK FINISHING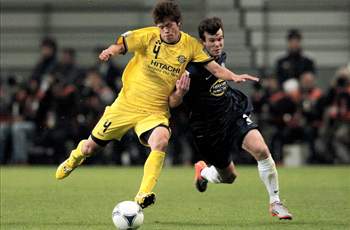 Putting aside their 2-0 play-off scrimmage against amateurs Auckland City, statistics tell the tale of Kashiwa Reysol's performance in the tournament: 51 shots, 18 on target, and just two goals to show for it.
The finishing touch in the domestic J-League is often left to Brazilian imports in a country whose culture and customs promote team-work and cooperation over individual excellence. This was noticeable in Sunday afternoon's third-place match, when Reysol had to do without a suspended Leandro Domingues.
The situation in Japan has improved in recent years, but promising attackers such as Shinji Kagawa, Shinji Okazaki, and Takashi Usami only get a couple seasons in the J-League before they're snatched up by European clubs. Until the country produces brash strikers like CSKA Moscow's Keisuke Honda on a regular basis, Japanese clubs will have trouble establishing themselves on the world stage. But once they manage to do so, they will be a force to be reckoned with and could one day contend for a place in the final.
For the latest news, features, and analysis on Asian football, follow Goal.com Asia on