The two biggest stars in Spain continued their goalscoring form in October, but how did they fare throughout November? Goal.com takes a look at their performances
ANALYSIS
Compiled by KS Leong

As part of our monthly series, Goal.com compiles the statistical data, expert analysis, and progressive season records in La Liga on two of the best players in the world, Lionel Messi and Cristiano Ronaldo.

* La Liga: Matches were called off on the opening weekend of the season due to a players' strike and those games have been rescheduled for 21 Jan 2012

August/September Head-to-Head: Matchdays 1-5
October Head-to-Head: Matchday 6-10



vs

ATHLETIC BILBAO
November 6
San Mames



RESULT
Athletic 2-2 Barcelona

INDIVIDUAL MATCH STATS


| | |
| --- | --- |
| Minutes played | 93 |
| Goals | 1 |
| Assists | 0 |
| Shots | 4 |
| Shots on goal | 2 |
| Passes | 60 |
| Passes completed | 47 |

GOAL.COM PLAYER RATING


7.0
'Still managed to dribble at the Athletic defence at tremendous pace despite the rain making the ball stick. Went on half a dozen dangerous runs which the Athletic players struggled terribly to deal with. Proved to be Barcelona's hero when he popped up in injury time to give his side a dramatic equaliser.'




vs

OSASUNA
November 6
Santiago Bernabeu



RESULT
Real Madrid 7-1 Osasuna

INDIVIDUAL MATCH STATS


| | |
| --- | --- |
| Minutes played | 91 |
| Goals | 3 |
| Assists | 0 |
| Shots | 5 |
| Shots on goal | 3 |
| Passes | 51 |
| Passes completed | 39 |

GOAL.COM PLAYER RATING


8.5
Top of the Match
'Bagged his 12th Real Madrid hat-trick with two headers and a penalty - and he could have scored more. Sent one curler over the top and almost got a touch as Pepe made it 2-1 as well. Also hit the bar late on. Probably the easiest hat-trick he will score.'

TICS



vs

REAL ZARAGOZA
November 19
Camp Nou



RESULT
Barcelona 4-0 Zaragoza

INDIVIDUAL MATCH STATS


| | |
| --- | --- |
| Minutes played | 92 |
| Goals | 1 |
| Assists | 0 |
| Shots | 6 |
| Shots on goal | 3 |
| Passes | 70 |
| Passes completed | 55 |

GOAL.COM PLAYER RATING


7.5
'As expected, Messi wanted to play and as expected, he did. Showed no signs of fatigue from the international break as he caused havoc early on. Came close with one brilliant individual effort and was also denied by Roberto, but eventually got his goal before the break and remained a threat in the second half.'




vs

VALENCIA
November 19
Mestalla



RESULT
Valencia 2-3 Real Madrid

INDIVIDUAL MATCH STATS


| | |
| --- | --- |
| Minutes played | 95 |
| Goals | 1 |
| Assists | 0 |
| Shots | 5 |
| Shots on goal | 2 |
| Passes | 30 |
| Passes completed | 24 |

GOAL.COM PLAYER RATING


7.0
'He played well and worked hard for his team throughout, showing his usual breathtaking skill in the process. Grabbed his 18th competitive goal of the season and his 14th in La Liga, which proved to be the decisive winning goal for his team.'



vs

GETAFE
November 26
Coliseum Alfonso Perez





RESULT
Getafe 1-0 Barcelona

INDIVIDUAL MATCH STATS


| | |
| --- | --- |
| Minutes played | 94 |
| Goals | 0 |
| Assists | 0 |
| Shots | 6 |
| Shots on goal | 1 |
| Passes | 79 |
| Passes completed | 66 |

GOAL.COM PLAYER RATING


6.0
'An average performance compared to his usual standards. Was guilty of trying to force the issue a little, especially in the first half. Had a couple of good central dribbles but was unable to penetrate the Getafe defence. Should have scored in the last minute but could only clip the post.'




vs

ATLETICO MADRID
November 26
Santiago Bernabeu



RESULT
Real Madrid 4-1 Atletico

INDIVIDUAL MATCH STATS


| | |
| --- | --- |
| Minutes played | 93 |
| Goals | 2 |
| Assists | 1 |
| Shots | 6 |
| Shots on goal | 3 |
| Passes | 54 |
| Passes completed | 47 |

GOAL.COM PLAYER RATING


7.5
Top of the Match
'Not his best match, but he was still decisive. Scored two penalties with typical aplomb and also set up Di Maria's goal. Played a cheeky one-two with Higuain which led to the second spot-kick. Was a constant threat and gave Perea problems all night.'


vs

Rayo Vallecano
November 29
Camp Nou
* Match brought forward from Round 16, Dec 17 due to Barcelona's involvement in the Club World Cup


RESULT
Barcelona 4-0 Rayo

INDIVIDUAL MATCH STATS


| | |
| --- | --- |
| Minutes played | 91 |
| Goals | 1 |
| Assists | 0 |
| Shots | 3 |
| Shots on goal | 1 |
| Passes | 41 |
| Passes completed | 32 |

GOAL.COM PLAYER RATING


6.5
'Was a training match for the Argentine. Scored a goal with a powerful dribble and lovely finish in the Rayo box but as Barcelona dominated he did not exert himself too much as the game was won very early. Not as many meaningful dribbles or shots on goal as usual but still contributed highly whenever Barca had possession.'



vs

Sevilla
December 17
Ramon Sanchez-Pizjuan


RESULT
Sevilla - Real Madrid

INDIVIDUAL MATCH STATS


| | |
| --- | --- |
| Minutes played | N/A |
| Goals | N/A |
| Assists | N/A |
| Shots | N/A |
| Shots on goal | N/A |
| Passes | N/A |
| Passes completed | N/A |

GOAL.COM PLAYER RATING



*Match will be played in Round 16 as scheduled on December 17


| | | |
| --- | --- | --- |
| 370 | MINUTES PLAYED | 279 |
| 3 | GOALS | 6 |
| 0 | PENALTIES | 3 |
0
ASSISTS
1
19 / 7 (36.8%)

TOTAL SHOTS / ON GOAL

16 / 8 (50%)

250 / 200 (80%)

PASSES / COMPLETED
135 / 110 (81.5%)

9

FOULS SUFFERED
7
6.75
GOAL.COM
AVERAGE RATING
7.67
16
2011-12 LA LIGA GOALS
16
26 (22)

2011-12 COMPETITIVE GOALS (APPEARANCES)

20 (19)

EXPERT ANALYSIS
Ivar Matusevich | Goal.com Spain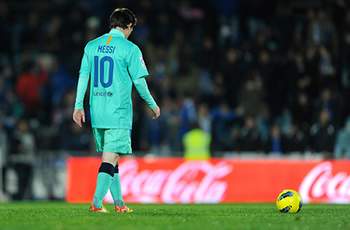 On November 29 last year, Barcelona thrashed Real Madrid 5-0 thanks to a masterful performance from Leo Messi. A year later, the month has ended with an unprecedented situation: Mourinho's side are three points ahead of the Spanish and European champions - and with one game in hand over the team that also beat them in the Spanish Supercopa back in August.
Going beyond cold statistics, the explanation without doubt lies in Barca's poor form away from home. The draw achieved in extremis in Bilbao and the rather unfortunate defeat at Getafe, have marked a fateful month for the world's best team.
Against Athletic, Barca came up against a brave opponent and despite dominating for most of the match, the Catalans needed Messi's last-gasp strike to equalise what had been a magnificent clash. It was the 12th round of La Liga and Madrid extended their advantage to three points thanks to an emphatic 7-1 win over Osasuna.
Mourinho's men took no pity on their northern opponents, with Cristiano on target three times. Both CR7 and Messi now have 16 goals, although Leo has played one more game - the rearranged league match at home to Rayo Vallecano on Tuesday which Barca won 4-0. Of those, the Portuguese has scored six penalties (from six), while the Argentine has just one spot-kick (out of two).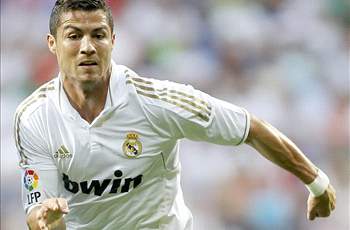 In the 13th round of matches, Barcelona strolled to an easy 4-0 win over Zaragoza with Messi on target again. Madrid, meanwhile, won at Mestalla in a controversial clash marked by Gonzalo Higuain's alleged handball in the last minute, which would been a red card and a penalty had it been called by the referee. Cristiano netted what turned out to be the winner after Diego Alves came charging off his line to hand him the ball and an empty net. The Portuguese accepted the gift.
Messi ended the month with a goal at Rayo, having seen his late strike unfairly ruled out for offside at Getafe as the pass came from a Getafe player and not from Seydou Keita. Leo then had another chance to steal a point, but sent a shot against the post in the last action of the game. Barca had deserved, at the very least, not to lose.
For his part, Cristiano and Real Madrid ended the month in the best fashion: winning a derby 4-1 with two penalties and an assist from the Portuguese. The evening had looked difficult, but Thibaut Courtois brought down Karim Benzema, was sent off and Madrid levelled with their first shot of the game.
The bells are sounding in Madrid as Los Blancos believe in a radical change at the top. Their lead is the real difference to last year, though - and little else. Cristiano's month was extraordinary, while Messi lacked support from his team-mates in front of goal. But goals bring love and CR7 was La Liga's great lover ... this month.
Who was better in November? Who was more consistent? Who was more productive? Join the debate on
goal_intl
and leave your tweets with the hashtag #goalh2h. Goal.com will publish the best comments in our poll result article on December 5.