ANALYSIS
By Jonathan Birchall at the Etihad Stadium
Having overseen the likes of Paolo Maldini, Franco Baresi and Fabio Cannavaro during his time as a manager in both Serie A and La Liga, Fabio Capello knows a thing or two about nurturing quality defenders.
To question the Italian's continued exclusion of Micah Richards from the England squad therefore seems impertinent but after another flawless performance from the 23-year-old in Manchester City's dominant 3-1 win over Newcastle on Saturday, it is becoming as much a mystery as it is a seeming inevitability.
It is five years since the barrel-chested defender was the man of the match aged 18 on his Three Lions debut in a 1-1 draw against Holland in Amsterdam, but with only 11 caps since, Richards is currently third or possibly even fourth in the England pecking order at right-back behind Kyle Walker, Glen Johnson and Phil Jones. Chris Smalling may also possibly be preferred, though injury ruled him out of Capello's most recent squad selection to face Spain and Sweden.
Yet, Saturday's showing was a prime example of all that makes Richards a phenomenal full-back and the obvious choice for England's right side of defence heading into Euro 2012, as he and James Milner annihilated Ryan Taylor, a young English defender with national team ambitions of his own.
A rasping cross that followed a marauding run in the fifth minute was to set the tone for Richards' afternoon, as he proved dominant once again down the right to continue a quite magnificent start to season.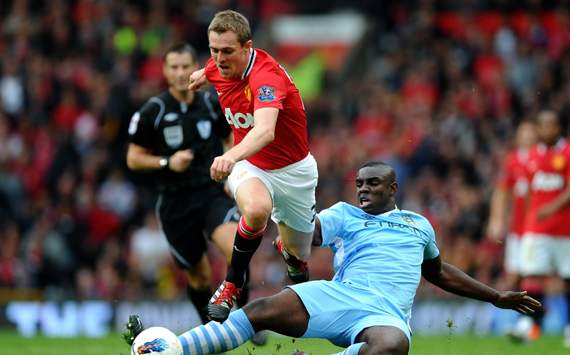 Formidable | Richards has become a defensive force to be reckoned with
Mancini had called upon his right-back to "remember to pick up his brain" after accusing the defender of sometimes leaving it at home on matchday and his goal to double City's lead shortly before the break was indicative of a player fully focused, as he reacted rapidly to Taylor's dallying on the ball before lashing home from a matter of yards.
Equally impressive was the passage of play that led to City's second penalty and third goal, with Richards showing the foresight to continue his run and move into the box after playing in David Silva for a sumptuous one-two. The Birmingham-born, Leeds-raised defender has often mirrored a 100-metre runner on the flank in the past but his movement is far less constricted these days, and as such his attacking play is no longer limited to vertical runs.
Indeed, questions remain over the youngster's capabilities at the back, with his failure to control Franck Ribery at the Allianz Arena, for example, providing both Mancini and Capello cause for concern. His performance, however, was largely borne out of circumstance, with the midfield in front of him near enough collapsing under the pressure that came their way from a far more intense Bayern Munich outfit. In all other games this term, his positional sense has improved and his propensity of getting caught on the turn appears to have long passed.
MICAH MAGIC


FROM OUR LIVE COMMENTARY

44'

Mayhem in the Newcastle defence as Micah Richards doubles Man City's advantage. Nasri played a through-ball for Richards that Ryan Taylor should have cut out but he lost his footing, allowing Richards to poke it home.

PLAYER RATING


8

Disappointed to be left out of Fabio Capello's squad but continues to be nothing short of excellent for the other Italian he's so desperate to impress. Showed quick thinking to nick the ball off Ryan Taylor to score City's second and won his side a second-half penalty following a marauding run.
However, it is the physicality of Richards that has long set him apart from the crowd. A Desperate Dan physique coupled with lightning-quick pace suggest that he is the archetypal modern-day footballer. That said, there is a point to be made that the imposing nature of his athleticism has become his millstone as well as his hallmark, with his capabilities as a 'thinking' defender often overlooked.
Therein, quite possibly, lies the problem. Capello first encountered Richards when he was still a teenager, reliant on strength cultivated from hours spent at the gym at City's Carrington training ground, as the youngster quite evidently lost his way at the back. When compared to the cultured defenders to which the England manager was so used to coaching prior to his arrival in London, it's little wonder why the former AC Milan boss was hesitant in putting his trust in the youngster.
But Richards has since shown an immense improvement, surpassing the form of Walker and certainly Johnson, though the Italian appears still not to have noticed the full-back's newfound prowess, on top of his rumbling horsepower.
It has been an ascension to mirror that of his club, with the Abu-Dhabi millions taking City as a collective to new heights. Richards has followed suit by taking his game to the next level in order to keep up with the quality around him.
Richards has made the position his own and is now only one of three players, alongside Joe Hart and Vincent Kompany, who were at Eastlands prior to Sheikh Mansour's takeover on September 1 2008 and still make up part of the first team. At only 23, the right-back is already dyed in the sky blue wool.
As an avid collector of fine art, Capello is clearly a man that values style as well as substance but evidence continues to suggest that his masterful eye is missing a trick at right-back. The City man has transcended the all-action defensive style of his youth and has, ideally for the England manager, become a well-rounded, cultured footballer. It's therefore surely the time for the Italian to add Richards to his collection; he's already priceless in Manchester.