The Porto youngster already has the seal of approval from Cafetero legend Carlos Valderrama, and can add to his burgeoning reputation by driving his team to success
COMMENT

By Daniel Edwards | South American Football Editor
As famous footsteps go, the parents of Colombian wonderkid James Rodriguez could hardly have picked a more ambitious pair for their son to follow. Fictional British secret agent James Bond was the inspiration behind the Porto youngster's somewhat unusual moniker, and so far in his fledgling career the playmaker has shown every sign of living up to his iconic name.
On Tuesday evening, James faces the game of his life in Barranquilla, as he takes on Argentina and rival No. 10 Lionel Messi for the first time. The pressure is on the 20-year-old, but he has proven time and again that he is not a man to be easily fazed by expectations.
It is almost impossible to believe that Rodriguez has just two caps to his name when looking back at his introduction to international football. Playing in the sapping altitude of La Paz in the centre of midfield last month, the youngster was arguably man of the match as the Cafeteros secured an impressive last-gasp victory against Bolivia, who are never an easy prospect on their own patch. His passing was secure and precise, his play always measured and mature, and every time he received the ball, the kid looked to inflict damage on the Verde backline.
That was followed by another sparkling display against Venezuela, this time playing out wide. After shackling Angel Di Maria in Puerto La Cruz, right-back Roberto Rosales was given a torrid evening by James' direct, mazy dribbling. Rodriguez also came within the width of the crossbar of stealing another last-minute victory with a superb free kick. Against Argentina he will be tried in yet another position, directly behind the forward line in the hole, and Alejandro Sabella will be aware that he is the man who can act as the talisman for the talented home team.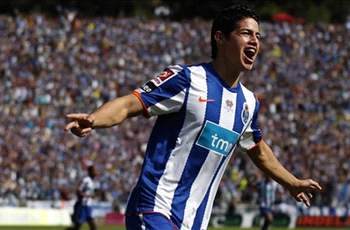 Smiling Assassin | With his customary joy, James celebrates hitting the net with Porto
There is a certain poetic symmetry in the youngster beginning his life with the Seleccion in the sweltering Caribbean city. Barranquilla was the stamping ground of the legendary Carlos Valderrama, the languid, elegant
enganche
who left a gaping hole in Colombian football when he retired back in 1998. Colombia have not qualified for the World Cup since, but if you listen to 'El Pibe', it is clear he believes the Porto man has what it takes to change that painful fact.
"Colombia do not need another 'El Pibe'," he told reporters before the 1-1 draw with Venezuela. "James is doing very well in that position.
"We have to support him because he is motivated and he needs support as I believe we have some player here."
High praise indeed, and sentiments that Sabella would almost certainly share. The former Estudiantes coach was active in the Argentine Primera Division when 'Bam Bam' came to prominence and announced himself as one to watch in the future.
Aged just 18, James was a regular for Banfield in their best-ever season. The unfashionable outfit from the suburbs of southern Buenos Aires teamed the Colombian with Uruguayan powerhouse Santiago Silva and cultured Argentine Walter Erviti in a magical trio, and the rangy teenager repaid the club's faith with a wonderful season in which he drove the Taladro to their first league title in the 2009 Apertura.
Credit must also go to the Colombian coaching staff, who have gone out of their way to nurture their talent instead of throwing him in at the deep end. Instead of being sent to the Copa America this year, the youngster was named as the captain and figurehead of the Under-20 World Cup team, where he formed a sparkling partnership with Luis Muriel in attack and was unlucky to see his team exit at the quarter-final stage after playing some of the best football of the tournament. Conservative on the part of the Cafeteros? Yes, but also a decision which allowed James to further develop his game until the time was deemed right to unleash him on South America.
THE STORY SO FAR

Team
Envigado
(2006-08)

Banfield
(2008-10)

Porto
(Jul 10-)

Colombia U20
(2011)

Colombia
(Oct 2011-)

Games
55


32


42


11


2


Goals
20


10


11


5


0


It is hard to pin down what kind of player the Cucuta native is, as one of his most valuable virtues is his versatility. Equally at home in midfield, on the wing, as a natural
enganche
or even pushing up as a withdrawn striker, James will build on these skills to torment an Argentine defence which has looked less than solid so far in the campaign for Brazil 2014.
Leonel Alvarez is unfortunate to be robbed of the talents of Fredy Guarin and Radamel Falcao, but will be hoping that the more-than-capable replacements he has called upon will give Rodriguez the support he needs to outshine even Lionel Messi in this fascinating qualifying fixture.
No-one is doubting the Barcelona phenomenon's talent, but neither can there be any doubt that, for the Seleccion, he is not reaching anywhere near his virtuoso best. Against Bolivia by the end he looked desperate and out of ideas, and if there is another repeat on Tuesday, it would not be outrageous to see the yellow No. 10 take the plaudits ahead of his more illustrious opponent.
A demoralised and disorganised Albiceleste know that they have a battle on their hands if they wish to take anything from Barranquilla; not least because of the suffocating heat that will test legs already weary from Friday's toils against Bolivia. Concentration will be key, as will controlling the game and not letting Colombia's flair players stretch the fragile backline.
It will not be easy, however. The Cafeteros are showing every sign that they are entering a golden generation which could come to match the memorable days of Valderrama, Faustino Asprilla, Freddy Rincon and Rene Higuita. Rodriguez has a long way to go before he can be compared to the maestro of Barranquilla, but a stellar performance and victory against Argentina would be just another step on the road to becoming a Colombian - and world - star.