COMMENT
By Keir Radnedge
Romario has been irritating Ricardo Teixeira and Jerome Valcke this past week in the same way that he used to irritate defenders. Whether as one of the world's sharpest strikers or in his current role as a congressman with a cause, he has always made his presence felt.
The little man who now struts his stuff in a formal suit and has ambitions to become, one day, mayor of Rio de Janeiro, has come a very long way.
If the godfather of Brazilian football and Fifa's secretary-general think that a spikey question-and-answer session over the proposed 2014 'World Cup Law' has relegated Romario's rumblings then they should think again. Whatever he does, wherever he goes, he makes an impact.
One of the the first European coaches tasked with handling the young Romario de Souza Faria was Bobby Robson at PSV Eindhoven. Robson considered him a footballing schizophrenic, once telling this writer: "On the pitch, absolutely magic … " leaving unspoken his assessment of Romario off the field.
That footballing magic lifted the teenaged Romario out of poverty into another world as a starlet at Olario then Vasco da Gama. Along the way his antics earned him the sack from a Brazilian squad preparing for the World Youth Cup. But in 1988 Romario was outstanding as Brazil won football silver at the Seoul Olympics. Immediately afterwards he was signed by Philips SV Eindoven.
Despite arriving in mid-season he finished the campaign as the top league marksman in Holland with 19 goals. Despite a broken leg and several suspensions for indiscipline, he totalled 98 league goals for PSV in five seasons before joining Barcelona for £3 million in 1993.
At first all went well. Romario won the Pichichi Trophy as La Liga's top scorer in his first season, netting 30 times. Weeks later he either scored or played a creative role in every Brazilian goal on their way to a fourth World Cup triumph at USA '94. He was the finals' top player and second top-scorer, and would be voted Fifa's World Player of the Year.
Barcelona fans thought it was too good to be true.
It was.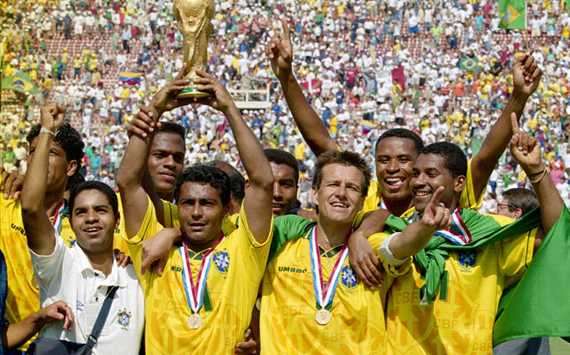 On top of the world | Romario lifts the 1994 World Cup in America
Romario returned to Barcelona three weeks late after a post-World Cup holiday. By Christmas he had collected only four league goals. His last outing was a disastrous 5-0 beating by Real Madrid at the Santiago Bernabeu. Before he caught the flight back to Brazil for a new year break Cruyff suggested that, while he was there, he might also look for a new club.
He found one: Flamengo - who leaned on Brazil's state oil corporation and the Rio local authority to come up with sponsorship cash.
At first all went well and when he clashed with coach Vanderlei Luxemburgo over disciplinary issues it was the coach who had to go. But national boss Mario Zagallo was another matter. He dropped Romario from his squad heading for the 1998 World Cup defence. Zagallo said Romario was injured; Romario insisted the decision was political and personal and that he would have been fit in time for the opening match.
ROMARIO'S STATS IN EUROPE & FOR BRAZIL NATIONAL TEAM

Club
PSV Eindhoven
(1988-1993)

Barcelona
(1993-1995)

Valencia
(1997)

Brazil
(1987-2005)



Games
140


65


10


70




Goals
127


39


6


55




His absence gained in contention after the World Cup when Brazil - with Ronaldo playing in a daze - crashed 3-0 to France in the Final. Romario insisted he would have made a difference. But Zagallo's successor as national boss was reluctant to let Romario prove the point.
A year later Flamengo finally ran out of patience and dropped him too. Romario took his revenge over everyone in the best possible way – by returning to Vasco da Gama and inspiring them to runners-up spot in the inaugural Fifa Club World Cup, forging an explosive forward partnership with the equally volatile Edmundo.
This was Romario's Indian summer as a footballer. He even regained his place in Brazil's attack and started scoring goals for his country again. But his aim of featuring in the 2002 World Cup, at 36, was a dream too far.
Three years later he was still playing for Brazil, in the Beach Soccer World Cup. But, as far as the elite game was concerned, 50 goals in 75 games for the seniors was where it all stopped.
He roamed from club to club, from Brazil to Saudi Arabia, to Australia, and to the United States - chasing the goals which he claimed would take him to 1,000. Finally, in 2009, he realised it was time to reinvent himself.
Hence one of the most undiplomatic of players has become a politician. A year later he was elected to Congress, putting his fame, popularity and profile to public purpose.
Now 45 he remains as dangerous as ever, just in a different arena.
Follow Keir Radnedge on

Keir Radnedge has covered every World Cup since 1966, analysing the international game for newspapers, magazines, TV and radio around the world