COMMENT

By Daniel Edwards in Buenos Aires
After rumours circulated that Argentina would rest several key players for their World Cup qualifying clash against Bolivia, coach Alejandro Sabella has finally decided to play his full-strength team for the visit of the Andean nation to Buenos Aires. Lionel Messi, Gonzalo Higuain and the rest of the Albiceleste team will look to record their second win of the competition against the bottom side, and put to rest the ghosts of last month's defeat to Venezuela.
In doing so, however, the trainer is taking the risk of repeating history. An Albiceleste outfit weary from Friday's exertions will have to work even harder to avoid the same fate away to Colombia; and a loss would cast doubt on Sabella's decision to work his men to the limit.
It is an eternal dilemma in football, to play one's strongest XI on every occasion possible and ignore the risk of fatigue and injury, or to rotate the squad possibly to the detriment of the team's performance. And in the South American World Cup qualifying competition, such questions are all the more important.
The demands of the competition are perhaps higher than any other international tournament, due to the unique strains and conditions imposed on competitors. For the stars of South America's biggest nations, such as Argentina, Uruguay and Colombia, the week starts with a punishing journey across the Atlantic Ocean to meet up with the rest of the squad.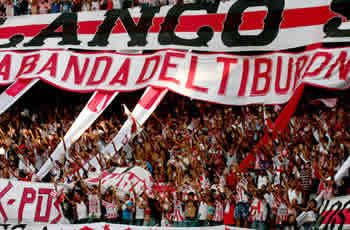 Shark Attack | Fans in Barranquilla's Estadio Metropolitano, the site of Tuesday's qualifier
This is followed by just one or two days training before another long trip for an away game; to put it into context, the distance between Buenos Aires and Barranquilla, where Argentina will meet Colombia, is further than travelling from London to Baghdad.
Once Messi and Co arrive to the Caribbean city, their task does not become any easier. Mindful of how the Albiceleste wilted in the heat against Venezuela back in October, the Colombian FA plumped for a 4pm kick-off on Tuesday, meaning that the game will take place in temperatures that could reach up to 35 or 40°. Considering that just five days before Sabella's team will face a clash with limited but tenacious and organised Bolivia, the case for saving the legs of several key players was a strong one.
The coach in fact had considered such a tactic, but this week affirmed that his intention was to play the same team in both qualifiers, allowing for changes based on injury or poor performance. He is not underestimating Bolivia, and cannot be slighted for that opinion.
"We have done our analysis, but in this case we will not consider using two teams"






- Sabella confirms his intentions

Just as Venezuela created history in October, Gustavo Quinteros' Verde team are looking to make a little of their own. Bolivia have never beaten Argentina away from home, despite several spectacular results on their own turf - who can forget that shocking 6-1 destruction, which happened just 18 months ago in La Paz under the watch of Diego Maradona? The nation went close to breaking their drought during the Copa America when only Sergio Aguero's equaliser robbed them of victory, and despite a poor start to this competition will be desperate to go one better in the Estadio Monumental.
The side should not be taken lightly then, but it is indisputable that they do not measure up to the same standard as Colombia. Indeed, the Cafeteros took three points off the Verde in their last game thanks to goals from Dorlan Pabon and Radamel Falcao, surprising everyone by how well they dealt with the Altiplano altitude. If a win is expected for Argentina against Bolivia, the same can in no way be said when they take on Leonel Alvarez's side.
Hindsight, as always, is a wonderful skill to possess. Depending on the result in Barranquilla, Sabella will be derided as a fool or hailed as a genius in equal measure back in Argentina, while anything other than a win against Bolivia will be regarded as failure. The boss has refused to compromise his vision for the national team and should be applauded, but he must hope that his players do not pay the price by falling short in the Caribbean sun.
Follow Daniel Edwards on