COMMENT
By Kris Voakes | Italian Football Editor
There has been a lot of debate over the last few days regarding Italy coach Cesare Prandelli's decision not to call upon Udinese's free-scoring striker Antonio Di Natale for tonight's friendly against Poland and the home game against Uruguay on Wednesday. But one player who has been recognized for his club form is AC Milan right-back Ignazio Abate, and his selection for the pair of fixtures comes not a moment too soon following 18 months of continued progression.
Having first broken into the Rossoneri side as a regular full-back after Leonardo's appointment as Milan coach in the summer of 2009, Abate took a long time to adapt. Despite being lightning quick himself, he was regularly exposed to pace in defensive situations as his flat-footed approach to facing up to runners caught him out time and again. Added to his difficulties when the ball came at him in the air, and the signs were not great.
By the time the Brazilian vacated the bench the following May, Abate had made some improvement, but in the grand scheme of things his progression had been minimal. He remained vulnerable to any show of direct running, and new boss Massimiliano Allegri was being threatened with the unenviable task of finding two new full-backs given that Luca Antonini had also struggled under Leonardo.
But rather than throw the two in the reject bin, Allegri sent them both to work with the club's assistant coach and former star full-back Mauro Tassotti. And while Antonini continued to frustrate, resulting in his boss regularly being seen with his head in his hands after the latest mistake from his left-back, Abate responded superbly. Suddenly, he was on his toes more readily whenever a winger looked to attack on the ground and his positioning at crosses was much closer to that of a natural defender. And his naturally belligerent style of running only helped matters.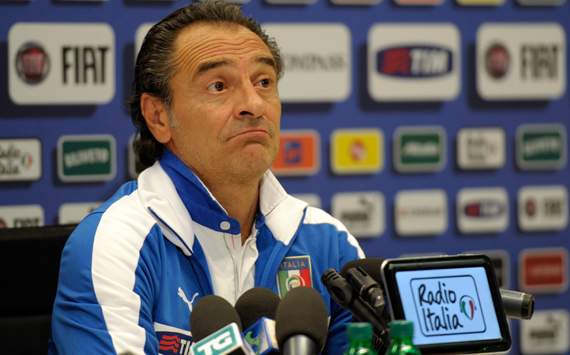 Prandelli | He has called up six other right-backs before giving Abate a chance
By Christmas last year, the former Torino man was arguably the form full-back in Serie A, with Milan deciding as a result that the reinforcements that they had previously looked to make could be concentrated down the left flank of defence. And when Abate's excellent form continued into the new year, it seemed only a matter of time before he would get a national call, especially considering the right-back shirt had been passed around a number of candidates without any one of Marco Motta, Lorenzo De Silvestri, Mattia Cassani, Davide Santon, Christian Maggio and Gianluca Zambrotta having completed convinced under Prandelli.
Fast forward to the new season, and Abate was one of a collection of Milan players who failed to hit the ground running as the Rossoneri chalked up only five points in their first five games. However, it was not long before he was heading for top form again, and his dominance of the flanks has been evident on a regular basis since, so much so that he has finally been given the call to join Prandelli's troops.
Now, with a handful of games still to be played before the Euro 2012 finals, Abate is set to become the seventh right-back used by the Italy coach in 15 months. But this could be the perfect time for him to make an impact. With few names written in pen thus far on the commisario tecnico's squad list for the trip to Poland and Ukraine, this might be just the time for somebody to step in and deliver some persuasive performances.
It may well have taken some time for his relative superiority over the competition to have been rewarded, but now that Abate has finally been handed the blue shirt, he has a fabulous opportunity to make himself the first outfield name on the teamsheet come June.
Follow Kris Voakes on