With ten league strikes in as many fixtures and averaging just over a goal a game in the division since the turn of the year, the Dutchman has picked the perfect moment to peak
ANALYSIS
By Jonathan Birchall
The original Dutch master at Arsenal, Dennis Bergkamp, understood timing like no other. As a product of Jong Ajax, the Amsterdam club's glittering reserve team, the Iceman's ability to bring the briefest moment of technical magic to change a game bordered on brilliant cliché.
Now, half a decade after his retirement, Bergkamp's natural successor Robin van Persie is showing a similar ability to deliver when it matters most for Arsene Wenger who hailed his 'world class potential' after signing him from Feyenoord for £2.7 million in 2004.
The Dutchman's form has been phenomenal since the beginning of the calendar year, but with major departures over the summer and Arsenal's immediate future looking perilous only a month ago, it is over the last five weeks or so that Van Persie has not only come to the fore; he's saved his club's season.
As the Gunners unravelled, everything came together for their captain.
The former Feyenoord man is the league's leading scorer with 10 goals in as many games so far this campaign and has found the back of the net 28 times 27 Premier League fixtures since the beginning of 2011. But what lit the spark to get the most dangerous weapon in the Gunners armoury firing?
A system that suits

"Still people tell me he is not a centre forward," said Wenger, after Van Persie scored a hat-trick as Arsenal embarrassed the Chelsea defence with a 5-3 win on Saturday to shorten the gap between the capital's prizefighters to a mere three points. "How many goals does a centre forward need to score? He's a different centre forward but he is a centre forward."
Certainly unorthodox, though Van Persie's unique blend of creative No. 10 and goal-hungry No. 9 is an ideal and integral part of Wenger's fluid 4-3-3 system, as well as the Netherlands' 4-2-3-1, in which he plays as part of the three behind Klaas-Jan Huntelaar.
In Wenger sides of old, most notably in the build up to the 2006 Champions League final, Thierry Henry often led the Arsenal line alone with the likes of Freddie Ljungberg, Alex Hleb and Robert Pires providing occasional support from behind. Now however, the sole striker in the Gunners starting XI is less detached, with both Theo Walcott and Gervinho joining him going forward and providing options from out wide.
When countering, Van Persie is expected to come deep as to create his own goals. The Dutchman's first at Stamford Bridge was an example of the former while second and third were largely borne out of his own will. The varying nature of Arsenal's attacking play is growing in strength; and as such, Van Persie is benefiting, as well as contributing.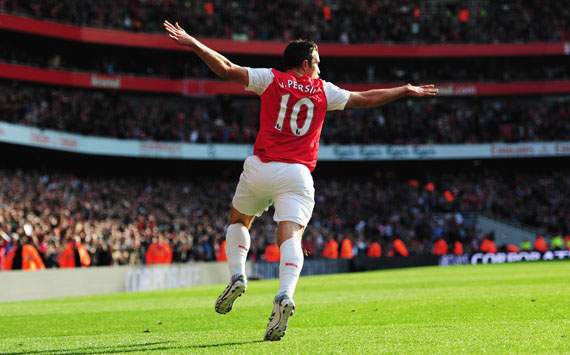 Flying Dutchman | Van Persie could take Arsenal back to old heights
Taking charge
And he is leading by example. From the likes of Joe Mercer and Frank McLintock to Tony Adams and Patrick Vieira, Arsenal's leaders on the field have always held significance; almost telling relics of their time with the club. The defensive solidity of Adams and the youthful exuberance of Cesc Fabregas, for example, encompassed their own individual eras. Therefore, when the Spaniard departed for Barcelona in the summer, a piece of the Gunners' identity also made its way to Catalunya.
To be appointed as skipper therefore provided a millstone for Van Persie, who will have no doubt been feeling the weight of expectation hang heavy following the departure of Fabregas and Samir Nasri, but it is a burden he has shouldered with seemingly remarkable ease. Wenger recognised as much in the build-up to Tuesday's clash with Marseille, stating: "[Van Persie] is a perfect captain not just because he scores goals but because he behaves himself on and off the field."

The peak age and fitness
That Van Persie has only ever started 24 Premier League games in a single season tells its own story about the forward's troubled relationship with the treatment table. With ankle ligament trouble, amongst other injuries having plagued much of his career, the Rotterdam-born attacker is now playing with a freedom accustomed to a man unconcerned about any potential knocks. "I feel so fit these days, I recover well, don't have any pain, and feel really good," he said a fortnight ago. It is surely no coincidence that such positivity is being reflected on the pitch.
And aged 28, he is at the peak of his powers. Evidently still sharp physically, it is the burgeoning intelligence of the Dutchman's game that appears to be making the forward more efficient in and around the area. In 2008-09, the striker converted every 6.5 of his shots, it dropped to 5.2 last season and following Saturday's win at the Bridge, Van Persie is currently netting with every 4.7th effort this term.
Following the victory against Andre Villas-Boas' men, Wenger made a salient point regarding his striker's experience. "When you get to 27 or 28 you start to analyse quickly the weaknesses of the defenders around you," said the Frenchman. "You know how to take advantage of them and you also know how to take advantage of your team-mates around you." The Dutchman is doing just that.
LEGEND IN THE MAKING? | How Van Persie compares to Gunner greats

| | | | |
| --- | --- | --- | --- |
| Thierry Henry | Ian Wright | Cliff Bastin | Robin van Persie |
| Games: 339 | Games: 288 | Games: 396 | Games: 242 |
| Goals:226 | Goals: 185 | Goals: 178 | Goals: 107 |
| Goals per game: 0.66 | Goals per game: 0.64 | Goals per game: 0.44 | Goals per game: 0.44 |

Looking elsewhere?
In the short term, Van Persie's excellence is largely keeping his team afloat on still potentially choppy waters but worries will no doubt linger that with each match-winning performance that the Dutchman delivers, wealthier, or at least less prudent clubs will be looking to offer him one last move. Whether it be for silverware or cash; there are more lucrative options available outside north London and with only 18 months remaining on his contract, only the most naive sections of the Emirates faithful wouldn't at least ponder the motivation behind the striker's explosive recent showings, with Manchester City having been heavily linked with his signature.
That said, Arsenal as a club are in a state of flux and should cherish the fact that they still possess a performer with the ability to consistently perform on the grandest of stages. For now, Van Persie is a Gooner and his ascension, typically of the man, has been timed to absolute perfection.
Follow Jonathan Birchall on