COMMENT
By Mark Doyle

In the modern era of football, we have grown sadly accustomed to players forcing through transfers after having their heads turned by lucrative offers from rival clubs.

From the owners' perspective, the logic goes that there is simply no point in holding on to a player who has his heart set on a move, as they can become negative, disruptive forces on the training field and in the dressing room. In such instances, it is difficult not to feel a degree of sympathy for the club, who, unless they are in that small minority that are Manchester City, simply cannot afford to let a valuable commodity rot in the reserves.

What, though, to make of a club which signs a player who almost goes out of his way to make it clear that he would rather join someone else?

Welcome to the curious case of Juventus and recent summer signing Eljero Elia.

Here is a player of undoubted talent, one who appears an ideal fit for a side under the tutelage of a bold and innovative young coach in Antonio Conte, whose preferred 4-2-4 system attaches great importance to pace out wide.

And yet Elia, a lightning quick winger blessed with dancing feet, has featured just once for his new employers since arriving in Turin at the end of the transfer window. Indeed, so bad was the Dutchman on his debut against Catania last month that he was hauled off at half-time.
ELIA'S CAREER STATS

Club
ADO Den Haag


(Aug 04-Aug 07)



FC Twente


(Aug 07-Jul 09)



Hamburg


(Jul 09-Aug 11)



Juventus


(Aug 11- present)



Games
59


64


51


1


Goals
6


12


8


0


Juventus general manager Giuseppe Marotta last week moved to put Elia's desperately underwhelming start to his Serie A career down to the difficulty many newcomers experience in adapting to the Italian game.

However, one wonders whether Elia really wants to adapt given that before his departure from Hamburg he made it abundantly clear that he was more suited to the Premier League. "My style of play would be perfect for England," he said.

Italy came across as the last place that he wanted to end up, Elia citing the alleged racism of its fans and the defensive nature of its football as his two main reasons for his unwillingness to switch to Serie A. However, he delivered his coup de grace when it came to addressing Juventus' interest in his signature.

"I've agreed with the club [Hamburg] that we'd open talks if a big club like Arsenal or Chelsea comes knocking," Elia told Hamburger Morgenpost. "There's no need to talk if a club of the same level as HSV is interested. Juventus are still one of the best Italian teams around, but they're not better than Hamburg, in my opinion."

Even at the time, that comment appeared ill-advised, at best. Now it seems downright stupid given that the Bianconeri faithful are likely to afford him less time than most new signings to prove his worth.

All of this begs the question: why did Juventus sign Elia?

Well, his talent is beyond dispute. Elia made his debut in the Eredivisie with ADO Den Haag aged just 17, but it was with FC Twente that he made his name, earning the title of Dutch Football Talent of the Year in 2009 as he drew the interest of the likes of Liverpool and Arsenal.

However, he ended up in Hamburg that summer, the German outfit paying €8.9 million for his services, and, despite some injury problems during his first campaign in the Bundesliga, Elia justified his burgeoning reputation with a string of scintillating displays.

Indeed, his club form earned him inclusion in the Dutch squad for last year's World Cup and Elia's performances off the bench in South Africa only strengthened the belief that this was one of the most exciting young attacking players in Europe.

However, he struggled for form and fitness with Hamburg last season and spent a lot of time on the bench. Strange, then, that Juventus decided this summer to bring the player to Turin, although it could be argued that they were in a position of strength when it came to negotiating a fee for the player given that Elia was no longer first choice in Hamburg after an underwhelming 2009-10 campaign. Indeed, in the end, the Italians only ended up paying slightly more for the player than Hamburg had to bring him to Germany.

The problem is that Juventus do not look to have bagged themselves a bargain; they appear to have wasted their money on a player who simply does not want to be in Turin. Already the media are comparing this signing to Inter's big-name purchase of then Porto winger Ricardo Quaresma in 2008. The Portuguese went on to be one of Serie A's biggest flops in history.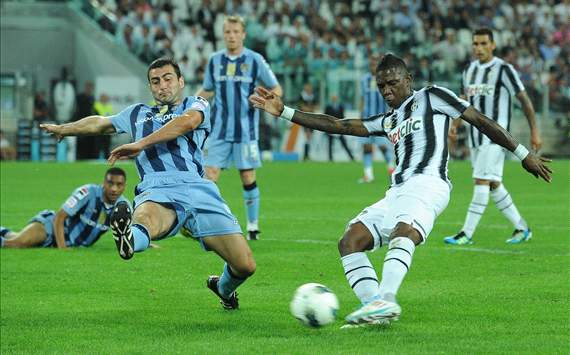 Curious case | Elia seemed to have his heart set on a move to England
However, it is, of course, early days and Elia has proven during his career that if he is given time and support, he will deliver. Indeed, it is worth noting that when he signed for Juve, he stated: "For me it was very important in making this decision that the coach [Conte] wanted me."

Elia has only ever thrived when he has had the full support of his coach. He lost it following the arrival of Lex Schoenmaker at ADO Den Haag in 2006 and moved the following year. His struggles in Hamburg, meanwhile, coincided with the arrival of Armin Veh as boss last season.

Elia is young and impetuous. However, with the right coaching, he could become a real fan favourite at Juventus Stadium. In many ways, the success of his move depends as much upon Juve, and Conte in particular, as it does on him.

After all, it's not like he wanted to go there in the first place!