Reds fans will bemoan their side's missed chances during the 1-1 draw with Norwich City at Anfield, but it is defensive deficiencies that are an even bigger cause for concern
COMMENT
By Jonathan Birchall at Anfield
In the 10 months since
Kenny Dalglish
replaced
Roy Hodgson
at Anfield,
Liverpool
have turned a corner and are yet to look back. But, having drawn 1-1 to
Norwich
on Saturday evening to make it six consecutive home games without a clean sheet, evidence suggests that is exactly what they need to do.
Not since 2003 have Liverpool gone so long without keeping their visitors at nil, and despite playing largely the better football following Craig Bellamy's opener on the stroke of half-time, their one-goal advantage never really looked sufficient.

And so it would prove with just short of half an hour remaining, as the newly-promoted visitors equalised in a comedy of errors that nobody on the well-humoured Kop will have found very funny.

With Charlie Adam having given the ball away, the nothing-short-of-sublime Anthony Pilkington whipped a deep cross into a sparse 18-yard-box for the only Canary in it, Grant Holt, to fly highest and power a header home, as Pepe Reina crashed into the defenders whose job it had been to mark the physically imposing substitute in the first place.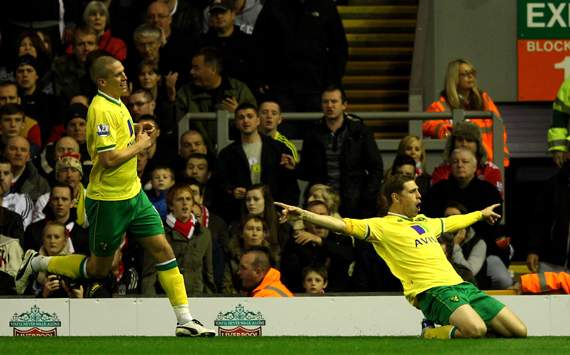 Holt from the blue | The substitute rose to equalise for Norwich in front of the Kop
Reina's tentative and ultimately failed attempt at collecting the ball and subsequent coming together with Jamie Carragher was surprising for a goalkeeper of such quality, but not inexplicable.

It was symptomatic of a shot-stopper rapidly losing faith in the two players directly in front of him, with Javier Hernandez able to ghost in far too easily to secure Manchester United a 1-1 draw at Anfield last weekend. You can hardly blame the Spaniard for wanting to take matters into, quite literally, his own hands.

If Reina was distrustful of Carragher and Martin Skrtel's ability to deal with balls from out wide, then it comes as little surprise that Norwich, guided by a manager known to be meticulous in his research, were also scenting blood.
Even Dalglish, quite clearly concerned with how brittle his side were appearing at the back in the closing stages, replaced Dirk Kuyt with Daniel Agger. A showing of such seeming negativity would have usually been derided by most fans but, as the visitors ploughed forward with refreshing abandon, it seemed the most sensible option, regardless of how defeatist it appeared.
Dalglish has seen it all before, of course. Of the five goals that Liverpool have conceded at home this season, all have come in the second half and four have originated from crosses, with the only exception, Ivan Klasnic's goal in the Reds' 3-1 win over Bolton, coming as a result of a late Carragher error.
LIVERPOOL'S RUN WITHOUT A HOME CLEAN SHEET


Tottenham 15/5/2011
Sunderland 13/8/2011
Bolton 27/8/2011
Wolves 24/9/2011
Manchester United 16/10/2011
Norwich City 22/10/2011

L 2-0
D 1-1
W 3-1
W 2-1
D 1-1
D 1-1

It is a problem that was foreseeable, with Daniel Agger perpetually fighting battles to keep fit and Carragher, a loyal servant but no longer fully effective week-in, week-out, at 33. However, of the £70 million spent by Dalglish and director of football Damien Comolli since Fenway Sports Group took over the club just over a year ago, only £13m has been used to bring in defensive players in the shape of Sebastian Coates and Jose Enrique.
Such top-heaviness only appears sustainable when it is combined with goal tallies that are able to paper over the cracks at the back, but, as was proved by Luis Suarez's profligacy and Andy Carroll's late wasted chance against Norwich, even the finest of strikers cannot be relied on to find the back of the net every week. The Reds are yet to find the vital balance from back to front.
Facing Norwich appeared to be the perfect test of how far Liverpool have come under the reign of King Kenny, with games against the league's so-called lesser lights where Liverpool have typically come unstuck over the last few seasons, and arguably costing them the title in 2008-09. Saturday's showing wasn't a spectacular failure like last term's defeat to Blackpool, but the pressing need for improvements at the back is still very much evident.
Fortress Anfield came close to crumbling under Hodgson 12 months ago; yet another two points dropped at home proves that Dalglish is yet to fully fix the foundations.
Follow Jonathan Birchall on