COMMENT
By Mark Doyle

With qualification for Euro 2012 already having been secured, Italy's 3-0 victory over Northern Ireland in Pescara on Tuesday night was something of a non-event for the local media. Hardly surprising, then, that when Daniele De Rossi was ushered out to face the TV cameras after the game, his future with Roma was of greater interest to journalists than the game which had gone before. What was surprising, though, was De Rossi's take on his ongoing contract negotiations with his club.

"Regardless of what happens with my contract and my future, the most important thing is the future of Roma," he told Rai Sport. "Who knows, they might save the money from my contract and spend it on improving the squad. I see good things happening at the club and that bodes well for the future of the Giallorossi."

The clear intimation in that intriguing second sentence was that it might be better for all concerned if he were to move on. That was, to say the least, a curious assessment of the current situation.

De Rossi has yet to agree terms on a new contract with Roma and his existing deal expires at the end of the season, meaning he can leave on a free next summer. That would be a calamitous outcome for Roma given that for arguably four summers De Rossi has been one of the most sought-after midfielders in Europe.
DE ROSSI'S CAREER STATS

Club
Roma
(Oct 01 - )

International
Italy
(Sep 04 - )
Games
254



68


Goals
30



10


So, if the Italian international felt that a parting of the ways would be best for both parties why did he not make that clear during the close-season when Roma could, at least, have cashed in on their most prized asset? Manchester City manager Roberto Mancini made no attempt to hide his admiration for De Rossi over the summer, and it was widely reported that the Premier League outfit were willing to part with €20 million for the player - right up until the end of the transfer window in August.

Indeed, the timing of De Rossi's statement was just downright bizarre. Not only has it come in the run-up to the first Rome derby of the season, it has also come just as Roma appear to be finding their feet under new coach Luis Enrique.

After a desperately underwhelming start to the season, Roma have, under their inexperienced but innovative young mentor, won their last two games in Serie A and currently sit a respectable eighth in the standings (at time of writing), just three points behind leaders Juventus. What's more, De Rossi, after two years of undoubted stagnation, is thriving in his new deep-lying, quarterback-style midfield role, as perfectly illustrated by his wonderful assist for Bojan Krkic's opener in the recent 3-1 win over previously-undefeated Atalanta. Indeed, De Rossi has been one of the standout performers in the opening five rounds of the fledgling season, averaging 6.75 in the notoriously stingy Gazzetta dello Sport match ratings.
Why, then, hint at a move away from his hometown club? Why now? For a while there was a feeling that the heir to Francesco's throne, 'Capitan Futuro', needed a change of scenery after enduring some rather testing personal problems, including the collapse of his marriage.

Indeed, last season he cut a disillusioned, disheartened and frustrated figure, and the angry young man who infamously elbowed Brian McBride in the face during the 2006 World Cup resurfaced, resulting in straight red cards against Shakhtar Donetsk and Bari for ridiculous acts of petulance.

However, this term, in spite of the upheaval at Roma and the interest of City among others, he has looked happy in himself once more. He appears to be enjoying his football again.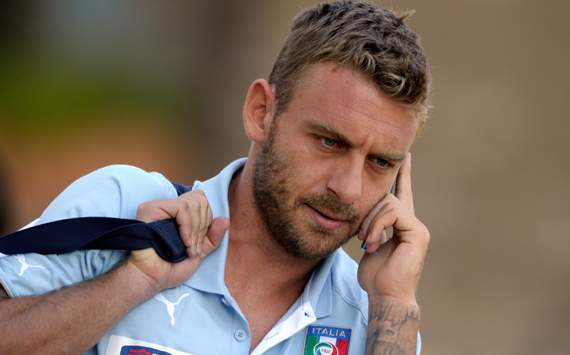 Should I stay or should I go now? | De Rossi may feel the time has come to leave Roma
Looking at it cynically, De Rossi's comments could merely have been a clever way of reminding Roma's new owners that he could yet leave the club for nothing if they do not meet his wage demands for a new contract, while at the same time managing to keep the fans on his side by reaffirming his love for the club.

Such a view probably does a disservice to a player who has displayed a sense of loyalty to his club that is all too rare in the modern game, but the suspicion remains that De Rossi wants out; that, at 28, he has belatedly realised that while Roma are moving in the right direction once more, he has wasted his peak years living in the future and that only a move to one of Europe's elite will enable him to fully realise his potential.