The two attackers from the under-21 side put on a spectacle in Liechtenstein, echoing impressive displays for their respective clubs as the pair garner increasing attention
Ciro Ferrara
's
Italy Under-21s
put on a goalfest against their Liechtenstien counterparts on Friday, with two of the most promising youngsters on the scene in the peninsula,
Manolo Gabbiadin
i
and
Lorenzo Insigne
, grabbing the limelight.
Gabbiadini netted a hat-trick, while Insigne scored two and had a hand in a number of others as the Azzurrini won 7-2 in Vaduz after shaking off the double blow of conceding an early goal and losing Fabio Borini to a bizarre sending-off.
The two, about whom a great deal has already been said since last season, have made the most of the stage offered to them by the U21 team, earning the attention of many football experts. Below we have a look at exactly what the pair have to offer.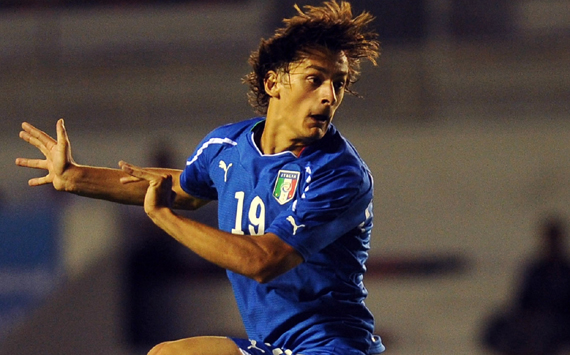 | | | | | | |
| --- | --- | --- | --- | --- | --- |
| Age | 19 | Height | 186 cm | Team | Atalanta |
| Role | Attacker | Weight | 81 kg | Similar to | Van Persie |

HISTORY:
When you are born 15km from Bergamo, being able to wear the shirt of Atalanta is one of those dreams that a boy has ever from his days in a cradle. Manolo Gabbiadini has truly grown in the Atalanta youth system, managing to earn a debut in Serie A just as he turned 18, in a 1-0 loss at Parma's Ennio Tardini, coming on for Simone Tiribocchi 10 minutes from time. That season would end with relegation to Serie B for the Bergamo side and Gabbiadini would end up at Cittadella on a co-ownership deal, but there, despite feeling a bit homesick, he would manage to score five goals. Though Atalanta decided not play him in Serie B - despite his numerous requests - his destiny was to play in Serie A.
BOOM
: The boom arrived in the blue jersey of the Italy U21 team. Despite having played fleeting moments in four out of the five league games that had occurred thus far, Gabbiadini had not yet managed to score. However, he has been a goal machine at international youth level. He scored nine goals for the national team, and is approaching the position of top scorer of all time for the Azzurri. He stands just a goal behind Cristiano Lucarelli and is two shy of Gianluca Vialli, Christian Vieri, Massimo Maccarone and Roberto Acquafresca, all of whom occupy the third spot behind Alberto Gilardino and Andrea Pirlo.
CHARCTERISTICS: Manolo Gabbiadini, simply put, is a complete attacker. The bomber from Calcinate, who turns 20 next month, knows how to play like a good old-fashioned striker; he is good with his head, but also equipped with a potent and precise left foot. Although he is not terribly short, he is quite adept at slipping through the cracks of opposing defences with speed and precise dribbling.
INTERESTING FACT: Gabbiadini's older sister Melania is a very famous footballer; in her career she has won four league championships with the Venetian squad from Bardolino and is part of Italy's senior women's side.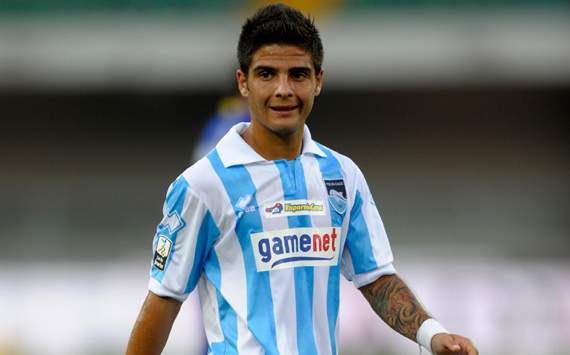 | | | | | | |
| --- | --- | --- | --- | --- | --- |
| Age | 20 | Height | 163 cm | Team | Pescara |
| Role | Trequartista | Weight | 60 kg | Similar to | Giovinco |

HISTORY:
There are more than a few boys born in Naples who have dreams to wear the blue number 10 shirt that once belonged to the 'King of Calcio', Diego Armando Maradona. Lorenzo Insigne, born in Frattamaggiore - 15 kilometres from Napoli - is one such boy. Raised in the youth squad of Napoli, he played in his first official game with the side, replacing German Denis a few seconds before the final whistle in a loss against Livorno. Despite the great excitement and the opportunity to get noticed in Serie A, his adventure with Cavese did not make a mark. Zdenek Zeman and the 'Foggia of encore miracles' would be needed to provide the young man's true arrival.
BOOM: The boom for Lorenzo Insigne arrived just last year, when Zeman's Foggia decided to believe in him. Scoring 19 goals in 34 games, the 20-year-old trequartista, adapted from his original role on the right of the attack, has attracted the attention of many clubs in Serie A and B. Yet Napoli have decided to trust again in the work of Zeman, allowing him to go on loan to Pescara, where the wily coach currently works.
CHARACTERISTICS: Insigne is the classic trequartista of modern times; quick, technically impeccable, with the ball glued to his foot and with a strong ability to hit it from any position. He is reminiscent of Lionel Messi or a taller Sebastian Giovinco - although at 163 centimetres, he is certainly no giant.
INTERESTING FACT: Insigne has a brother named Roberto, born in 1994 and also enrolled in Napoli's youth sector. Like his brother, Roberto is beginning to take his first steps into the club; perhaps as early as next year he too will be given the chance to get noticed on loan in the lower leagues. It has been stated that Roberto, his very young age notwithstanding, has no reason to envy his brother. The prospect of a second Insigne on the scene is a mouth-watering one...