Having seen the so called Golden Generation fail when it mattered at the World Cup, the Italian would be wise to inject some much-needed youth into his side ahead of Euro 2012
COMMENT
By Jonathan Birchall
As a once adopted Roman working in England, Fabio Capello should be wary not to leave his legacy in ruins.
Fortunately, with the Golden Generation having all but lost their luster, the Italian has travelled to Montenegro, where the Three Lions need merely a point to qualify for Euro 2012, with a squad to suggest that he's looking to the future.
It is a future with which the Italian is likely to have little involvement, with his lucrative £4 million-a-year contract set to come to an end following the tournament in Poland and Ukraine, but if he is looking forward to the leaving a successful stamp on the English game in the likes of Krakow and Kiev, then he would be wise to take a look back to mistakes of old.
And old is the operative word. At the 2010 World Cup in South Africa, England's squad travelled to the tournament with the second highest average age of just over 28, just behind Brazil, and the performances from Capello's side lacked the fearlessness and freshness of ideas that can so often be borne out of youthful exuberance.
With names such as Jamie Carragher, Stephen Warnock, Joe Cole and Emile Heskey chosen over Phil Jagielka, Leighton Baines, Theo Walcott and Darren Bent, Capello looked to have lost his nerve on the announcement of his final squad. For a manager that has thus far chosen 57 separate players to represent the Three Lions, it was a disappointingly conservative strategy.
It was therefore fitting that England's most humiliating defeat and exit was to come against a German side brimming with a potent mix of young and old, and as the likes of Mesut Ozil and Sami Khedira dominated Frank Lampard and Gareth Barry to secure the 4-1 win, Capello's troops went from looking a little weathered to utterly haggard over an hour and a half in Bloemfontein.
WHAT A DIFFERENCE A YEAR MAKES | Capello's turn to youth

England players 25 and under
at 2010 World Cup


England players aged 25 and under
in current squad


Joe Hart (23)
Aaron Lennon (23)
Wayne Rooney (23)
Glen Johnson (25)

Phil Jones (19)
Danny Welbeck (20)
Kyle Walker (21)
Theo Walcott (22)
Andy Carroll (22)
Micah Richards (23)
Joe Hart (24)
Adam Johnson (24)
Gary Cahill (25)
Wayne Rooney (25)
The four-goal hammering that England's Under-21s suffered against their German counterparts 12 months previous had offered a troubling indication of what was to come. Manuel Neuer, Jerome Boateng, Ozil and Khedira all started in both the Euro U21 final in Malmo and at the Free State Stadium a year later in South Africa. Only James Milner, already fast approaching his mid 20s, mirrored their step up. Capello, despite having looked committed in qualifying to promoting England's youth, went completely old fashioned.
What a shame it would be if the Italian was to do it all over again, especially when looking at the level of quality amongst England's lion cubs that have travelled to Montenegro. Even more so when Chris Smalling and Jack Wilshere, both absent from Podgorica, are added to the equation.
The temptation to become overly excited over such starlets, as is so often the way with England, is of course dampened by the quality of the sides that Capello's men would potentially come up against if they were to secure a point on Friday night and make it to Poland and Ukraine.
Spain, the Netherlands, Germany and France have stronger squads, of that there is little doubt, but if Don Fabio wants to build something special in the longer term, then that's almost superfluous.
ENGLAND'S POTENTIAL STARTING XI FOR BRAZIL 2014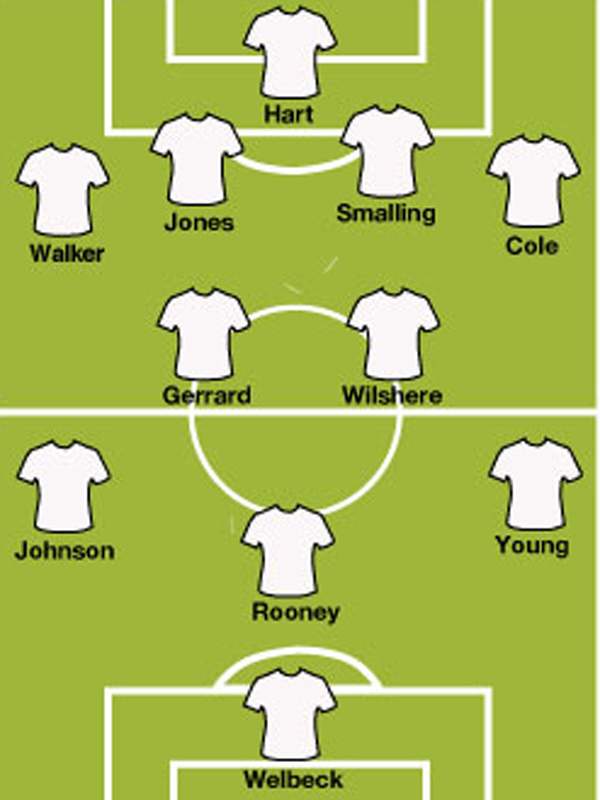 Euro 2012 presents the perfect opportunity for Capello to test his latest regeneration process on a stage where it really matters and although John Terry and Rio Ferdinand are likely to start at the back in Poland and Ukraine if both are fit, their ready made replacements Phil Jones and Chris Smalling should both travel. With over two years of honing and perfecting to take place at Manchester United before Brazil 2014, the duo will only improve and become more formidable.
A deep-lying two in midfield is unlikely to have gone out of fashion by the time the World Cup comes around and in Steven Gerrard, a player whose tackling ability is often overlooked due to the more explosive aspects of his game, could become a superb creative anchorman, providing his legs aren't still craving bursting runs forward. Alongside the Liverpool man will be the team's catalyst, Jack Wilshere, who more than any other player has offered a glimpse of the future today.
Another pair currently growing in understanding at the Premier League champions' Carrington training complex is Ashley Young and Wayne Rooney, and with the former Everton man having shown the ability to drop deep to provide a creative outlet as opposed to a pure goalscoring threat, evidence suggests that this is a partnership that could prove lucrative for the Three Lions for the foreseeable future. Young's performance against Switzerland at Wembley in July will have silenced any doubters of his suitability as an England player.
The selection of strikers in Fabio Capello's squad for Euro 2012 may not necessarily tell us too much about who will the the Three Lions' targetman two years later, with arguably the country's finest young forward, Daniel Sturridge, having not been selected for Friday's match with Montenegro. Danny Welbeck and the most expensive English player in history, Andy Carroll, should both be reaching their prime in 2014, leaving the Italian's successor with a potentially vast array of striking options.
England quite clearly have a long way to go if they are to join the world's elite once again and it is likely that it will be the National Football Centre at Burton where world domination is eventually planned, albeit a long while off.
However, even to the Three Lions' harshest of critics, the development of players such as Smalling and Wilshere; footballers in the truest, most alluring sense, offers hope that an exciting new generation could be born in Poland and Ukraine for the Josh McEachrans and Ross Barkleys of this world to at least feel inspired by.
That said, if Capello buckles at the last, reverts to type and relies solely on those who have been tried and tested only to fail time and again, then the Italian will rightly be fed to the lions at Euro 2012. England's future beyond that could prove equally gruesome.