COMMENT

By Daniel Edwards in Buenos Aires
The statements are so well-rehearsed now, so well-worn, that they begin to sound like cliché.
"We have to break the cycle of failure," Lionel Messi states a week before Argentina begin their quest to qualify for the 2014 Brazil World Cup against Chile. Team-mate Javier Pastore agrees with his captain. "The failures must be left behind," the Paris Saint-Germain man told the media. "We've had failure after failure."
The problem is that after five different coaches in as many years, and an Olympic Games gold medal in 2008 standing as their only triumph in that period, Albiceleste fans are beginning to grow tired of new beginnings and clean slates. Latest
tecnico
Alejandro Sabella has enjoyed a positive start to his tenure, but as he prepares for his first competitive game in charge, he knows that his actions, not words, will be what qualifies his spell a success or yet another failure.
Contracted after the 2011 Copa America ended in quarter-final ignominy, Sabella has shown no fear in making the squad his own. Messi was quickly installed as captain in order to demonstrate his importance to the team, and on first impressions has looked comfortable with the extra responsibility.
What successive Albiceleste coaches have failed to do, however, is find a position for 'La Pulga' which can exploit his twin talents of creating chances and putting them away like few others can. The latest spot for the Barcelona maestro will be as a second striker in the Monumental, just behind Gonzalo Higuain, a move which logically leaves the question of who will be tasked with his creative duties.
This is a question that, at least for now, remains unanswered. Ever Banega and Rodrigo Brana will start tonight and are both accomplished players, but they lack the verve and panache, the
viveza
, which courses through the veins of a traditional Criollo No. 10. Juan Roman Riquelme was an option to infuse the team with his own brand of moody magic but was left out. Pastore, meanwhile, remains kicking his heels on the bench and must be wondering what he has to do to earn any sort of place in the Argentina team.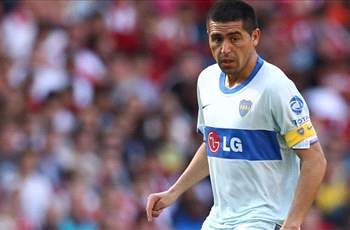 The fall of Roman | Riquelme's great Boca form was not enough to convince Sabella
The opening friendlies have also been an opportunity to experiment with different players and tactics, with the result being a return for Martin Demichelis in central defence and a chance for Sabella's former Estudiantes protege, Jose Sosa, to carve out a space in midfield. The team generally has a familiar look, however, which is understandable when considering that Argentina's fatal flaw has not been the quality of the men on the field, but an inability to make so many superstars click.
From Friday, however, there will be no room for further failure. Chile may be missing key first-teamers, but Claudio Borghi's men comfortably sit on a similar level to their rivals across the Andes and promise a tough clash. The Argentina-born coach certainly does not plan to show his compatriots any respect. A 3-3-2-2 formation is designed to take the game to their opponents, exposing a defence which is undoubtedly the weak link. Humberto 'Chupete' Suazo is also around, and after smashing 10 goals in the 2010 qualifiers, the Monterrey striker is still capable of finding the net against the best opposition. Make no mistake, the Roja will be a tough prospect.
"Chile are a tough rival who play well and use the whole pitch. They are well-respected"





- Sabella will not take his opponents lightly

The same can be said for every participant in this competition. This year's Copa clearly demonstrated that the difference between Conmebol's member nations is minimal, and even unfancied Bolivia will point to that infamous 6-1 victory in 2009 as proof that they will be a match for anyone at home.
The Argentines are comfortable favourites to beat Chile, and the bookmakers also back them to down Venezuela in Caracas next Tuesday to take the maximum number of points from their opening encounters. Sabella, however, who is wily from years of sitting alongside Daniel Passarella as the 'Kaiser's' assistant, will not be taking anything for granted either this week or throughout the competition.
The Argentine public are sick of smooth words, big promises and fresh starts. They are sick of failure and underachievement. The new coach's fleeting honeymoon period ends now; and nothing but a convincing qualification tournament will assure sceptical fans that the latest man on the bench can finally bring glory back to the Albiceleste.
Follow Daniel Edwards on