ANALYSIS
By Ben Hayward | Spanish Football Editor
It would appear to be a match made in heaven. Take the best Spanish national team in history, current world and European champions, and add the country's most successful coach in the modern era, many of whose players already form the backbone of Vicente del Bosque's spectacular side.
When the current coach eventually steps down, Pep Guardiola is likely to be the first name on everyone's lips, and on the list of the Spanish Football Federation (RFEF), too.
But Del Bosque is not finished yet. The current coach has spoken of his desire to lead Spain to glory in Euro 2012 and in the process become the first side in history to claim a European Championship, a World Cup and another continental crown in succession.
And after that, there's another World Cup. The former Real Madrid coach has agreed a contract extension in principle to lead Spain to Brazil 2014, but will only sign after the Euros in Poland and Ukraine.
By that time, the Salamanca-born trainer will have been in the job for six years and he would seem unlikely to go on for longer.
So could Pep take over in 2014? Indeed, will Guardiola ever coach Spain?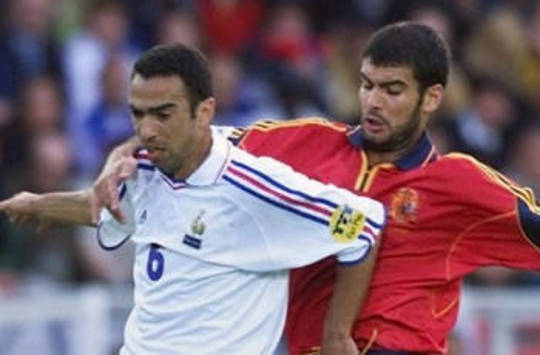 Representing Spain | Guardiola in action for La Roja against France
Guardiola played 47 times for Spain between 1992 - when he also starred for the gold medal-winning side at the Barcelona Olympics - and 2001, scoring five times. It was a significant contribution but a relatively small one considering the midfielder was one of the finest players of his generation.
The former Barca captain suffered bad luck with injuries, missing both the 1998 and 2002 World Cups, each time when he had been an integral part of his coaches' preparations. In fact, Pep played just two major tournaments with the Spanish side, the 1994 World Cup and the Euro in 2000.
But he also turned out on seven occasions for Catalunya, captaining the side on several occasions. And when Guardiola refers to his country, he is talking about Catalunya, not Spain.
Catalunya's national side is not recognised by Fifa, however, and plays just once a year. That arrangement may suit current coach Johan Cruyff, Pep's mentor at Barca, because the Dutch legend gave up full-time management due to concerns about his health. It is unlikely to meet the needs of workaholic Guardiola, though, nor will it allow the Barca coach to dispute the biggest titles on offer at international level.

"Pep Guardiola has the right frame of mind and the right spirit to be national team coach, as well as solid preparation and experience.
"

- Vicente del Bosque
That, then, leaves Spain - or another international team. Argentina, along with Italy and Qatar - where he spent spells as a player - have been named as possible future destinations for the 40-year-old, while Brazil legend Socrates claimed this week that the Catalan coach would be an ideal choice for the fives-times World Cup winners.
Any such role still seems far away, though. Guardiola remains happy at Barca and is likely to extend his current contract beyond 2012, when it is due to expire.
After that, options will be aplenty for a coach who has racked up 12 trophies in little more than three seasons at Camp Nou. The world will be his oyster. And just as he did as a player, when he left Barca to join Brescia in 2001, before spells at Roma, Dorados in Mexico and then Qatar, the Catalan coach will be keen to test his skills abroad.

"I would like to try the experience when I'm tired of the day-today involvement. To experience a World Cup or a European Championship would be rewarding.
"

- Pep Guardiola
Italy and England look likely to welcome Guardiola to their respective leagues at some stage, while a future spell at Barca cannot be ruled out, either. Before any of that, though, the Barca boss is considering a year-long sabbatical in order to spend more time with his young family.
Only when he is satisfied with what he has achieved in club football will Pep consider a role as national team coach. "I would like to try the experience," he said last year. "It's something exciting for the long term, when I'm tired of the day-to-day involvement."
That may be some time, but when it does arrive, the question remains: will it be with Spain?
Follow Ben Hayward on