Spurs favourites to win Sunday's derby clash as the balance of power shifts in north London, with Harry Redknapp's side unbeaten in their last three against the Gunners
COMMENT
By Greg Stobart
For the first time in Arsene Wenger's 15 years in charge of Arsenal, he will take his side to White Hart Lane on Sunday with Tottenham legitimate favourites to win a north London derby.
The gap that was once a chasm has been slowly closing in recent seasons as Spurs have emerged as top four contenders while Arsenal have trodden water and, arguably, regressed.
In April 2010, Spurs ended an 11-year wait to beat their bitter rivals and that seems to have been the turning point in a rivalry that had become so one-sided as Arsenal perennially qualified for the Champions League and challenged for major honours.
Tottenham now face Arsenal with no fear, a confidence reflected when they overturned a two-goal deficit in their 3-2 win at the Emirates Stadium last November, their first away win in the north London derby for 17 years.
Spurs have lost just once to Arsenal in six Premier League games under Harry Redknapp and the contrasting fortunes of both clubs in the last two months means Spurs are genuinely expected to win at White Hart Lane on Sunday. The psychology behind this clash has completely changed.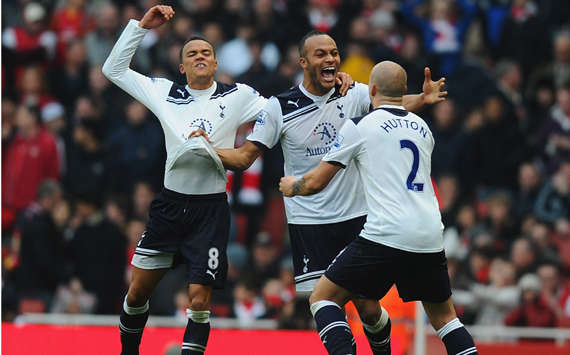 You Beauty | Younes Kaboul celebrates his winner in Spurs' 3-2 win at Arsenal last season
While Arsenal sold their two best players – Cesc Fabregas and Samir Nasri – Tottenham refused Chelsea's aggressive advances and kept theirs, Luka Modric.
Since the transfer window closed, Modric has screwed his head back on having previously agitated for a move to Stamford Bridge. Redknapp's side have won three Premier League fixtures in a row and would love nothing more than to make it four by beating Arsenal.
They have a huge chance against a fragile Gunners side, far removed from the Invincibles team that won the league at White Hart Lane in 2004 featuring Thierry Henry, Patrick Vieira, Dennis Bergkamp, Robert Pires; marshalled at the back by former Spurs captain Sol Campbell.
Emmanuel Adebayor, Gareth Bale and Rafael van der Vaart will be licking their lips at the prospect of getting at the Arsenal back four, while Modric will believe he can dictate the game against an Arsenal midfield missing the influential Jack Wilshere.
It's not just Wilshere who will be absent in a patched-up side that could well see Alex Song fielded as an emergency centre-back. Thomas Vermaelen, Johan Djourou and Laurent Koscielny are all ruled out through injury, meaning a defence that conceded eight against Manchester United and four against Blackburn is weakened even further.
IN NUMBERS
How the tide has turned

1

Since Redknapp arrived at White Hart Lane, Arsenal have beaten Spurs just once in six attempts.
3
Arsenal have squandered two goal leads in 50% of their meetings with Spurs since 2008.
4
Van Persie has scored four goals in 13 derbies, while Van der Vaart has already netted three in two.
5
Redknapp can select five players who have scored in the previous seven derbies. Wenger can pick three, and only if Walcott is fit.
12
After only conceding 32 goals against Spurs in the first 16 years of the Premier League, Arsenal have seen their rivals fire 12 past them in their last six games.
Arsenal are slowly taking steps to re-build their confidence and have themselves won three in a row in all competitions. Yet even in Wednesday night's 2-1 win over Olympiakos, they looked vulnerable defensively and the result did little to calm concerns about a defence that has conceded 12 goals in the club's last two away games.
The emergency spending spree in the final days of the transfer window may have appeased some Arsenal fans, but it was a patchwork job, summed up by the loan signing of Yossi Benayoun from Chelsea. Until now, Wenger has never been the kind of manager who looks to sign unwanted players on loan from rival clubs.
Mikel Arteta might be a talented creative midfielder, but few could argue that he is not a downgrade on Fabregas. Only Robin van Persie in the Gunners squad will be genuinely feared by Spurs for his ability to singlehandedly win matches.
Spurs, on the other hand, have players who could cause Arsenal some real problems while they have addressed areas of weakness over the summer. In Adebayor they now have a genuine goalscorer who can lead the line (and incidentally, has scored eight times in the north London derby wearing an Arsenal shirt); Brad Friedel ensures an experienced and reliable presence in goal while Scott Parker offers leadership and ball-wining ability in central midfield.
Tottenham are now in a relatively strong position, to the extent that Redknapp will fancy his side's chances of qualifying for the Champions League next season having missed out this term.
The foundations that have been laid for Spurs are solid, so that even when the futures of Redknapp and Modric once again become hot topics next summer, they will be prepared. Club officials expect Redknapp to replace Fabio Capello as England manager after Euro 2012 and have been long been assessing potential replacements. Chairman Daniel Levy is confident that, despite Redknapp's good work, someone like Carlo Ancelotti could continue to take the club forward.
On the other side of north London there is also speculation over Wenger's future, and there have been suggestions that the Frenchman plans to leave Arsenal at the end of this season. As the man who has given the Gunners their modern identity, his departure would be a bigger blow than Redknapp leaving Spurs. Arsenal fans are frustrated by the club's failure to win a trophy in the last six years, but without Wenger they would be entering a world of the unknown.
The state of play at both clubs means Tottenham fans can reasonably expect to compete at least on the same level as Arsenal in the short and medium-term, no longer in their great rivals' considerable shadow.
On Sunday, only the short-term gain of three points will matter. But those points would take Spurs five points clear of Arsenal with a game in hand and set a new benchmark for the balance of power in north London.