Following their promising start to the Serie A season, the Old Lady's credentials will be tested to the limit by last season's Scudetto winners in Sunday's clash
COMMENT
By Tom McAvoy
Reigning Serie A champions AC Milan provide the formidable opponents for Juventus tomorrow as Juventus Stadium plays host to its first 'classic'. Antonio Conte's side have proved one of the more eye-catching teams during the formative weeks of the 2011-12 season, and, with eight points from their opening four games, share top spot with a similarly enterprising Udinese side.
More often than not, a meeting between the two sides "marks the race for the title". So proclaimed Alessandro Del Piero - in a more authoritative position than most to comment following his 18 years with the Turin giants - punctuated by a series of monumental clashes between the pair. Even if Del Piero was wary in claiming Sunday's fixture will not be "decisive" in terms of this season's title race, the prospect of opening up a six-point gap between the two is nevertheless an important one.
JUVENTUS' SEASON SO FAR

Parma (h)
Siena (a)
Bologna (h)
Catania (a)

Serie A
Serie A
Serie A
Serie A

W 4-1
W 1-0
D 1-1
D 1-1

It is a prospect of which Milan are particularly wary. Clarence Seedorf, like Del Piero the veteran of innumerable titanic tussles between the teams, has pointed to the galvanising effect the move to Juventus Stadium has had on the 27-time Scudetto winners. Juventus, it is widely acknowledged, in their new stadium finally have a place they can call home.
The team's two performances at their new premises have reflected this. Buoyed by an enthusiastic support, home advantage has benefitted the tactical vision Antonio Conte has imparted on the squad. Aggressive, competitive and incisive: Conte has quickly sought to build a team in his own image; a team whose style even draws comparisons to the great sides of Marcello Lippi of which Conte was an integral feature.
A bold 4-2-4 system submerged lambs-to-the-slaughter Parma on the opening day, the margin of the 4-1 scoreline reflective of the total and utter dominance the home side had enjoyed. Amidst a cauldron of noise and colour, the meek visitors looked defeated before the game had begun.
The Milanese's task will be made more difficult by the presence of a former employee at the heart of Juventus' game-plan. A previously pedestrian midfield has been given direction by the deep-lying promptings of Andrea Pirlo, who dictates the pace at which the home side will play. More than any other piece of business conducted in the summer, Pirlo's arrival has transformed the way Juventus play.
However, if one were to listen to Catania's general manager Pietro Lo Monaco in the aftermath of Juventus' most recent match with the Sicilians, stopping the supply of passes to the deep-lying playmaker is the key to stopping Juventus. The consensus is that, without the orchestration of the Italian international, his team-mates are nothing more than "ants", lacking an on-pitch leader and direction.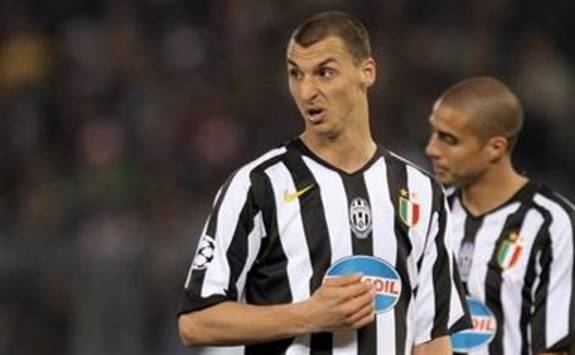 Ibrahimovic | Will be looking to punish former side's vulnerable defence
Additionally, there are defensive woes to eradicate. This may seem a harsh proclamation for a team who have conceded just three goals in their four Serie A games, yet two of those – the result of individual Giorgio Chiellini errors – have been crucial. Victories have been turned into draws against Bologna and Catania. Twelve points from four has become eight.
With this in mind, the return to action of Zlatan Ibrahimovic provides the biggest test Juventus have faced this season. A swift return to form is essential if one of Serie A's most potent attackers is to be nullified. This, in conjunction with unlocking the potential of Pirlo, provides the key for Juventus as they look to open up an early season six-point gap on their historic rivals. Whilst it may not be decisive as such, it will provide an early indication as to how far Conte's squad can go.