ANALYSIS
By Richard Parry
Not since the days of Sol Campbell has a player harboured such a transition of animosity in north London; one sparked by both shirt colour and jealousy. Now it's time for
Emmanuel Adebayor
, once of
Arsenal
, now of
Tottenham
, to grasp the gauntlet.
"[A] winning mentality, that's all that counts... Now rest and prepare for Sunday looking forward to it," tweeted Adebayor after Spurs' Europa League victory over Shamrock Rovers, as the former Arsenal hero turned villain prepares to line up for their rivals as he once again takes centre stage in the north London derby.
The Togolese powerhouse has, in the space of just three matches, seemingly shed a career's worth of Spurs contempt to forge a blossoming rapport with the White Hart Lane support. Since 2006, Spurs fans have craved a striker of such pedigree, and having seen his impact at their rivals, it won't be long until Arsenal fans wish they had him back.
The spotlight will be firmly fixed to Adebayor come four o'clock on Sunday, but, as his previous exploits in the north London derby prove, he's more than ready to flourish in the limelight. For the red half of north London, the striker netted a staggering seven goals in nine matches against Spurs.
Now the White Hart Lane faithful will be hoping he can start paying them back on Sunday.
Here's what Spurs fans will have remembered him for thus far...
| | | | |
| --- | --- | --- | --- |
| | 3-0 | | ADEBAYOR SCORES HIS FIRST GOAL AGAINST TOTTENHAM |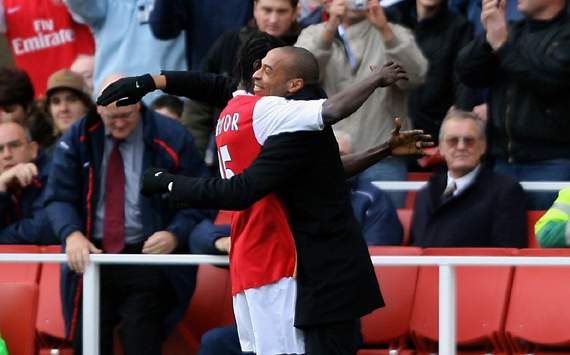 What a way to make yourself a hero, but the image of Adebayor embracing Spurs' old foe Thierry Henry on the touchline would remain etched into memories for years to come.
BOO FACTOR: 4/5
| | | | |
| --- | --- | --- | --- |
| | 1-3 | | ADEBAYOR HITS 'THAT VOLLEY' AT WHITE HART LANE |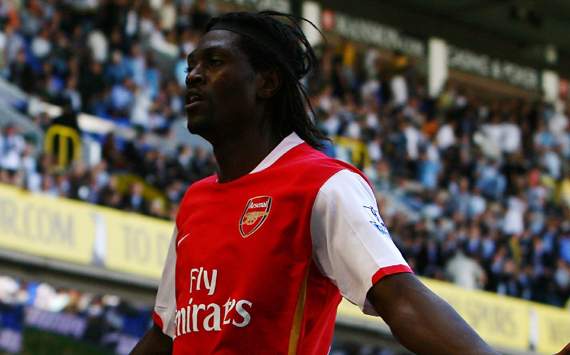 Displaying your qualities in a derby not only solidifies the home faithful's admiration, it makes you public enemy No. 1 to your rivals. How did Adebayor respond on his first trip to the Lane? With a brace of course, including the most emphatic of volleys.
BOO FACTOR: 5/5
| | | | |
| --- | --- | --- | --- |
| | 2-1 | | ADEBAYOR SILENCES THE SPURS CHANTS AFTER SCORING |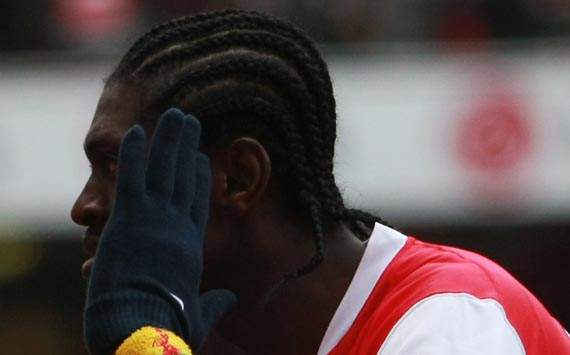 Unfortunately, the chanting turned sour, and the infamous Spurs abuse targeted at the striker grew as he developed into an Arsenal star. But again, Adebayor would hit back in the explosive fashion with the opening goal of another Gunners victory. Cue ear-cupping mastery.
BOO FACTOR: 4/5
| | | | |
| --- | --- | --- | --- |
| | 5-1 | | ADEBAYOR'S ARGUMENT WITH BENDTNER AT THE LANE |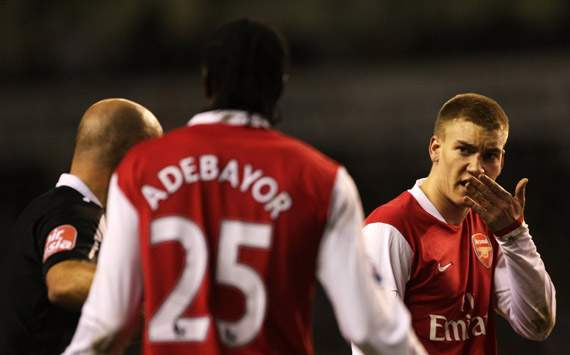 What's better than finally recording a victory over your arch rivals? Demolishing them 5-1 and a fight breaking out between their players. For all the animosity aimed at the striker, he went up in many a Spurs fan's estimations that night.
CHEER FACTOR: 5/5
| | | | |
| --- | --- | --- | --- |
| | 4-4 | | 'FOUR, FOUR!' - REDKNAPP'S FIRST NORTH LONDON DERBY |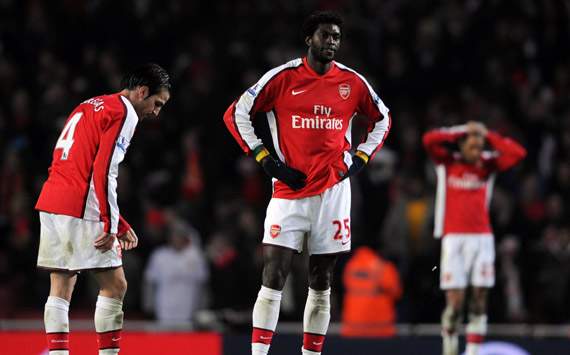 A match which helped light the fuse for Adebayor's exit from Arsenal. With his side leading 4-2 at the Emirates going into stoppage time, goals from Jermaine Jenas and last gasp tap in from Aaron Lennon saw Spurs clinch the unlikeliest of points.
CHEER FACTOR: 5/5
HOW WILL HE DO ON SUNDAY?
Adebayor completes his hat-trick in front of the Paxton Road end on the hour mark and then runs 150 yards and slides on his knees in triumphant celebration in front of the away fans gathered in the Park Lane stand.
Well, that's what the script says, my script, and the script written by the blue and white half of north London.
I am salivating at the prospect of this game. I always, without exception, dread Arsenal games but given the arrival of Adebayor and Scott Parker, coupled with the fact Luka Modric has sorted his head out plus the Gooners' apparent freefall towards mid-table mediocrity, we have the potential to record a fine and emphatic win.
Spurs and Arsenal fans know that the stage is set for Adebayor to grab the headlines in the north London derby. He has done it before but always against us, so in a bizarre twist the villain who took pleasure in scoring so many against us will become our hero.
White Hart Lane will be rocking to the sound of Emmanuel Adebayor's name come 6pm on Sunday.
MATCH PREDICTION
...
Adebayor will be on the score sheet for a victorious Tottenham side and he will lap it up. He will love getting one over on them, even more so that he will be doing it for us.
Follow Richard Parry on