SPECIAL REPORT
By Jonathan Birchall
If you take the short walk from upper to lower Holloway down Islington's Hornsey Road, you'll soon realise that you're in Arsenal country, with the Emirates Stadium dominating the area as its focal point, a pilgrimage for all 'Gooners'.
Running parallel, for at least some of the journey, is Sussex Way, a normal north London street only five minutes from the hallowed turf of Ashburton Grove. It's on this road on which you find the Greek Orthodox Church of St. Anthony the Great and St. John the Baptist, a more understated but equally telling symbol of its surrounding area.
For Islington is the home to a huge number of Greek and Greek Cypriots, as well as the red half of the 'N' postcode, and as such the two have become intertwined.
With over 150,000 Greek speakers in London alone, many of whom the descendants of those who fled Cyprus following the invasion by Turkey in 1974 as part of the so called Atilla Operations, there is a clear connection between community and club.
It is a fact that holds special significance on Wednesday, when Olympiakos, the most successful side in Greek football history, travel to face Arsene Wenger's men in the Champions League group stage.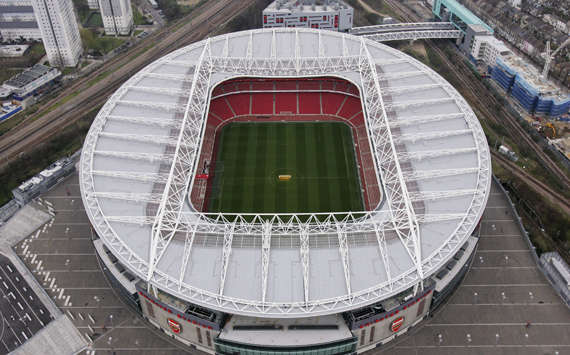 Community club | The Emirates is located within the heart of multicultural London
Charlie Charalambous, a Greek Cypriot Gunners fan and season-ticket holder from Enfield, north London explains how his community was drawn to the club.
"The links are geographical. The Greeks and Cypriots settled in London when they moved here between the 1950s, 60s and 70s," he said.

"The Greek Cypriot community moved over here because they were part of the Commonwealth. Just like Indians and other nationalities within the Commonwealth, they were free to move around and that's why Cypriots decided to come to the UK for job prospects, a better life and just because of that English connection with our respective countries.
"A lot of them were based in Camden, Islington and Holloway, so Arsenal was the local club and that's why the generation before mine got into following them.
"Arsenal are successful and we've had some great players at the club so I think when you play that style of football it's attractive for people to watch, so I think that's why a lot of people have Arsenal as their English team.
"Today, the club seems intrinsically linked with the Greek Cypriot community, to the point that its hard to find a Greek or Greek Cypriot in north London who isn't a die hard Gooner."
As such it is not unusual to see an Arsenal flag on the wall of one of Islington's many Greek tavernas or even pictures of a local business owner posing proudly with an Arsenal star in his establishment.
It is a link that extends from the north of the capital to the south of the Mediterranean, with the club now firmly in the hearts of many native Greeks. And it is a trend which Arsenal appear keen on exploiting, with the club announcing in April their brand new academy in Loutraki, 50 miles from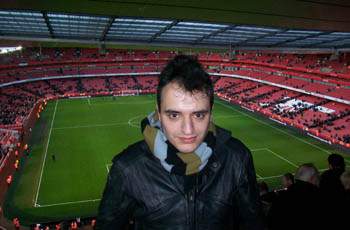 "In Greece many people support Arsenal and sympathise with the team as they play attractive football."
Kostas Karapatis
Athens.
"Today you can catch loads of football from the Greek league, England, Spain, Italy, Germany, France and even Portugal or Holland if you subscribe for the digital platform," says Pathos, otherwise known as @greekfooty on Twitter.
"However, before 1971 we had only national television in Greece and hardly any football. My father and cousins were always adamant about the impact the change in platform had to Greeks. Suddenly they could watch Charlie George and the Gunners, then Peter Lorimer's Leeds United and of course Liverpool.
"What that meant was that suddenly in the 1970s, most Greek football fans suddenly found themselves also supporting an English club. As you can understand this love for English football was passed on to the next generation."
Pathos continued: "There are English games we have seen on TV which we will never forget. For example, I think I will remember the Liverpool - Arsenal title decider in 1989 with Michael Thomas' goal until the day I die.
"It would probably reflect reality today if I said that besides the top five clubs - Olympiakos, Panathinaikos, AEK, PAOK and Aris - there is no other team in Greece that has more than fans than Liverpool, Manchester United or Arsenal."
One such fan is Kostas Karapatis, known by the Twitter handle Kostas_Gooner, and he is a huge follower of the club, despite being based in Athens. "I started supporting Arsenal in 1994 when they won the European Cup Winners Cup and I didn't like the fact that everyone in Greece supported Manchester United and Liverpool," he said.
"In Greece, Arsenal have a good name and many people support or sympathise with them because always play attractive football. Arsenal have a very good fan club in Greece called Arsenal Hellas.
"In recent years Arsenal have closed the gap between Manchester United and Liverpool so it's not strange if someone supports Arsenal.
"I'll be there when Arsenal come to Greece for the return group fixture. I was in 2009 when the two sides met and I was also there in the 2004 game between Arsenal and Panathinaikos - Olympiakos' great rivals. Panathinaikos is the team I support in Greece, so I have one more reason to be there."
Arsene Wenger was arguably the first globalised manager to arrive in the Premier League, and has fielded numerous teams without an English element to them – some say to his detriment – but the club is still waiting for its first south Mediterranean superstar. With Greek international Stathis Tavlaridis having failed to make a significant mark at the club, the next prospect is young England talent Nicholas Yennaris, who is of part-Greek descent.
However, it is first and foremost a relationship that runs through the stands and not on the pitch. Greeks and Greek Cypriots may not be represented by the Gunners on the field when Olympiakos come to visit on Wednesday evening but a quick walk in and around the ground will soon make clear Arsenal will always have a Hellenic heart.