ANALYSIS
By Keir Radnedge
Once upon a time, purchasing a footballer was a comparatively simple business. All it required was for the selling and the buying clubs to agree a fee before the player did what he was told, signed on the dotted line and packed his boots.
Done and dusted. All in a matter of hours. But that was in the bad old days of football slavery before agents, lawyers, publicists, fathers, brothers and cousins got in on the act.
In October 2010, Fifa launched its internet-based Transfer Matching System to speed up the final stage of the increasing flood of international transactions. One of its aims was to supersede the unsatisfactory and largely unenforceable agents licensing system.
TMS, however, is enacted only at the very end of a process which, as far as the star names are concerned, is becoming almost prohibitively complex.
Consider, as evidence, the tortuous negotiations to bring new Brazilian wonderkid Neymar da Silva Santos Junior to Europe.
No-one doubts that the 19-year-old will be leaving Santos sooner or later. For now he remains in Brazil so he can lead his club's December pursuit of the Club World Cup which they last won half a century ago, in Pele's days, in 1962 and 1963.
After that, it is open season for a multimillion-euro move either to Barcelona or Real Madrid in January. Santos could hold out until the summer of next year or even January 2013 but that represents a gamble; the South American champions will be wary of the risk of injury and/or a sharp loss of form reducing the player's value.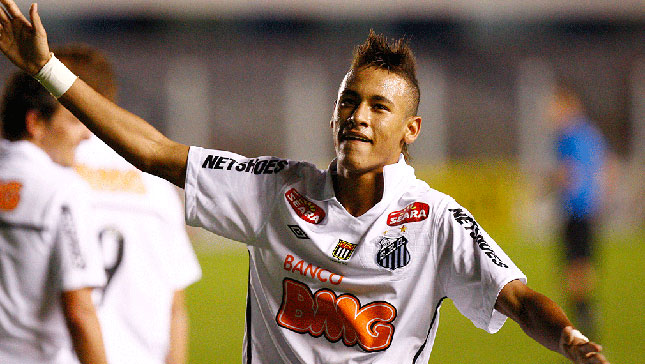 La Liga-bound | But will Neymar be moving to Barcelona or Real Madrid?
This is an especially sensitive issue because whatever the figures bandied around in the international media, Santos will receive less than half the agreed fee. Hence president Luis Ribeiro must balance the financial imperative to sell with the risk inherent in using every possible artifice and excuse to extend the auction.
Madrid, in particular, know all about the manoeuvring ahead. They had a bitter and costly taste of it – also with Santos – back in 2005 over Robinho. At the time the forward was sitting atop the same hype mountain as Neymar today, a potential he has not truly fulfilled, fine player though he is.
Transfer talks dragged on for months. Santos, then as now, wanted to raise the price as high as possible because they would receive only a percentage. The Brazilians even squeezed out a few extra millions by baulking at the very end of the saga when it came to the release of the conclusive international transfer certificate.
Neymar's transfer is following the same pattern and for the same reasons.
Only five clubs can raise the funds: Barcelona and Madrid, Manchester City and Chelsea plus Anzhi Makhachkala. Neymar's own footballing ambitions rule out the Russian new boys while the Premier League is not a happy hunting ground for Brazil's best.
Just think back to Robinho's spell at Manchester City.
TOP FIVE MOST EXPENSIVE SOUTH AMERICA TO EUROPE TRANSFERS

| | | | |
| --- | --- | --- | --- |
| PLAYER | CLUBS | TRANSFER FEE | YEAR |
| 1) Denilson | Sao Paulo - Betis | €31m | 1998 |
| 2) Robinho | Santos - R.Madrid | €25.2m | 2005 |
| 3) Alexandre Pato | Internacional - Milan | €24m | 2007 |
| 4) Sergio Aguero | Indep'nte - A.Madrid | €20.25m | 2006 |
| 5) Fernando Gago | Boca - R.Madrid | €19.5m | 2007 |
Now consider Neymar's contractual complication. Some 10 per cent of the player is owned by his own promotional company, Neymar Sports, while various other investors control a further 45 per cent. Hence Santos would receive only 45 per cent of the fee. If the sale price were €50 million, then Santos would bank 'just' €22.5m.
Third-party ownership is common among South American stars and hated by acquisitive European clubs. English regulations, since the original Carlos Tevez/West Ham farrago, prohibit the practice because of the conflict of interests it represents: a club wants to keep a star player but frequent transfers are in the financial interest of a player's 'real' owners.
Agreeing a price which keeps direct and indirect interests happy is one thing; the timing of the transfer is another; and the payment schedule itself a further negotiating minefield.
Barcelona, according to sources in the Catalan capital, are cautiously confident that director of football Raul Sanllehi is close to a deal involving a €57m fee in three stage payments and a transfer completion date of 2013. Madrid have countered with a proposal to pay in one lump sum but for an earlier completion.
As for the player himself, Neymar says he is concentrating only on his football and the dream of victory in the Club World Cup against ... Barcelona.
Then, of course, the accountants would have to start all over again and Santos could laugh all the way to the bank before Fifa eventually presses that Transfer Matching button.
Follow Keir Radnedge on

Keir Radnedge has covered every World Cup since 1966, analysing the international game for newspapers, magazines, TV and radio around the world