ANALYSIS
By Ben Hayward | Spanish Football Editor
The alarm bells must be ringing at Barcelona. The Catalan club looked to be picking up where they left off by claiming the Spanish Supercopa and the Uefa Super Cup at the beginning of the new season, but even those victories masked failings under the surface, papering over the cracks in a side not quite as invincible as it had seemed a few months ago.
Now, Barca have real problems.
Pep Guardiola's men found themselves a goal down to AC Milan after just 24 seconds on Tuesday night in the sides' Champions League clash, as Alexandre Pato exposed a Barca defence playing dangerously high up the pitch and, once again, featuring two central midfield players: Javier Mascherano and Sergio Busquets.
Busquets had been embarrassed at the weekend as Real Sociedad mounted an unlikely comeback to seal a 2-2 draw at Anoeta after going 2-0 up early on. Then, the midfielder was beaten in the air for Sociedad's first goal. This time, he was left flat-footed as Pato burst through the Barca defence before slotting the ball under Victor Valdes' legs to make it 1-0.
It was a tactic Milan tried to repeat, aware that the Brazilian had the beating of both Busquets and Masherano, neither of whom should even really be playing at centre-back at all. But with captain Carles Puyol only deemed fit enough to start on the bench and Gerard Pique failing to recover from injury, Guardiola - having decided against bringing in a defender in the summer - was left with few options.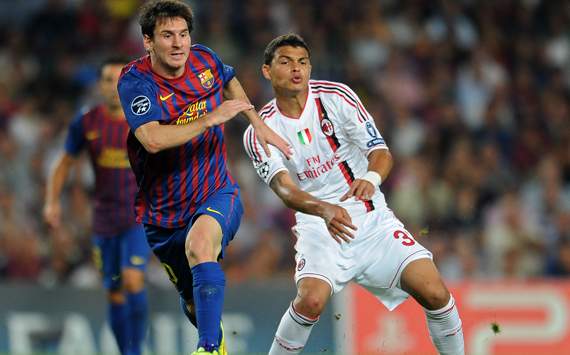 Marked man | Messi's influence was restricted by Thiago Silva and Nesta
One of the defenders linked with a move to Barca was Milan's Thiago Silva. And it was the Brazilian who popped up right at the end to head an equaliser for the Italian champions when it looked as if the Catalans may just get away with their somewhat unconvincing display.
By then, Puyol had replaced Seydou Keita, who had been asked to fill in as a holding midfielder once more and offered insufficient protection at the tip of a triangle ahead of Busquets and Mascherano, two players who would normally be in that very position.
But even Puyol was unable to prevent what looked an inevitable Milan comeback as, forced onto the back foot, the home side conceded from a corner, with Thiago Silva outjumping both the Catalans' captain and Busquets, Barca's tallest player, at the back post.
The full-backs also struggled and Dani Alves always looks more comfortable as an extra winger than he does when performing defensive duties. Eric Abidal had started on the left, but Barca really could have done with his pace and positional abilities in the centre of defence. Only Guardiola will know why he wasn't used there against a Milan side always likely to cause problems.

"There are things we need to improve on. But Milan only had two-and-a half chances. These things happen.
"


- Pep Guardiola
And further up the pitch, there are further concerns for Barca. Andres Iniesta limped off with a hamstring injury after 39 minutes and will be out for four weeks. Chile forward Alexis Sanchez, who suffered a similar problem on Saturday, is set to be sidelined for twice that amount of time. Just a month into the new campaign, Guardiola's squad is already beginning to look bare, particularly as it is stretched by midfielders playing at the back.
On a positive note, both Pedro and David Villa scored, although the latter is still below his best and has yet to complete 90 minutes for Barca this season. Villa's fantastic free-kick, the first one he had ever taken for Barca, was a moment of real brilliance.
Lionel Messi produced another as he left Ignazio Abate in his wake before setting up Pedro at the far post for a tap-in, but the Argentine was left thumping the turf after he was dispossessed by a wonderful tackle from Alessandro Nesta. Even he can't do it all on his own.
So there is much to ponder for Guardiola following a night on which three-quarters of the possession should have led to a routine victory. And if his side are to become the first back-to-back winners of Europe's premier club competition since Milan themselves in 1989 and 1990, there is much to be addressed as well.
Follow Ben Hayward on