COMMENT
By Nick Price at the Britannia Stadium
After seeing his side hold on to a hard-fought victory, you could sense the relief in Tony Pulis' words when he expressed his pride at having stopped Liverpool from playing, and there was one man in particular that he will be glad to see the back of.
"He looks a real, real player. A player that will grace the Premier League. His movement and touch at times was different class. He was a handful," Pulis told reporters.
Just like after this same fixture last year, the Reds headed back up north with nothing to show for their efforts; but unlike that pitiful defeat, the travelling Kop were optimistic and cheering throughout, and their reason to be cheerful was the same man whom the Stoke manager praised so highly.
That man, of course, was Luis Suarez, who fought, harassed, tricked and ran in vain for 90 minutes to try and wrench an equaliser for the visitors after Jonathan Walters scored from the spot with Stoke's only shot on target of the match – a paltry two more flew far away from Pepe Reina's posts.
The Uruguayan forward has been a thorn in the side of many defences since moving to England, but up against Matthew Upson and Ryan Shawcross he could find no answer as they erected a barrier for him that he was rarely able to slip or power through.
He would beat one with a trick, only to find the other right up in his face. And if he overcame the second barrier, he'd find the first one had popped back up to be put back down again, like a giant game of Whack-A-Mole in the penalty area.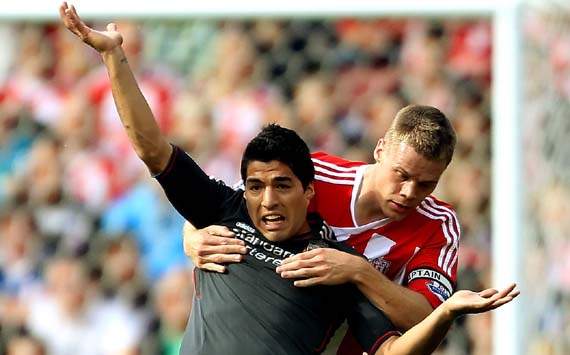 Feeling the strain | Suarez was shackled by Shawcross and Upson
It was a dogged defensive display that even Suarez the sorcerer could not conjure up a bit of magic to overcome, and part of the reason behind his failure was his team-mates' inability to provide much of a threat of their own.
True, Jordan Henderson and Charlie Adam had two excellent chances apiece, but those arose from a single defence-splitting pass on the counterattack, and for much of the match it was Suarez who again and again ran the Stoke gauntlet, sometimes mustering half an opportunity for himself that he would snap at after pushing his body to its limits just to grab an inch worth of space, while other times he'd try a reverse ball into the area only to find – more often than not – another red-and-white shirt would hack it away.
SUPER SUAREZ


PLAYER RATING

7.5

Fashioned a few chances for himself and would almost certainly have been credited with an assist had a perfectly weighted ball across the box fell to an attacking team-mate and not Skrtel. Never gave up despite having to do almost everything for himself, though he will be disappointed to have missed a glorious chance to equalise in injury time.

And when he was presented with a glorious chance to equalise in injury time he fired wide, perhaps due to the afternoon's frustration taking its toll on his cerebral side.
Seldom did a team-mate link up with Suarez, and the January signing's performance was reminiscent of Fernando Torres of yesteryear in a Liverpool shirt. On Saturday, as often used to happen with the South American's Spanish predecessor, the Reds needed the supporting cast to complement their totem, but Dirk Kuyt and Stewart Downing were industrious rather than incisive, while Adam and Henderson failed to get a groove going with either of the two forwards as they had done a fortnight ago when Bolton were swept aside at Anfield.
Liverpool have shown that they can click to devastating levels since Kenny Dalglish took over, but they struggled against a compact, highly organised Stoke, who funnelled Suarez into their trap time and again. What the visitors required, as a result of Kuyt's indifferent attacking display, was someone who could deflect defensive attentions away from the £23 million man, allowing him to drop off and burst into the danger zone undetected.
On paper, that partner in crime in future games is Andy Carroll, but the Geordie giant has yet to find his rhythm in the fluid football preferred by the manager, and the most expensive English player of all time has not convinced enough that he warrants an extended run in the side to get up to speed.
Another alternative could be Steven Gerrard, the forgotten captain who has hardly played alongside Suarez since his arrival.
The England midfielder has been beset by injuries over the past 12 months, and at 31 there are legitimate concerns that he might not have too long left playing as a midfield dynamo, as much capable of creating chances as he is of bullying a defence, but even a physically diminished Gerrard would help Liverpool against such resolute opponents.
If Dalglish can get either of those two to gel with Suarez, then defences across the Premier League will well and truly be pushed to their limits – and few more managers will be breathing a sigh of relief and proudly reflecting on a clean sheet and three points gained against the Reds.
Follow Nick Price on