SPECIAL

By Daniel Edwards | South America Football Editor
"Pele? He just has a few more goals than I do, more or less," Rogerio Ceni joked when asked whether he could stand up in comparison with 'O Rei'.
But while the eccentric goalkeeper is unlikely to come close to the Santos legend's goalscoring proficiency - the shot-stopper boasts 'just' 103 strikes in professional football - few would bet against this symbol of Sao Paulo going on to beat Pele and his seemingly insurmountable tally of 1,114 games for the Peixe.
Certainly not if the Tricolor faithful have anything to say about the matter. An impressive 60,000 fanatics packed the Morumbi on Wednesday afternoon to mark a momentous occasion in Ceni's career; the day when he walked out onto the pitch for his 1,000th professional match, to a reception that will most likely never be matched again.
The match, against Belo Horizonte outfit Atletico Mineiro, took on the appearance of a carnival, and one man was the undisputed king. The team bus was mobbed with red, white and black on the approach to the stadium, with everything from meticulously carved statues to hot air balloons bearing his likeness found in the vicinity. There was, alas, no fairytale free kick or penalty to mark the occasion, but as a consummate professional Rogerio would have been more than content with the three points gained in a 2-1 victory which left his side sitting pretty at the top of Serie A.
"A TRUE ICON OF SAO PAULO"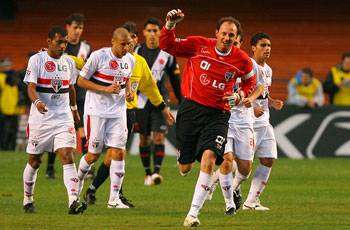 Andre Baibich, Goal.com Brasil

"Rogerio Ceni is a true icon of Sao Paulo. He is a symbol of one of the most successful moments in the club's history and he is much more than an extraordinary goalkeeper. Everyone that plays at Sao Paulo talks about his great leadership skills and his example of hard work and discipline. For all of that he can surely be called Sao Paulo's most important player of all time.

The other thing that makes Rogerio so special is the way he always responded in the most important moments. He was the hero of the 2005 Club World Cup, with several game-changing saves, including an incredible one to deny a Steven Gerrard free kick. His image lifting the cup is engraved in Sao Paulo fans memories."

The celebrations were predictably overblown, but nothing less than this great servant of Brazilian football merited. In a world where young Samba stars such as Neymar, Ganso and Ceni's team mate Lucas - no less than 19 years the junior of this goalkeeper - are linked with a move almost as soon as they complete their debut, the goalkeeper's commitment and loyalty in completing 1,000 games for the club which raised him makes this a unique achievement in days when such values can be bought and sold in a heartbeat.
It is also, of course, a testament to just how good a shot-stopper this 38-year-old veteran is. The years with Sao Paulo have been among the best of the club's history; three straight Serie A titles between 2006 and 2008, two Copas Libertadores and many others add up to a total of 14 major trophies in national and international football, while countless individual honours also adorn Ceni's buckling mantelpiece. Not even mentioning the World Cup winner's medal, gained in 2002 as a reserve keeper in Luiz Felipe Scolari's triumphant side.
Perhaps the crowning moment of this remarkable man's career was the Club World Cup of 2005, in a moment that made him the scourge of Merseyside. Having scored a crucial penalty to send his side through to the final against Liverpool, Rogerio produced the game of his life to earn Sao Paulo the title of world champions for the first time in their history.
To put it bluntly, the Reds pounded the Brazilians' goal almost without rest in the showpiece fixture, desperate to compensate for an early effort by Mineiro. No less than 21 shots and 17 corners were fired at the goalkeeper, but in a truly heroic display Ceni rejected or snaffled every single one of them to leave the English side fruitless in front of the net.
He rode his luck - Liverpool scored three times in the second half only to see them ruled out - but at the end of the game the captain was feted as a hero as he was mobbed by his delirious team mates, revelling in the title of the best team on the planet.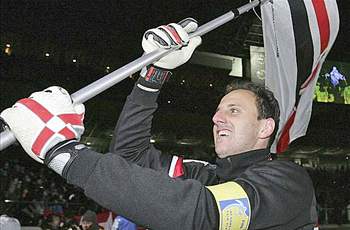 Pure Emotion | The jubilant keeper celebrates winning the Club World Cup in 2005
One incredible moment, one that stands out amongst countless others in a life in football that continues to amaze and astound. There are also the goals; over a century of strikes, more than any other custodian in a list that includes such legends as Jose Luis Chilavert, Jorge Campos, Rene Higuita and Hans-Jorg Butt. The only unfinished business could be with the national team.
Despite his talent between the sticks, Ceni had the misfortune to coincide his career with such keepers as Claudio Taffarel, Dida, Marcos and Julio Cesar, meaning his opportunities with the Selecao were limited to just 17 caps. Who knows what could have been if he had left his beloved Morumbi home to pursue his fortunes in Europe, and if this number could have been far higher than what it proved to be.
As he exited the field on Wednesday evening to a standing ovation from 60,000 adoring fans, however, you get the sensation that it will not bother Rogerio for a nanosecond. In a world where orthodoxy is king, where the road from Brazil to Europe is stampeded by hundreds of ambitious youngsters every year, this veteran eccentric is a living reminder of the magic and whimsy of football at its very best.
Parabéns, Rogerio
; we may never see your like again.
Follow Daniel Edwards on