ANALYSIS
By Ben Hayward | Spanish Football Editor
On September 6, 2006, Spanish football reached its lowest ebb in modern times. A miserable 3-2 defeat to Northern Ireland in Belfast was the latest frustration for a team perennially picked as favourites in major competitions, but which ultimately would never deliver.
Few, then, would have believed what happened next.
Exactly five years on from their Belfast blues, Spain sit on the cusp of qualification for Euro 2012, looking to become the first team ever to claim a European Championship, a World Cup and then another continental crown - all in succession.
Victory tonight over lowly Liechtenstein will round off a luscious lustrum for La Roja, clinch qualification for Euro 2012 and cap a fabulous five-year journey from the lowest of lows to the highest of highs.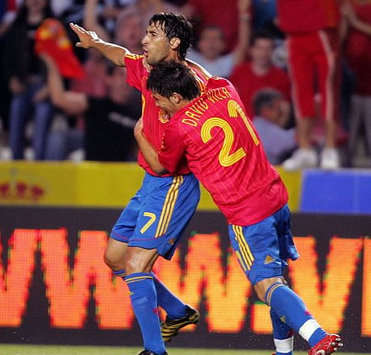 Happy days | But Spain have excelled since backing Villa over Raul


That night at Windsor Park, when David Healy hit a hat-trick to stun Spain, proved to be a watershed moment for Luis Aragones' side. With his job on the line, changes were needed. Hot on the heels of a well-publicised racism scandal, when he was allegedly overheard describing France's Thierry Henry as a 'black piece of s***', the Spain coach had complicated calls to make.
And he made the toughest one of all.
That night was the last time we ever saw Raul in a Spain shirt. Had his shot late in the game gone in instead of hitting the post, things may have been different, but the margins are fine in football, as in life. And as in life, difficult decisions are necessary in order to evolve.
Raul's exclusion caused controversy. The darling of the Madrid press and many a Spain supporter, the then Real forward was La Roja's all-time top goalscorer and considered by many to be the best player the country had ever produced. Yet, he had won absolutely nothing with his national side.
SPAIN SINCE NORTHERN IRELAND DEFEAT IN SEPTEMBER 2006




71 Matches, 59 Wins, 8 Defeats, 4 Draws
Just over a year later, the veteran coach exploded when confronted by a set of supporters pushing for Raul's reinstatement. "Do you know how many World Cups Raul has been to?" Aragones answered, in earshot of a television camera. "Three. How many European Championships? Two. And how many World Cups have we won with Raul? None."
Not all of the blame could be apportioned to Raul, of course, but the Madrid man had been below his brilliant best for several seasons by that point and it was felt the time was right to move on. The striker's influence in the World Cup in Germany had reportedly not been a positive one, either, with disruptive divisions in the camp as Spain crashed out timidly to France in the last 16.
That match had been played Hannover in June, but the hangover lasted until September. Following the Irish incident, and disappointing defeats to Sweden and Romania, Spain shone, embarking on a remarkable 35-match unbeaten run which saw La Roja become champions of Europe under Aragones and carry on winning with Vicente del Bosque on board.
Aragones had concluded following La Furia's World Cup exit that Spain must monopolise the midfield and combine their precise passing with more persistent pressure. Muscular midfielder Marcos Senna brought strength to the centre of the park, with the Brazilian-born enforcer bringing brawn to complement the brains of Xavi, David Silva and Iniesta. Up front, meanwhile, striker David Villa formed a promising partnership with Fernando Torres on the road to Euro 2008 and scored four times on La Roja's route to the final, which his side won 1-0.

"In terms of results and everything we have achieved in the last few years, we are the best Spanish national team in history.
"

- David Villa
Aragones stood down after that summer success, but Spain would get even better under Del Bosque, perfecting the 'tiqui-taca' trademark and riding on the crest of a Barcelona wave of brilliance to make their biggest splash yet, with victory in South Africa.
By then, Sergio Busquets and Pedro had emerged at the Catalan club, as well as defender Gerard Pique on his return to Spain. It was a more complete footballing side than two years before, a team with brilliant ball-players over the park, a team which can get better still ahead of next year's Euro.
That may be some 10 months away, but expect Spain to book their place comfortably tonight and show just how far they have come in these five years. Belfast is just a hazy memory now.
Follow Ben Hayward on