COMMENT
By Clark Whitney | German Football Editor
An old adage states that with great power comes great responsibility. Those put in positions of authority are expected to conduct themselves in a manner that is becoming of their roles.
When given the title of captain for a national team, it is an unwritten law that one should avoid controversy in the media. A skipper's opinions ought to be heard, but the appropriate forum is behind closed doors, in private meetings with players and management.
When Philipp Lahm was named Germany skipper last year, his appointment came with controversy. Some insisted that Michael Ballack ought to remain the leader of the DFB team, while others took exception with Lahm personally, citing the player's relatively quiet demeanour. It therefore comes as a surprise that Lahm's first major mistake as captain is in being too outspoken.



"Under Voller the team trained for an hour a day, and then we were off to play Playstation."





- Philipp Lahm

In his recently published autobiography, 'The Subtle Difference - How to Become a Top Footballer Today,' Lahm makes some very controversial statements, including that his time under national team coach Rudi Voller was "the most relaxing experience of [his] life," and that Bayern Munich players had to decide on their own tactics when Jurgen Klinsmann was in charge.
Lahm defended his comments by claiming that his words were "observations," devoid of judgment. But this is of little relevance: regardless of their validity, his statements have sparked controversy, and unnecessarily so. He seems to have forgotten that the role of captain is to unite and stabilise a team. Delivering unsavoury observations about one of Germany's leading figures can only have the opposite effect.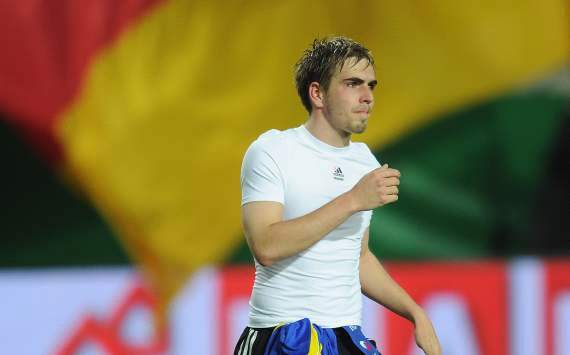 Under scrutiny | Lahm's controversial comments have brought unwanted attention
For a number of reasons, his book was not needed at this time. The title would have been far more justified had it been published after Lahm won a major international title. And had it arrived after his retirement, the furore surrounding it would have been less. But for an active player - let alone a standing captain - to openly comment as Lahm did on Voller was an inexcusable offence. It was naive, it was senseless, and most importantly, it strongly suggested that Lahm lacks the judgment required in a team captain.
Lahm's statements suggest he lacks the judgment required in a team captain.
National team coach Joachim Low responded with courtesy that Lahm did not show to Voller: he spoke with his captain behind closed doors earlier this week, and the two reached an agreement. The trainer opted to let the Bayern man off with a warning, stating "there was no discussion of whether he will be stripped of his captaincy."
Lahm is a great footballer, Low a great coach - but both have made entirely avoidable mistakes in the last few weeks. In taking a relatively passive stance towards his captain's transgressions, the coach has emulated his skipper's weakness, and unnecessarily put his own judgment under scrutiny. The pair may yet weather the storm together, but like his skipper, Low has risked his long-term future: troubling news for the DFB faithful.
Follow Clark Whitney on