Long thought to have one of the strongest youth systems in France, Sochaux's present breed are currently catching the eye of several of Europe's big clubs
ANALYSIS
By Robin Bairner | French Football Editor
France continues to be regarded as Europe's primary breeding ground for young footballers, but even in a country that has nurtured so many stars, there are clubs who are held in particularly high regard.
It was the academy of Olympique Lyonnais that played a big role in their rise to dominance, yet a new cycle is presently starting in the Rhone Valley, and now it is clubs like Rennes and Sochaux who are leading the way.
With a squad composed largely of youth graduates, the Bretons challenged the likes of Lille, Lyon, Marseille and Paris Saint-Germain for long periods of last season and were ultimately rewarded with a spot in the Europa League, while Sochaux also found themselves in the same competition following a sixth-placed Ligue 1 finish.
LIGUE 1 ASSIST LEADERS 2010-11

Marvin Martin (Sochaux)
Morgan Amalfitano (Lorient)
Anthony Mounier (Nice)
Jaroslav Plasil (Bordeaux)
Gervinho (Lille)
Eden Hazard (Lille)

17
12
10
10
9
9

The Doubs outfit may have crashed out of Europe in a rather embarrassing style to Metalist last week – they lost 4-0 at home in the second leg after the first match ended scoreless – but the Stade Bonal is presently a venue scouts from many top clubs are flooding to. In particular, Arsenal appear constantly drawn to the venue, which lies a matter of kilometres down France's east border from Arsene Wenger's home region of Alsace.
The Gunners boss will have been particularly piqued by the nature of the game played by the aptly nicknamed Lionceaux – Lion cubs. Indeed, this name reflects the tradition of youth football nurtured by the club formed and still based in the small town of Montebeliard by the local Peugeot car factory owner in 1928.
Under the guidance of Francis Gillot, who now leads Bordeaux, they were renowned as one of France's most attractive teams last season, and it was the youthful players who really drove this quality to the fore. With Mecha Bazdarevic now in charge, it's still these same players making key contributions.
Marvin Martin is the leading light in their set-up. At 23 years old, the playmaker has become a regular in Laurent Blanc's France squad after a record-breaking season in Ligue 1 last term, in which he chalked up 17 assists. In the aftermath of Cesc Fabregas' departure from the Emirates Stadium to Barcelona, he was immediately tipped as a potential recruit for the Gunners, though he is somewhat lacking in the goalscoring potential of the Spaniard.
There are other offensive weapons, too, who have caught the eye. Modibo Maiga has been most in focus in August. A strong, quick striker, Sochaux have made clear their intent to keep a firm grip on the Malian, reporting Newcastle to Fifa for making persistent approaches to the player, despite the French club turning down their transfer bids.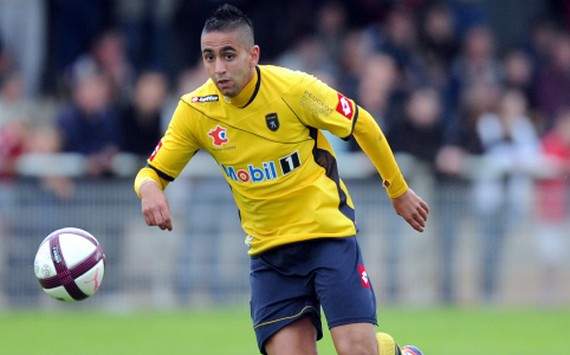 Wanted man | Boudebouz has been on the radar of several big clubs
Keeping hold of their other top talents has proven to be a little more simple, yet interest has been shown over Ryan Boudebouz from several clubs this summer. Most notably, Lyon believed he would be an ideal face for their new project, which will focus on attracting young players and building a team largely from their present base.
OL should look to Sochaux as their prototype, albeit at a lower level. While Boudebouz and Martin have both been grown through les Lionceaux's academy, they've also shown an ability to buy cleverly in the transfer market.
A perfect example of their shrewd presence comes in the form of destructive midfielder Kevin Anin, who is another to be linked with Arsenal. Bought last summer from Ligue 2 outfit Le Havre, the 25-year-old quickly grew into a cult hero at the Stade Bonal due to his consistent performances and distinctive hair. He was acquired for €2.5 million, but his value now is probably two or three times that.
Though the Doubs outfit are liable to have to fight off further bids in the closing days of the transfer window, they have made clear their stance is that their players will not depart. However, scouts will continue flocking to their unlikely corner of eastern France, ready to pounce when the club are finally ready to change their minds.
Follow Robin Bairner on