TIDYING UP ALL THE LOOSE STORIES IN FOOTBALL THIS WEEK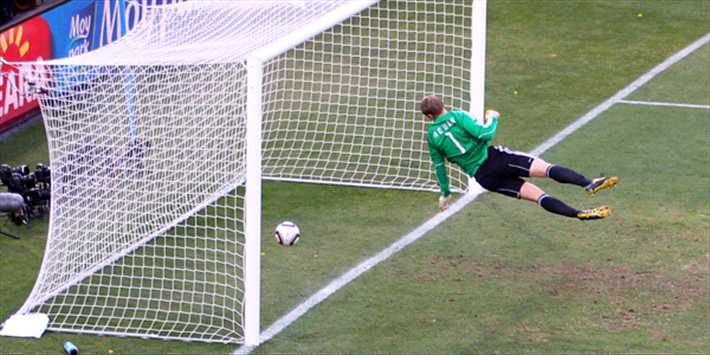 With Frank Lampard's World Cup 'ghost goal' against Germany still fresh in the minds of football's law-makers, the momentum behind goal-line technology is gathering.
World governing body Fifa and the law-making International Football Association Board (a co-operative of the four British home unions plus Fifa) are evaluating goal-line technology and a strict timetable has been drawn up over the next year.
The Sweeper understands that private trials of different goal-line technology systems will take place at designated football stadiums between September and December.
Companies were asked by the ruling body to register by July 7 for phase one of the testing at a cost of $20,000 each.
Of the 10 companies believed to have paid their deposits, six of them can be named as market leader Hawkeye, their main rivals Cairos, Chicago-based data firm Sportvision, sporting event veteran Swiss Timing, 3D experts Orad Hi-Tec Systems and goal-line technology specialist Goalminder.
The camera-based technology such as that used in cricket, tennis and snooker by Hawkeye, who are now owned by Fifa sponsor Sony, is believed to be preferred by the ruling body to the companies who plant a chip or aerial in the ball and then run cables under the pitch. Under this wireless system, there would be no replays or visuals.
The Sweeper understands that Adidas remain a ball supplier for Cairos but no longer has an exclusive deal with the company. Of the six bidders named above, Cairos are the only one who are not video-based although there are believed to be others.
Each bidder has been asked to select a stadium on a preferred date to conduct the first phase of the testing behind closed doors.
Swiss-based independent testing institute, the Eidgenossische Materialprufungs-ansalt (EMPA), has been charged with testing the accuracy and fitness of the systems.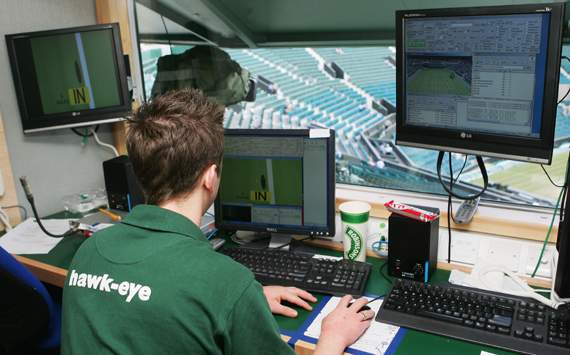 Tech support | Companies such as Hawk-Eye are vying for Fifa contract
Their main criteria laid down by IFAB are to confirm within "one second" whether or not the ball has crossed the line and then communicate this information to match officials.
Bidders will have to prove their technology is 90 per cent for the first stage of tests, but the second phase, which will be conducted between March and June next year, will demand a perfect success rate.
Fifa will use a licencing system to accredit testing companies, and those who are successful will be in a position to pitch to individual leagues and competitions, including the World Cup.
While the tests are still on-going, IFAB will make a decision in March 2012 on whether to approve the use of technology to eliminate mistakes that are regularly highlighted by television replays from numerous angles.
The law-maker's ruling will have to be ratified by Fifa in June and president Sepp Blatter has indicated that goal-line technology could become law by July 1 and any league can start to use it from the start of the 2012-13 season.
Blatter was strongly opposed to using goal-line technology but is now firmly in favour after witnessing at first hand the Lampard controversy. By contrast, Uefa boss Michel Platini is against using the system, preferring to rely on extra officials, as has been the case in Champions League and Europa League in recent seasons.
Premier League chief executive Richard Scudamore has said England's top flight will use the technology as soon as it is allowed.
COULD WALCOTT BE NEXT TO HEAD FOR CITY?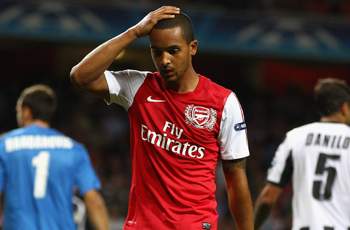 Such is the quality of the squad at Roberto Mancini's disposal that some stellar names will not be included in Manchester City's 25-man Premier League squad, yet the Italian remains openly dissatisfied about the team's readiness to challenge on four fronts this season.
While the eventual completion of Samir Nasri's switch from Arsenal will partly soothe Mancini, he is also hankering after an explosive wide player.
After losing out to Barcelona in the race to sign Alexis Sanchez, City enquired about Tottenham right-winger Aaron Lennon, but Spurs were only willing to do a deal had they lined up Juan Mata as a replacement.
There have been whispers about a sensational swoop for Theo Walcott, who has entered the final two years of his Arsenal contract, but City executives have denied they will pursue a move this window.
With Shaun Wright-Phillips on his way out of Etihad Stadium and Mancini yet to be convinced by Adam Johnson, it is one to watch.
WHAT'S THE SCORE WITH SINGAPORE?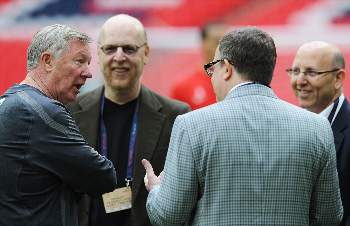 There remain many unanswered questions about Manchester United's plans to float shares on the Singapore Stock Exchange.
But among them is why the club's owners, the Glazer family, have chosen Singapore over listing the company on the far bigger Hong Kong market, as had been predicted.
Of the world's most valuable stock exchanges, Hong Kong is ranked sixth (behind two in the US, Japan, UK and China) with a market capitalisation of $2,711 billion, compared to Singapore, which does not make the top 20 and has a combined value of €650bn.
Financial experts believe that one possible explanation could be that there is less strict regulation in Singapore.
VILLAS-BOAS TAKES CONTROL... EVENTUALLY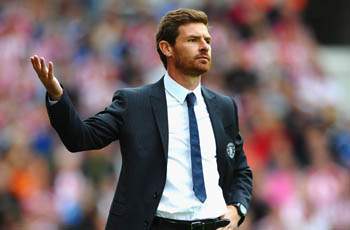 Andre Villas-Boas may have been allowed to assemble his coaching staff in a way that was denied his predecessor, Carlo Ancelotti.
But even the new Chelsea manager was not completely briefed about his employers' plans to restructure their set-up only days after his appointment in June.
A highly respected international coach, who cannot be named, met with the Chelsea hierarchy at Heathrow Airport and was offered the opportunity to completely overhaul the club's backroom staff, with the idea being to initiate a smoother pathway from the academy to the first team.
The coach rejected the offer, because he was given the impression by senior club officials that Villas-Boas had not been told about the plan.