FEATURE
By Ben Hayward | Spanish Football Editor
It was a game which had everything. Five goals, some outstanding play and two teams fighting it out in an absorbing battle. There was drama, excitement and plenty of action as well. But as has become customary in meetings between Barcelona and Real Madrid of late, there was controversy, too.
Lionel Messi's brilliant brace sealed victory for Barca three minutes from time and the Argentine also set up Andres Iniesta's opener with an exquisite defence-splitting pass early in the game, but Madrid had made a real game of it as well, equalising through Cristiano Ronaldo and later Karim Benzema to ensure a fascinating finale.
Following Messi's winner, Marcelo's crunching challenge on Barca debutant Cesc Fabregas left the midfield writhing in agony on the touch-line and provoked an unseemly brawl in added time. The Brazilian full-back was sent off, while David Villa and Mesut Ozil - already withdrawn from the play - were also dismissed for an ill-tempered tussle.
Madrid coach Jose Mourinho was involved, too, with the Portuguese captured on camera poking Barcelona assistant coach Tito Vilanova in the eye and receiving a slap around the head for his troubles from Guardiola's second in command.
Tension was running high and pulses were racing, and with no Primera Division football this weekend due to a players' strike, the Clasico talk is set to go on for a while yet. Below, we look at some of the best quotes from the teams' memorable meeting.
"I don't know who this 'Pito', or whatever he is called, is."
-
Mourinho
is known for his meticulous preparation and attention to detail, but fails to identify Pep Guardiola's right-hand man.
"He has to know to who Tito is; I know who
[Madrid assistant coach] Aitor
Karanka is."
- Guardiola
subtly calls Mourinho a liar.
"In the second half the ball-boys didn't appear. Thats what small teams do when they are under pressure."

-
Mourinho
accuses of Barcelona of underhand tactics as the home side looked to protect their lead after the break.


"I have too much work to give instructions to the ball-boys."

-
Guardiola
, himself a Camp Nou ball-boy back in the day, shrugs off Mourinho's accusation.

"Marcelo and Pepe played well. The referee sanctions what he has to sanction, but Marcelo shouldn't have been sent off and Pepe was booked for nothing in particular."

-
Mourinho
sees nothing wrong with Marcelo's attempts to break the unsuspecting Cesc Fabregas in two or Pepe's near-decapitation of Lionel Messi earlier on in the match.


"We have to be careful because one day we could do each other some damage. And we are a little bit responsible for that."

-
Guardiola
is concerned the bad feeling could have graver consequences in future Clasicos.

"This could end badly if left unchecked. I can do something with my own players and order them to behave their best, but I can't give lessons to anyone else."
-
Pep
won't be picking up the phone to offer Mourinho, once assistant coach at Barca when he was club captain, any friendly advice.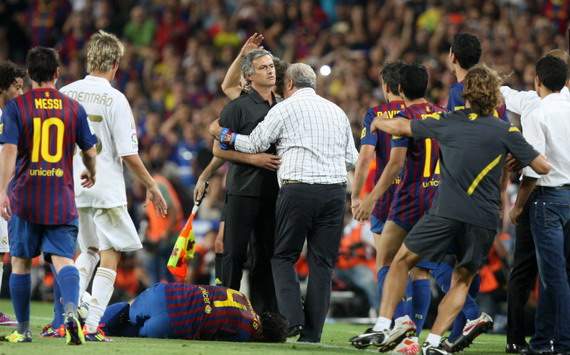 "Mourinho is destroying Spanish football. He has crossed the line and he has to be stopped."

- Barca defender
Gerard Pique
slammed the Portuguese after the game on Wednesday night. And he wasn't the only one.
"Mourinho has a double personality. He is transformed by football. He is a normal person. This isn't the Mourinho I knew."

- Former Barca president
Joan Gaspart
remembers a different Mou at Camp Nou.
"Mourinho is a stain on Spanish football. Somebody, I don't know who, had to do something about his behaviour and I hope they do."

- Current vice-president
Carles Villarrubi
isn't a fan of the 'Special One' either.
"What happened doesn't exactly honour Real Madrid or Mourinho. I am convinced no-one is proud of what happened."
-
Madrid's former sporting director
Jorge Valdano
has never been a big admirer of the Portuguese.

"One player personifies the transition
[under Mourinho] between Dr. Jekyll and Mr. Hyde and that is Iker Casillas
. He has gone from being a prudent kid to a crazed
[character]
."

-
Villarrubi
is disturbed by the transformation of Madrid's men under Mourinho, and in particular, that of Spain's popular shot-stopper.

"It's one challenge, a player on the ground and the same old story."

-
Casillas
complains of what he perceives to be Barca play-acting as the trigger for the ugly scenes which followed at the end of Wednesday night's clash.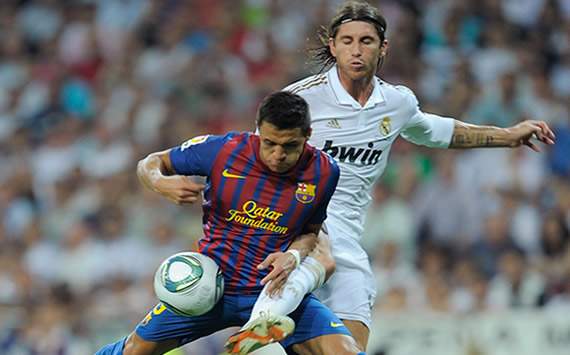 "There's nothing to reproach Real Madrid for after the great impression we left, for the attitude we had on the pitch at the Bernabeu and at Camp Nou. We played a serious game and showed we have clear ideas."

- Madrid's
Sergio Ramos
chooses to focus on the positives after his side's 5-4 aggregate loss.
"I am innocent. This can be seen on television. When colleagues are being attacked, I try to help."

-
Quite the selfless soul is young
Mesut Ozil
...
"Real Madrid are pathetic. We try to play football and Real Madrid aren't good enough to beat Barcelona at football."

- You won't here
Xavi
using the words 'Madrid' and 'innocent' in the same sentence.
"The Supercopa is a tiny little title."
-
Mourinho
believes the trophy is hardly worth getting worked up about, let alone celebrating.


"Titles are to be celebrated with women, champagne and cigars."

-
But
Joan Laporta
likes a party, even if it is
only
the Supercopa.

"I have received lots of messages asking my opinion on the things that happened, but I think it's down to the current Barca president to defend the club, its people and its values."

-
If there's one thing
Laporta
likes better than a party or a Catalan flag, it's a dig at old foe Sandro Rosell, who has remained silent so far.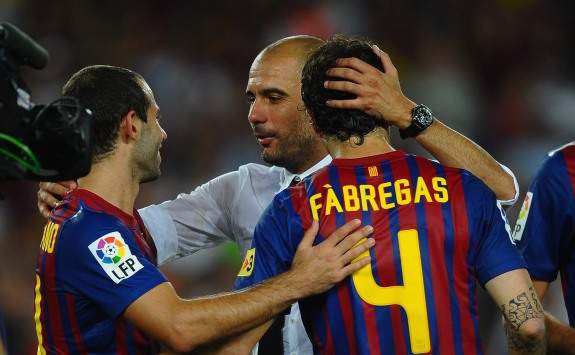 "Barcelona are beyond comment. You cannot compare them with any other team."

-
After the match, Real Madrid
target
Neymar
praises the wrong team. Again. Oops!
"It was so special to play and win a title on my debut."

-
There is no doubting the allegiance of Barca's
Cesc Fabregas
.
"I was so nervous before the game that I struggled to put on my shin-pads."

-
This really does mean a lot to
Cesc
.
"Our paths are bound to cross again this season because if, as I hope, we do our job properly and advance in other competitions, Madrid will be there because they are the best."

-
Guardiola
expects more than just the two league meetings between the sides this season.


"Real Madrid and Barcelona are the two best teams in the world. Both sides put on a great show and we want to remember what is good in these games. We all benefit from these fixtures."
-
Madrid legend
Emilio Butragueno
looks forward to more Clasico action in 2011-12.