They just about coped without their talismanic Swede last season, but their quest to bring in an alternative has so far come up with nothing, and it could come back to haunt them
COMMENT
By Kris Voakes | Italy Football Editor
It isn't only Mr X that AC Milan have spoken about bringing in this summer. Forget for a moment the "thick hair" and all of the other bizarre characteristics that Massimiliano Allegri claimed make up the perfect midfield signing for his side. There has been another shadowy figure they've been looking to bring to light over the past three months.
This one is Mr Z. About 190 to 195 centimetres tall, and weighing between 90 and 95 kilograms, he's a centre-forward. He must also, in that true Italian way, be "a champion". Sound familiar? Yes, that's right … they want ANOTHER Zlatan Ibrahimovic.
Not happy with having the real deal, the Rossoneri have been looking for a second one. But they were right in their assessment that they could well come to need a 'proxy Ibra', with the Swede's impact last season being such that the side never really looked the complete package without him.
Yes, they won seven of nine senza-Ibra, including the 3-0 derby triumph over Inter. But when it came to assignments against the likes of Cagliari, Palermo, Brescia and Bologna, Milan were much less convincing without their talisman. A victory over Sampdoria was almost a given by April, while the three points against Cagliari came with the title won and the pressure off. Their biggest winning margin came while Marco Borriello was still leading the line.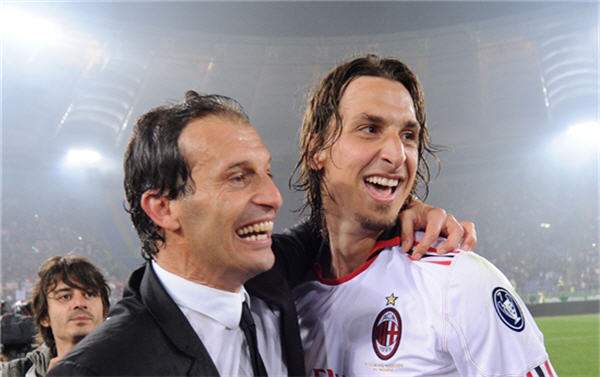 Zlatan's the man | Allegri may have to find another like him
The bonus, of course, is that Ibrahimovic has rarely sat out an extended period through injury. Not since missing much of the second half of the 2007-08 season with Inter has he missed more than a few games at any one time. But that doesn't mean he'll never suffer a long-term problem.
The former Barcelona man is now facing a race to be fit for the opening day trip to Cagliari, at the same Sant'Elia ground that his team-mates struggled in January before being bailed out by Rodney Strasser right at the end, and it begs the question once more as to how they'll do without him.
MILAN WITHOUT IBRA IN 2010-11

Opponents
LECCE
Cagliari
Palermo
INTER
SAMPDORIA
Brescia
BOLOGNA
CAGLIARI
Udinese

Date
Aug 29
Jan 6
Mar 19
Apr 2
Apr 17
Apr 23
May 1
May 14
May 22

Result
W 4-0
W 1-0
L 0-1
W 3-0
W 3-0
W 1-0
W 1-0
W 4-1
D 0-0

Of course, a second player identical to the winner of eight successive league titles would be very hard to find, but it's more his physical nature that Milan would be looking for a new signing to replicate. Without Ibra they are a very different prospect. Height becomes an issue, while their physical presence is almost non-existent.
A forward line containing any two of Alexandre Pato, Robinho and the increasingly unneeded Antonio Cassano gives the Rossoneri a more one-dimensional outlook, despite the skill and pace on offer. It's in their ability to hit Ibrahimovic early that they have come to stretch opponents this way and that, giving them two viable attacking out-balls.
The problem facing Allegri and CEO Adriano Galliani is that there just aren't too many Ibrahimovics in the world, and fewer still are available. Talk of a move for Didier Drogba fell silent very quickly, while other clubs have recently opted to spend over the odds on players who fit the mould of that centre-forward you can hit early. Over in England, the €28 million signing by Aston Villa of Darren Bent and Liverpool's €40.8m acquisition of Andy Carroll have gone only to prove that the big, strong No. 9 is a rare – and therefore expensive – commodity in 21st century football.
So while Milan continue to lack their 'proxy Ibra' we'll see just how flexible they are. Tonight's Trofeo TIM clashes with Inter and Juventus will give us some clue as to how they might cope without the in-form frontman, but it will be if he gets a heavy knock again once the season kicks off when we really find out what the Rossoneri are made of. All the while, the search for Mr Z continues.