It likely took MLS executives a matter of seconds to throw their support behind Los Angeles' bid to sign Robbie Keane from Tottenham Hotspur during the summer transfer window.
Keane, after all, fits the traditional Designated Player model perfectly. He doesn't possess the cachet of David Beckham or Thierry Henry (who does, really?), but he boasts significant name recognition within the American soccer community for his goalscoring exploits in the English Premier League.
Given his age (31) and the current status of his international career (Ireland captain and national icon), he isn't crossing the pond for a kickabout and a vacation with Becks. Most importantly, he has retained enough of his pace and his predatory instincts to make an instant and explosive impact in a league still in dire need of top level players.
All of those positives came with one associated complication that ate up a significantly larger period of time for MLS and Los Angeles officials over the past week or so: the Galaxy had to find a way to add Keane to its roster without raising too many concerns within league circles about the manner of his arrival or the method behind Juan Pablo Angel's departure to Chivas USA.
"What's going to have to happen before he's officially added to the roster is that the Galaxy is going to have to clear that budget space and clear that DP slot as well," MLS executive vice president of competition and player relations Todd Durbin explained during a conference call on Tuesday afternoon. "Once they complete both of those things, then they are free to add Robbie to the roster."*
(* – Of course, Los Angeles and investor/operator AEG will also have pay Keane's off-budget salary number and the transfer fee to Spurs. It represents a significant outlay in MLS circles, to say the least.)
The mechanics of adding a Designated Player in midseason make the first portion of the two-part process fairly straightforward.
Los Angeles started the season with three Designated Players: Angel, Beckham and Landon Donovan. Each of those three players originally counted against the salary budget at the standard DP charge of $335,000.* Midseason DP signings, however, are placed on a team's salary budget at the discounted rate of $167,500. Therefore, the Galaxy would create enough salary budget room to absorb Keane's arrival simply by making the mandatory move to dispatch one of its three DPs.
(* – Clubs may use allocation money to buy down the budget charge of a Designated Player, though the DP must carry a minimum budget charge of $150,000. Remember this point: it will come up again.)
As expected, the Galaxy wanted to send Angel (three goals and one assist) elsewhere to create the necessary DP slot for Keane.
The proposal appears simple on its face, but it is quite complicated given the restrictions on player movement. Los Angeles couldn't buy out the remainder of Angel's fully guaranteed deal ($1,250,000 in guaranteed compensation for 2011, according to MLS Players Union documents) or waive him because it would still have to carry his DP budget charge even if he left the team.* In essence, the Galaxy had two options: it could convince Angel to retire or it could trade him to another team while possessing no leverage whatsoever.
(* – Clubs are allowed to buy out the guaranteed contract of one player during the offseason to free up the corresponding budget room. This move does come at a cost: the investor/operator must personally fund the deal. The option is not available to teams during the season, presumably because it would create a significant competitive advantage for well-heeled clubs. MLS can and does settle with individual players on guaranteed contracts who are waived to create a roster spot, but that approach didn't appear to be an option here for several reasons – mostly relating to using the DP slot – in this case. Even if the league reaches a settlement with a player who is waived, the amount of the settlement counts against the club's salary budget.)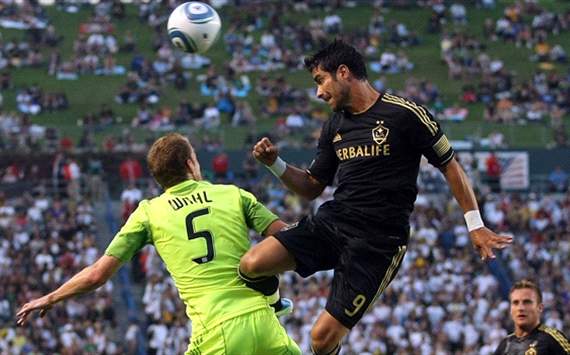 Los Angeles chose the second option and went searching for a potential trade partner. Several teams expressed interest, but Angel's wishes – he recently moved his family to the Los Angeles area and didn't want to move away from them again, according to an ESPN Deportes interview on Monday – presumably played some part in the Galaxy's decision to do business with Chivas USA.
The actual terms of the trade – what Chivas USA would send to Los Angeles in exchange for Angel – pale in importance to the financial considerations proffered by the Galaxy to seal the move. In order to send Angel to Chivas USA, the Galaxy needed to reach an agreement regarding Angel's budget charge* and the assignment of his off-budget salary payment.
"(The assignment of the off-budget payment is) just a negotiation," Durbin said. "You can have a situation where the acquiring club pays all of it, you can have a situation where the acquiring club pays part of it or you can have a situation where the acquiring club doesn't pay any of it at all."
(* – It isn't entirely clear whether Angel would count on Chivas USA's budget at his Galaxy budget number [$335,000] or the charge offered to a DP joining a roster in midseason [$167,500]. The former number makes far more sense because the latter charge usually applies to new DP signings from outside the league, but if MLS wanted to grease the wheels a bit [as it has been known to do in the past to resolve these sorts of scenarios and, as some conspiracy theorists would suggest, favor clubs in larger markets], it could peg Angel at the lower number and and give the Galaxy a little extra budget room to use before the Sept. 15 roster freeze deadline. Such a move would undoubtedly spark a furious response by club executives from across the league and revive questions about the league's consistency and transparency regarding its internal regulations.

In the end, the first choice is the only viable option from a competitive standpoint. From Chivas USA's perspective, there is little reason to assume Angel's deal for a budget charge larger than the minimum of $150,000 given the staggering amount of leverage it possesses in this situation. From Los Angeles' perspective, the Galaxy can simply ship the salary room saved by Keane's arrival [$167,500] to Chivas USA without altering its current budget outlook and, if the Red-and-White insists, throw in the extra $17,500 in allocation money [if available] to reduce Angel's budget charge to $150,000.)
To sum it all up, the Galaxy likely dipped into AEG's coffers to pay off the remaining off-budget portion of Angel's DP salary and – one would expect – found some way to reduce the on-budget burden carried by Chivas USA for the rest of the season in order to complete the deal.
Chivas USA may give up some nominal form of compensation to acquire Angel, but it will likely acquire the Colombian striker's services for the remainder of the season at a significant discount from his initial budget charge. As far as trades go, this one looks like a win-win, unless you are an executive from another club who believes Angel can turn around his recent form.
It may have taken a bit of extra time to sort through this particular mess, but the Galaxy will hope that Keane's arrival – and his corresponding impact on a side expected to win MLS Cup at the Home Depot Center in November – will make all of this fuss worthwhile.
Kyle McCarthy writes the Monday MLS Breakdown and frequently writes opinion pieces during the week for Goal.com. He also covers the New England Revolution for the Boston Herald and MLSsoccer.com. Contact him with your questions or comments at kyle.mccarthy@goal.com and follow him on Twitter by clicking here.