ANALYSIS
By Ben Hayward
It is often said that possession is nine-tenths of the law, that ownership is easier to sustain with control and dominion. Whoever coined that phrase almost certainly did not have football in mind at the time, but the same rules apply.
The roots of Barcelona's dominance domestically and internationally in the last three years can be traced back to the stat sheet. Goals and assists obviously win games, but another number on there is also key: possession. Incredibly, the Catalan club have been superior in that department for their last 184 matches. Sunday's 2-2 draw at Real Madrid in the first leg of the Supercopa showed, however, that Jose Mourinho's men may be ready to bring an end to a damning statistic which has seen Real second best in control of the ball in Clasico clashes dating back to 2003.
Barca coach Pep Guardiola has lost just once to Real Madrid since taking over at the Catalan club. That defeat came in last season's Copa del Rey final at Mestalla, following a goalless 90 minutes of football in which Madrid had looked the better side in the first half before riding their luck in the second period to stand firm against a wave of Barca attacks.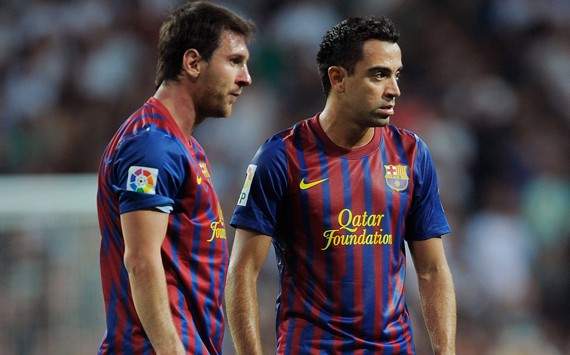 Controlling the play | Xavi and Lionel Messi are pass masters for Barca
In that match, Madrid held the ball for less that 30 per cent of the total time, a figure which actually decreased in the side's ultra-defensive display at home to Barca in the Champions League semi-final first leg at the Santiago Bernabeu just days later. Then, Madrid enjoyed possession for barely a quarter of the game, 26.6%, leaving their fans frustrated at a brand of football they had not been expecting to witness from their privileged positions perched on the precipitous pews of Real's famous old stadium.
Two goals down and on the verge of Champions League elimination, Mourinho's men then produced a performance of promise and potential in the second leg at Camp Nou, looking the better side and rather unfortunately having a Gonzalo Higuain goal ruled out. Their efforts ultimately fell short as the sides drew 1-1, but the display brought renewed optimism for the future - Madrid had been more positive and they had wanted the ball. A possession percentage of 33.5, on enemy lines, was cleary an improvement, too.
On Sunday, Madrid picked up where they left off and for 75 minutes, actually controlled the possession by 53% to Barca's 47% - albeit against a side missing several stars, notably Xavi, whose late entrance saw the Catalans control the last quarter of an hour. That swung the overall stat in Barca's favour as Guardiola's team ended with 52% of the possession.
POSSESSION STATS - LAST 6 CLASICOS

Game

RM-Barca
Barca-RM
RM-Barca
RM-Barca*
RM-Barca
Barca-RM

Result

2-2
1-1
0-2
1-0
1-1
5-0

Possession
(Barca)
52%
66.5%
73.4%
70.5%
72.2%
62.8%

Possession
(Madrid)
48%
33.5%
26.6%
29.5%
27.8%
37.2%

*Neutral
venue



Nevertheless, Madrid made a statement of intent for the future. Nobody has come so close to bettering Barca's all-comsuming control of the ball in recent times. Last season, their lowest figure was 54.3% against a plucky Valencia outfit at Camp Nou as Barca began their campaign unconvincingly, but still came back to win that one 2-1.
Possession doesn't always mean success, of course, as Mourinho knows only too well. His Inter side conceded the ball to the Catalans for more than 80% of the sides' Champions League semi-final second leg the season before last, but his team held on with 10 men to secure a 1-0 defeat which saw them progress to the final. Likewise, Barca have lost plenty of times when they have bossed possession. Control the ball, though, and you invariably control the game. And it now seems Mourinho, and Madrid, are ready to take that next step.
Madrid matched Barca by pressing high up the pitch on Sunday, with Cristiano Ronaldo and Karim Benzema both running tirelessly for the team. Barca, behind in their fitness work and stretched because of injuries, struggled to compete with their rivals high-intensity approach and struggled to get into the game for long periods.
Contrary to popular belief, Mourinho is keen to replicate Barca in terms of technical play and pressing all over the park, but the Portuguese believes his side can better the Catalans' pretty passing with a more direct and athletic approach, utilising the wing wizardry of Ronaldo, Angel Di Maria and new signing Fabio Coentrao to rattle the rhythm of the European champions, unsettle them on the ball and devastate going forward. With 30% of the possession against Barca last season, Madrid were highly dangerous on the counter-attack. With 50% of the play, it's a whole new ball game.
Follow Ben Hayward on